When it comes to Christmas time at the Carino household, you only get one chance to grab a minulata as the tray is passed around the table. The sausage-and-olive stuffed pastry rolls are so popular that second helpings are as elusive as trying to catch a glimpse of Santa Claus.
"Everybody wants one, and you have to grab it while you can," Johnny Carino says with a smile.
While others in Italy may make minulatas around the year, Carino bakes them each year after the Feast of the Seven Fishes on Christmas Eve. And even though the New York City chef now calls the Golden Isles home, he still enjoys the tradition, which dates back to the 1880s in his family, when he goes home to visit during the holidays.
While you may have heard of Carino before — he lent his name to the Johnny Carino's Italian Restaurants in the 1990s — now's your chance to get to know more about the always-on-thego chef whose greatest passions are food and family … and maybe even start your own minulata tradition.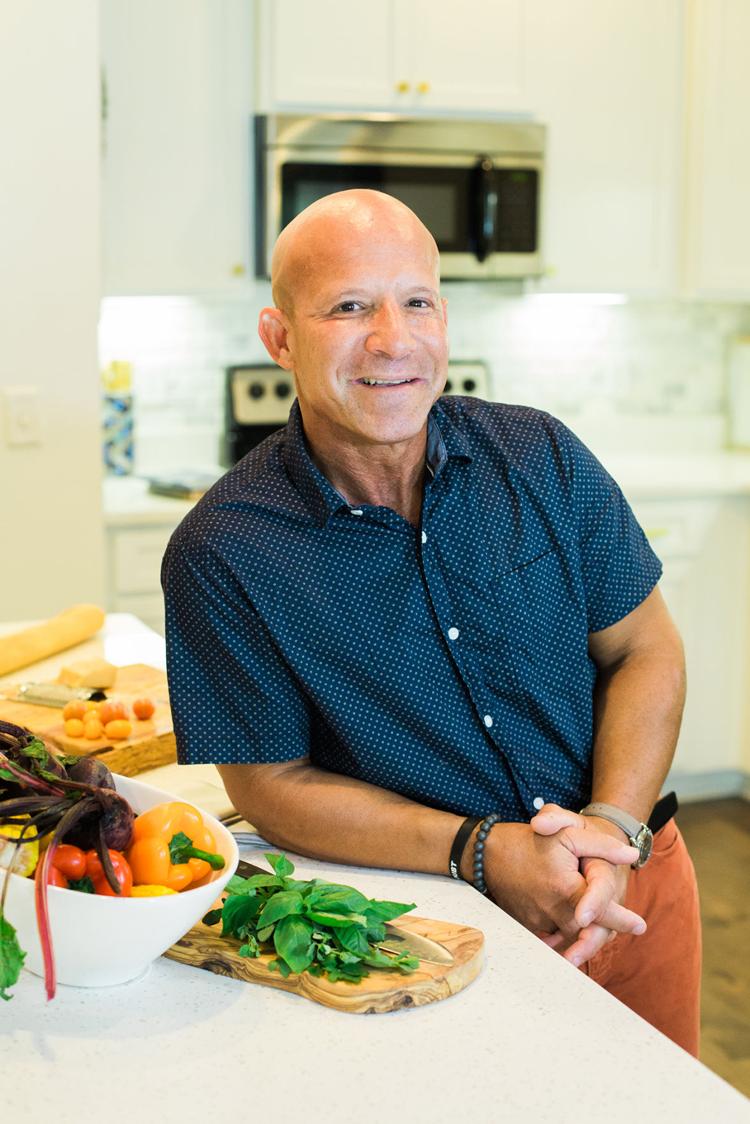 Cooking is in the Carino blood. He has two younger brothers — Frank and Peter — and all the men of the Carino Family can cook. After their mother passed away when the boys were young, Carino learned how to cook from his grandmother. He watched how she created delicious meals without referencing recipes and learned to follow his heart — and his eyes — when it comes to cooking. "I would always ask her, 'Grandmother, what are you making?' And she would always respond, 'Johnny Boy, I'm making a mess.' And what she meant was that she would just open up her refrigerator and make something that she felt like that day for whatever reason. She put her feelings, her emotions into her cooking. And that's what I learned to do … if I'm happy while I'm cooking for you, you'll taste it in my food," he says.
He didn't always plan to be a chef. His father was a captain in the New York City Fire Department, and Carino grew up going to the firehouse with his father and brothers, who also became firemen. Carino thought of joining in the family business until he found out he was claustrophobic and terrified of heights. "Still, I was a volunteer fireman in Texas for six years," he says. Carino has proven he can stand the heat of the kitchen no matter whom he is cooking for — including for the men of the New York City Fire Department. "They won't let you get away with anything," he says.
He knows how to do some heavy lifting — not just in the kitchen. Carino told his high school counselor that he wanted to be a professional bodybuilder. His plan included motivational speaking, creating protein powders, and more. "These are all things that people do now, but nobody was doing it back then," he says. Carino ended up competing nationally in bodybuilding, proving his critics wrong.
Italian food is part of his heritage. Both sets of grandparents hail from Palermo, Sicily, and came through Ellis Island before establishing roots in New York. Carino believes his love of food can be traced through his Italian heritage — where food is celebrated as a way for families to come together every day. And he always has a bottle of Italian olive oil nearby to cook with. "I love all kinds of olive oils, but I always have Italian olive oil in the kitchen," he says.
Carino incorporated his family-style approach into Johnny Carino's Italian restaurants. The chain of restaurants that share his name started in 1994, and he put a lot of his familial philosophy into the business. "A lot of me growing up was put into that business — the idea of families gathering together, sharing platters of Italian food, and passing it around," he says. While he is no longer part of the business, he says the chain is in capable hands.
Carino has now developed a meal delivery business, Fresh 2 You, in the Golden Isles. Carino has launched a home delivery service for clients in the Golden Isles. People can place orders with him online (freshtwoyou.com) from a select menu for as little as $11 per meal — a price point that puts him in the same league as home meal delivery kits — except he does the cooking, too. Just need to heat and eat, he says.
Health is an important factor for the chef. Having had several health concerns through the years, Carino keeps nutrition as the center for his diet, which includes a lot of seafood, low fat, and no alcohol. In addition to cooking classes, he is working with a team from Southeast Georgia Health System on a project, Clean Your Plate, that pairs a doctor, nutritionist, registered dietitian, and chef together as a four-member approach to combating health concerns through diet.