One person's trash is Leigh Kirkland's treasure.
The many shelves of clear glass jars inside her studio expose a wide assortment of peculiar objects. Each jar wears curious labels: bones, circles, coral and barnacles, tiny locks, metal lace, teletype, shell casings, crochet hooks, and even Allen wrenches. It turns out any item that strikes the mixed-media artist as perplexing or interesting becomes indispensable. Her walled shelves are full of things once deemed trash.
"I collect all of this stuff. Everyone gives me their junk! You have to have a certain amount before you can really make anything out of them," Kirkland says.
Retired from teaching English at Georgia State University, Kirkland now spends her time finding news ways of artistic expression on St. Simons Island, where she vacationed as a child. "I have pictures of my father and me here when I was a baby! I almost moved here back in the '70s," she says. In the late '90s, she and her husband, Bob Sattelmeyer, purchased island property. On one trip, he said, "I don't want to go back." They've been residents of St. Simons Island ever since.
Kirkland's approach to her studio is unorthodox, yet intriguing. The jar labeled "circles" contains any object displaying a circular shape, no matter its size or make-up. On the project table lies a well-crafted snake — the scales from hammered- flat bottle tops shine as a hammer rests nearby. She makes bottle-cap fish, too. "I like handling the various pieces. It's not really something you can plan. It's very tactile, and the idea usually comes while handling the pieces," Kirkland says.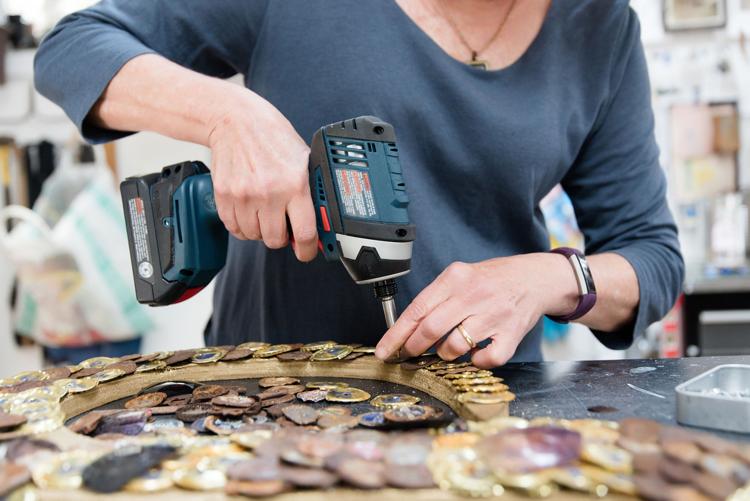 Inspired by the materials themselves, she continues, "I look at how a wire is bent and envision what it could be. The art grows out of the material. I'm making order out of disorder; it gives you control over the mess! Every piece seems to take on a life of its own, however," Kirkland says.
Always dabbling with art, it was a relative of Kirkland who most impacted her approach. "My mother's cousin was an artist and introduced me to new perspectives on how to look at things — out-of-the-box thinking. She was an inspiration," she says.
"In 2016, before Hurricane Matthew hit, I knew I was going to make something for the 100 Miles Holiday Market." Collecting washed and weathered boards while exploring the beaches post-Matthew, Leigh cut fish out of these special boards, attaching her rusty, scavenged bits. The final results: unique wall hangings. They were an immediate hit, the Holiday Market's bestseller in fact.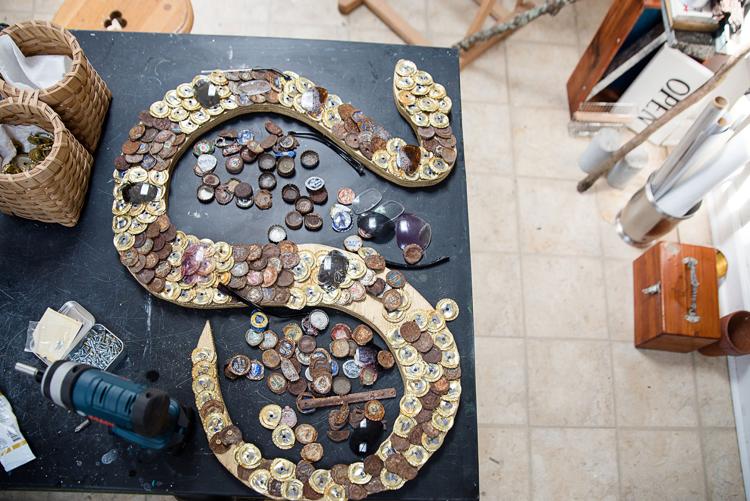 After Hurricane Irma this year, Kirkland once again found art in the chaos. "Irma brought lots of twisty sticks that remind you of snakes,and they'll be reminders of the serpent she was," says the artist.
On the near horizon, Kirkland plans on attending the Arrowmount School of Arts and Crafts in Gatlinburg, Tennessee, where she will learn to do larger, concrete pieces in an assemblage style.
Surrounded by creative elements, Kirkland will one day bring these solo items into something larger and new. Block prints, windows, a rusty shoehorn, a mannequin of a woman's body, and the pieces of an old rocking horse wait to be part of something new.
For more information about Leigh, go to LeighKirklandArt.com or email leighkirklandart@gmail.com.