The annual Fourth of July golf cart parade, part of the Sunshine Festival on St. Simons Island, is a magnificent display of patriotism and creativity. More than 100 golf carts take over the island's streets, displaying colorful, amusing decorations alongside a warm sense of community. 
Tony Adams, a Glynn County resident, remembers when the parade began years ago as just 10 or 15 carts. The parade got started, he says, due to a local sense of camaraderie — and some impatience with crowded parking. "It was an annual tradition with my kids," Adams says. "Parking was already difficult at the Sunshine Festival … it was easier to take the golf cart."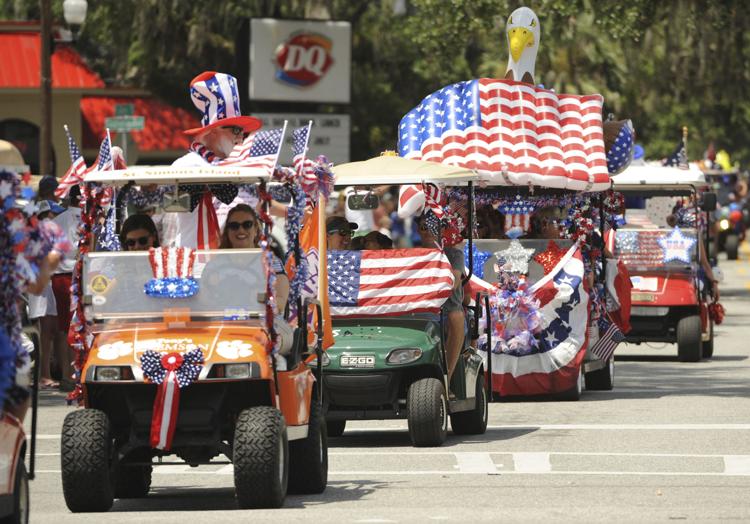 He's watched the parade explode in popularity. "It kind of started out impromptu," says Adams, who can be spotted every year driving a decorated golf cart in the parade and sporting an Uncle Sam costume to go along with his white beard. "A lot of people who had golf carts early on would go down to the Sunshine Festival on the Fourth, and we all kind of got together and started decorating the cart. Then, it became an official thing." 
Adams normally begins decorating his golf cart the day before the parade and dedicates several hours to decking out his vehicle in red, white, and blue. He enjoys seeing his friends and neighbors also enjoying the annual tradition with their families, too. "The fun part for me is seeing all the creativity that goes into what other folks are doing," he says.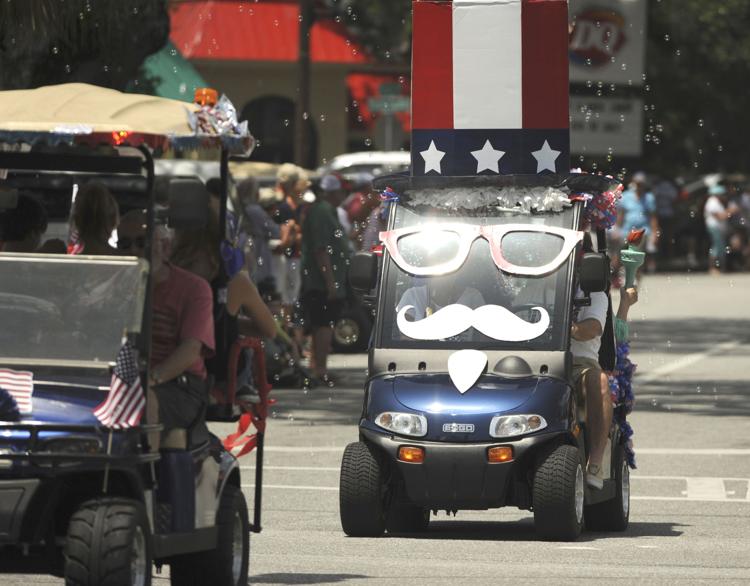 An annual veteran's parade on St. Simons Island also includes golf carts. Adams, a U.S. Navy veteran, says the Fourth of July parade is like an extension of that event.
"We're blessed on the island to be surrounded by lots of veterans, and it's a very patriotic place to be," he says. "Golf carts are a big part of the island, so it's a good fit for us."
It's a fantastic experience, he says, being in the middle of the long line of golf carts during the parade, looking out at all the happy spectators. "For families to get involved, to have the kids there, and a lot of folks throw out candy — it gives it a small town feel, a hometown feel," Adams says.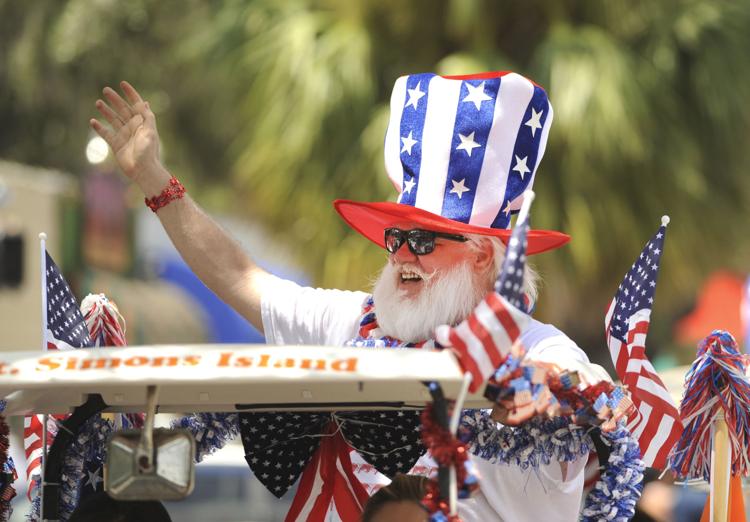 After the parade, his family makes their pilgrimage to Iguanas Seafood Restaurant in the Pier Village before looking for a good spot to watch the fireworks.
All they need is a good place to park their golf cart.