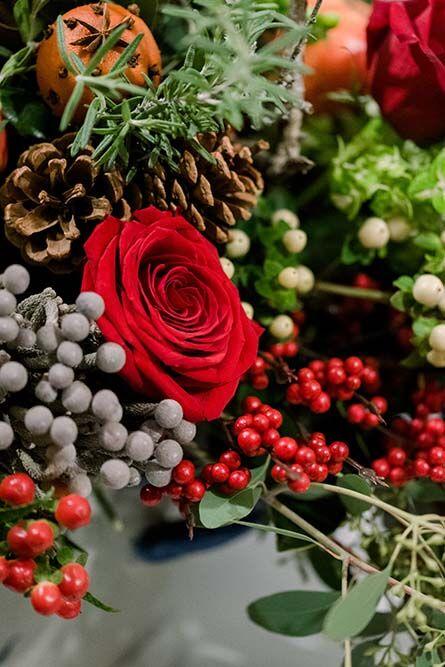 With more than 40 years of working as a florist, David Lowe is a pro at making magic happen. And at no time is that more apparent than at Christmas. Lowe, who owns Edward on St. Simons with his partner Chris Triplett, has always embraced the holiday season with open arms.
Each year he looks forward to creating the elegant floral arrangements for historic Christ Church Frederica, where he is a member.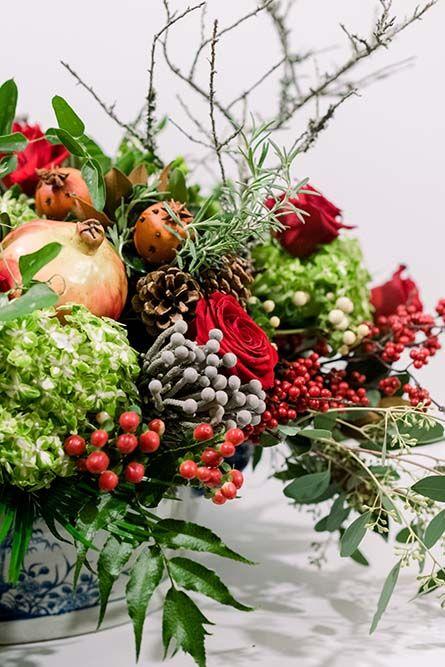 "I love doing it every year, "Lowe says, standing in his Redfern shop. "It's my gift to the community."
While he relishes blanketing the sanctuary in fresh cut flora, he is also enthusiastic about doing the same in his own home. But, Lowe is a bit of a traditionalist when it comes to holiday arrangements.
"I really love using red ... some people don't, but I do," he says. "I also like decorating right before Christmas — right at the 12 days of Christmas mark, then it stays up until Epiphany, January 6."
As a master of design, Lowe enjoys blending coast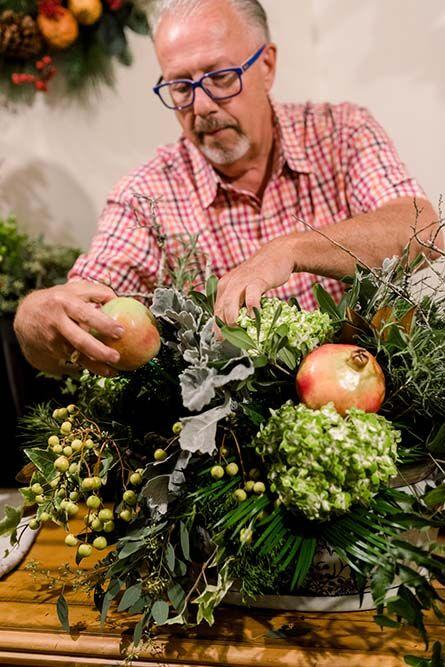 al elements and found pieces into his creations. Working with fruits — real or quality faux, offered in his shop — as well as incorporating driftwood and fresh cut greenery offers a blend of texture and color that attracts the eye.
Luckily, Lowe shared a few of his secrets for creating a fabulous holiday arrangement at home. He used the following pieces in his work, but similar substitutions can be made where necessary: Little Jim Magnolia, pine, cedar, sago palm, holly fern, pittosporum, smilax, rosemary, and variegated green ivy. He also incorporated Dusty Miller, brunia berries, seeded eucalyptus, China berries, St. John's Wart (hypericum berries of red, green, and ivory), pine cones, pomegranates, oranges studded with cloves, red and green apples, red ilex berries, and bare branches with lichen. His florals were red roses and shamrock hydrangeas.
Tips for a creative Christmas arrangement:
• Consider placement beforehand: Lowe crafted a large arrangement to be placed on a sideboard. Designs should be suited to their location and not so tall as to interrupt conversation if placed in the center of a table.
• Build a base: A Chinese foot bath proved a perfect receptacle for his work. It added a bit of variety of color and theme for the arrangement. Lowe stocks plenty at his shop, where they are incredibly popular. He also used an oasis to keep the arrangement hydrated.
• Start with large greenery: Lowe placed large items in the four corners of the oasis. Holly fern and variegated ivy are ideal choices, as are Little Jim Magnolia leaves, pine and cedar clippings. Mixing up the greens helps to keep the design interesting. Lowe specifically likes to add rosemary as it is fragrant and representative of the Virgin Mary.
• Add in focal points: Once the greenery base is laid, continue to build by adding in larger pieces like faux (or fresh) fruits, shamrock hydrangeas, and bare branches collected from one's yard.
• Fill in any holes: As the arrangement takes shape, inevitably there will be a few blank spots. Use the smaller pieces — roses, berries, and small pine cones to plug in to those spots.