Stitched into Kate Dart's memory of childhood years spent in Costa Rica is the sight of flower vendors lining roads to the beach.
 "Down there, you would drive to the beach on the weekends, and these older men would come out with their crates, and they'd sell these giant crates of flowers on the side of the road for pennies on the dollar," recalls Dart, who lived in the Central American country for nearly a decade, from the age of 5 until she turned 15. "… That was just always a big part of growing up."
Dart moved to St. Simons after college, and recently she was reminiscing with her mother about these memories from her childhood. An idea for a business began to blossom.
She envisioned bringing a flower truck experience to the Golden Isles.
Her business, Merci Bouquet Flower Truck, aims to create a flower-buying experience that has been otherwise lacking in this area. Dart sells flowers, either by the stem or in bouquets, from her truck, which she can drive to weddings, events, homes, businesses or just about anywhere else.
"The truck, it's an experience really," Dart says. "It's not just walking into a store. You get to come up to the truck. You get to learn about the story. You get to have fun and make your own arrangements and play around with the stems. All in kind of a laid back, coastal vibe that matches our island."
Merci Bouquet is operated from a four-speed 1960 Volkswagen Transporter. The truck brings a special kind of character to the business. As Dart drives around the community, many will honk or wave, she says. It's a conversation starter that has advertised her business through nothing more than its eye-catching uniqueness.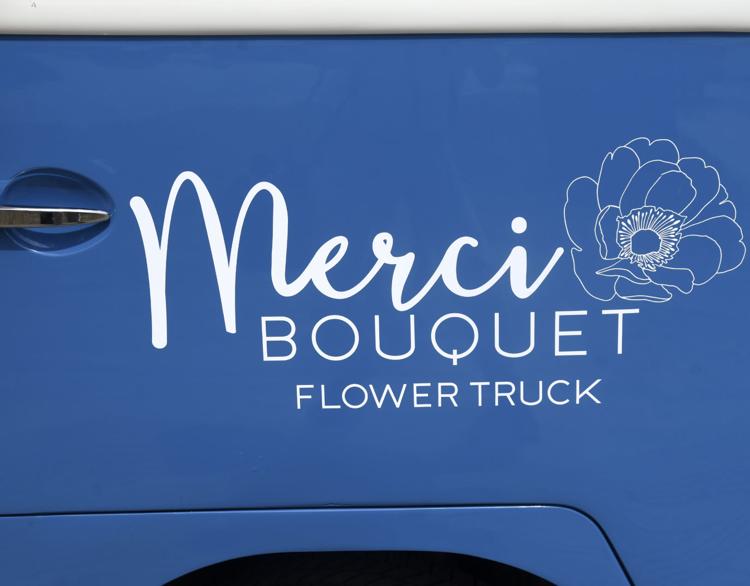 "When we realized that we wanted to do this, we knew we wanted a vintage car to match the laid back coastal vibe that we were going for," Dart says. "So I just started looking online for vintage trucks."
Like any vintage vehicle, the truck comes with its quirks. The gas gauge doesn't work — Dart knows the gas tank is empty when the truck doesn't start — and she's pretty sure the fastest she's driven it so far was a breathtaking 39 miles per hour down Frederica Road.
"It's been a lot of fun to drive," she says. "I didn't know how to drive a stick shift when I bought the truck. I had to get my mom to teach me."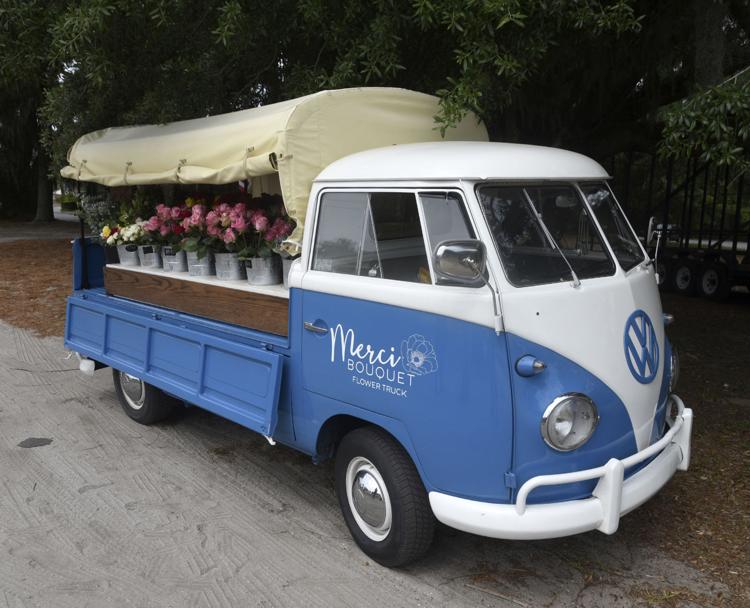 Dart officially opened Merci Bouquet in February. She started by hosting pop-ups at local businesses.
"And then of course, corona," she says.
The business had to halt operations for a few weeks after the COVID-19 pandemic began shuttering most parts of the country in early March.
Dart soon adapted to these new circumstances and began to offer no-contact bouquet deliveries. She received a strong response and found that many customers liked the idea.
Dart, during a conversation in May, hoped that as businesses began to reopen she could return to her original idea of selling flowers at pop-ups and events.
"The truck's for photo opportunities, for parties, for weddings," she says. "…Whatever the community wants us to be, we just want to be a part of the community."
The name of the business stems from Dart's own sense of humor. She loves puns, and she did not waste this opportunity to get creative.
"I knew that the name had to be a pun," she says. "I looked up floral puns, and there was a thank you card that said 'Merci bouquet,' with a flower on it. So it's a play on 'merci beaucoup,' the French, and it just kind of stuck."
Dart, who majored in international affairs at Georgia Tech, did not have prior experience with floral design. She relied on her love of entertaining, her natural creativity and her willingness to learn as she started Merci Bouquet.
"Places like Instagram are just a wealth of knowledge," she says. "What people are doing with flowers now, it's just an artistry."
Dart's aiming to provide customers with more than a bouquet of flowers to bring home. She hopes to offer an experience.
"I'm not trying to be The Vine, where they're doing these incredible wedding designs," she says. "I'm more of the laid back, the boho."
To learn more about Merci Bouquet or to contact Dart, she says the best place to find her is on Instagram. In May, her website was in the process of being created. Her email is kate@mercibouqetflowertruck.com.