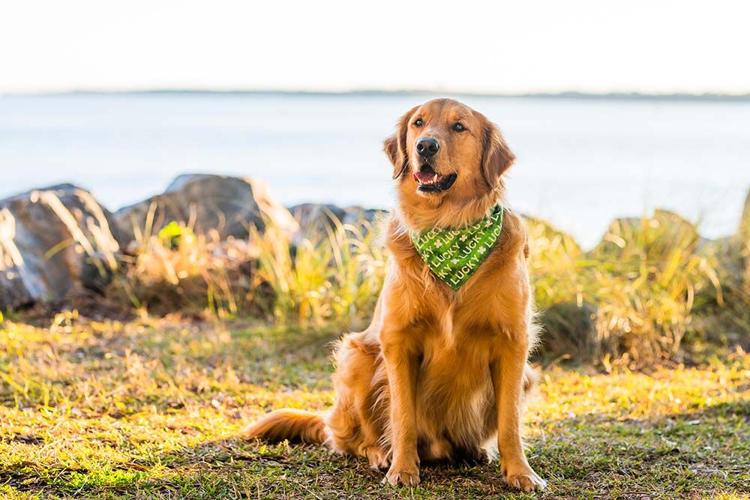 Ron Binkney sat in the island sunshine surrounded by several small children. On the grass beside him, clad in his crisp green bandana, was Lucky. The faithful golden retriever was eagerly awaiting his time to shine.
Binkney, book in hand, explained to the children that the pup was excited to "read" with them. Placing the book on the ground, Lucky was intently focused, as he gave a nod to the pup.
"Page," Binkney says to the dog.
Lucky happily flipped to the next with his snout — generating squeals of delight from the children surrounding him.
Binkney beamed with dog dad pride.
Lucky has been "reading" for quite some time and sharing it with children is what he does best.
It all started when Binkney, a St. Simons Island resident and English teacher at Troy University, was looking for ways to connect with his grandchildren during the early days of the coronavirus pandemic.
"My son and his family live near Boston. So during the pandemic, instead of them going to the library, I told him I would read books to the kids online," Binkney notes with a smile. "We don't get to see one another that often so it's a nice way to have time with them."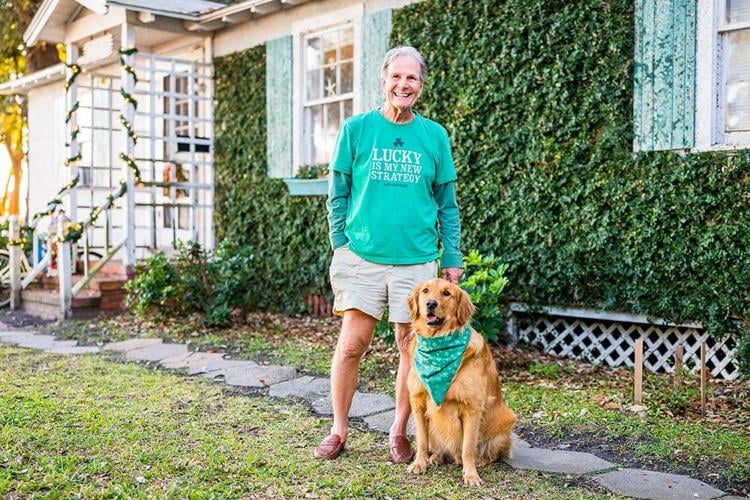 He also has several grandchildren in Georgia — two of whom live locally, Way, a 5-year-old boy, and his 7-year-old sister, Graeline. To stay connected to all of them, Binkney posted storytime videos to a private YouTube account. Before long, there were more than 270 posts for his beloved grands.
While all the kids loved seeing the videos, there was one child in the mix who was less enthusiastic to read on his own. Little Way was what Binkney describes as a "reluctant reader." But as a teacher, he wasn't ready to throw in the towel. Instead, he enlisted Lucky's help to spark the child's interest. With the guidance of the pooch's longtime trainer, Scott Hendley, owner of the K-9 Corner on St. Simons, the two started exploring ways to teach Lucky to turn the pages of a book.
"That was a new one," Hendley admits with a chuckle.
But Hendley soon devised a plan. They positioned a treat in the back of the book, then, they placed Binkney's hands so that Lucky could turn the page with his nose when given the cue — "page." It took a good deal of practice for both Binkney and Lucky, but Hendley says they were all committed.
Once the duo had it down, they were ready to unveil the trick to Binkney's grandson.
"We told Way that Lucky was a silent reader. And you know, it really did work. Way is much more receptive to reading now," Binkney said. "Of course, he wanted to know 'How does Lucky do that!?"
He wasn't the only one. Whenever Lucky showcases this trick, audiences are spellbound.
It was such a hit that Binkney started thinking of ways that Lucky's "reading" could help other children. One day it came to him — a children's book.
Binkney got to work, typing up the story of Lucky reading with Way and his sister, Grae. Thus, "Reading Is a Trick for Lucky," was born. Binkney started stocking local spots like Island Dog, Parker's Gas Station, and Southern Specialities with the book. So far, it's gotten a rousing reception.
"People are really loving it," Binkney says. "I met a special education teacher who thinks it will be great for her students. And her daughter is a deaf teacher and thinks her students will love it too."
Hendley is equally excited to be a part of the project.
"I struggled with reading when I was a kid, so it really makes my heart happy to have been a part of this," he says.