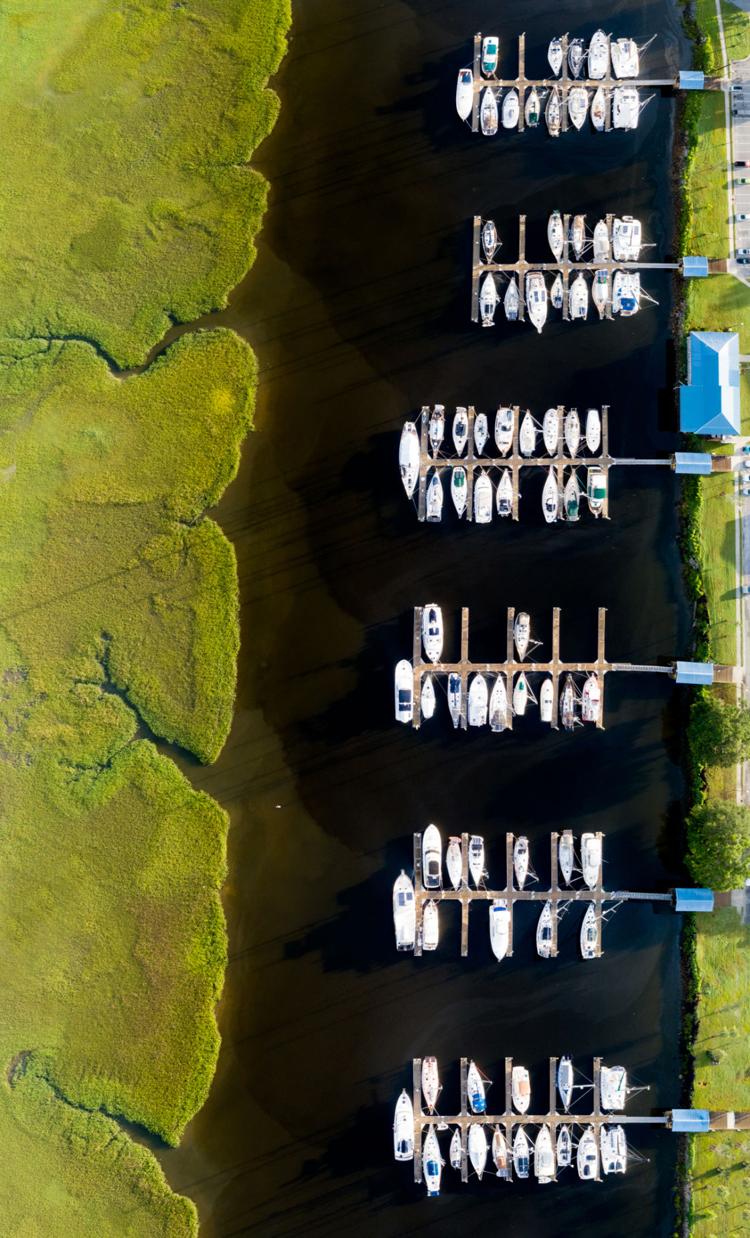 Like many artistic greats, Benjamin Galland's work has become easy to spot. While sweeping marsh vistas bathed in golden sunlight are a common sight in the Golden Isles, Galland often tells the story a different way — from above. His aerial signature landscape photography is both technically brilliant and visually awe-inspiring. And it has garnered accolades from those in the photography world, including the Communication Arts Award in Excellence for Photography.
We took a moment to sit down with this busy fella (he is also a founding partner of h2o Marketing Group in Brunswick) to pick his brain and discuss unveiling his "Georgia Has a Coast" exhibit at the busiest airport in the world — Hartsfield-Jackson International in Atlanta.
Q: Little bit of background … where are you from and how did you get into photography?
Answer: I grew up here on St. Simons. I went to St. Simons Elementary and graduated from Glynn Academy. I went to Berry College in Rome, Georgia, where I studied visual communications which is as close as I could get to studying photography there. I did a semester in Florence, Italy, where I studied photography. When I was finished, I moved back here … I am just so passionate about this area, I really couldn't see myself living anywhere else. 
I started actively doing documenting the coast about 12 years ago. I started working with Jingle Davis, who is a retired journalist for the AJC, and together we collaborated on a book on St. Simons Island, published by the University of Georgia Press. That was a jumping off point for me and really got things started.
Q: How did you get into drone photography? Describe that process. 
Answer: At first, like a lot of people, I got one just kind of as a toy. But then I realized that this type of photography could be used as a tool to really elevate images and offer a new perspective. We could see the things we see every day — like the marsh — in a completely new way. The process itself is easy and complicated at the same time. New drones are relatively easy to fly, any novice can do it. The difficult part is the technique. You still have all of the elements within the photo — the form, the light, the shadow — that have to be considered. You have to be more deliberate in what you are trying to photograph. 
For me, I was able to find patterns, textures, and light play that I wouldn't be able to shooting with a handheld.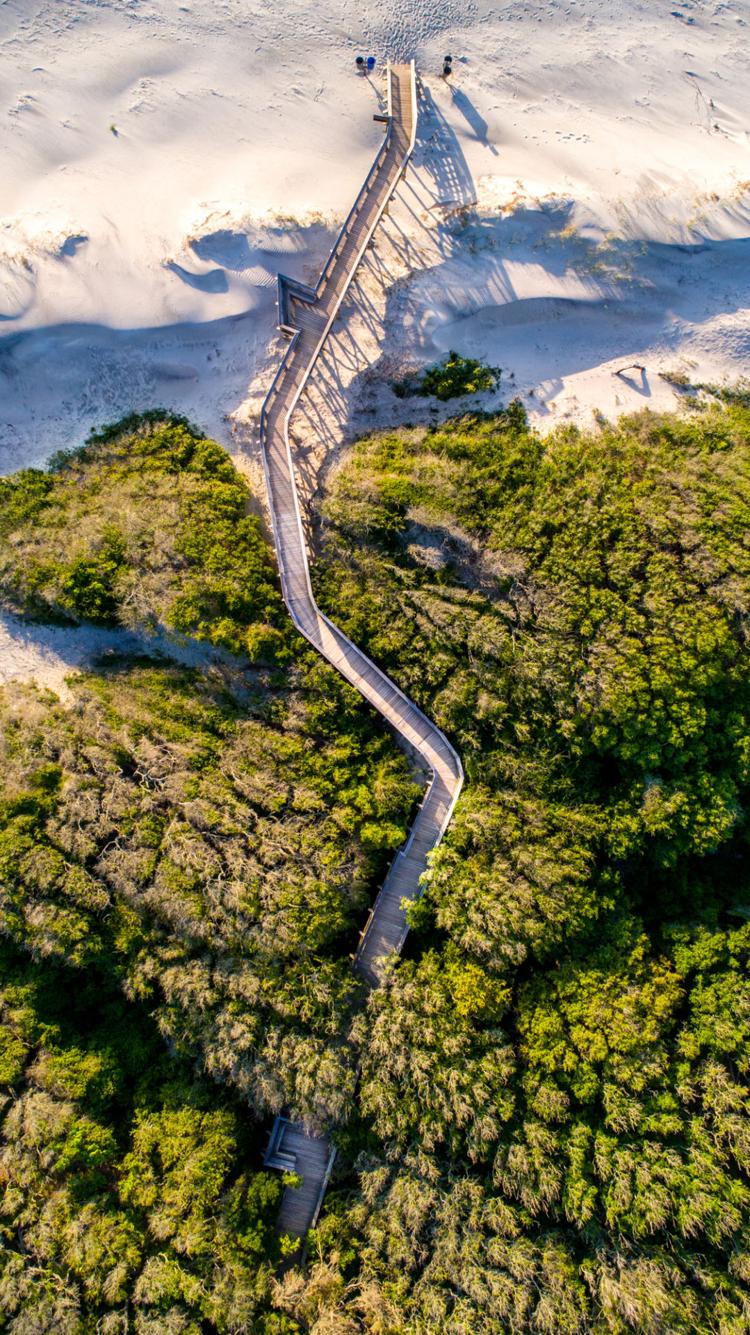 Question: Talk about your "Georgia Has a Coast" series. Why are they special?
Answer: I started thinking about my passion for the coast and for conservation and decided to do something to really show it in a different way, in order to create more awareness.
 The actual "Georgia Has a Coast?" idea came several years back when a good friend of mine growing up — John Wallace Daniel — came up with that tag line. He made a bunch of t-shirts and stickers with that on it … I bet there's still some on the walls at Bubba's Up, in fact. So I had always thought about that. Then, when I went down to Florida for a shoot about six years ago, I stopped at this gas station in Yulee. The lady behind the counter asked where I was from and I said "St. Simons Island, Georgia." And she said, "Georgia has an island? What ocean is that?"
I told her "the same one you have — the Atlantic." I was dumbfounded. It just blew me away … I mean, it's only 45 minutes from there.  
So, long story short, I had been capturing these aerial images of the coast and was looking for a unique way to exhibit them. After a conversation with Elizabeth Piazza, who owns The Art House in Redfern Village, we arranged an exhibit at the Leotis Building in downtown Brunswick in November. We displayed 14 images printed at 44x78 inches. She really helped me pull it together as an exhibit and just put a bow on it.
Question: How did you get the deal with the ATL airport?
Answer: That also came from the Downtown Brunswick exhibit. The art curator for the Atlanta airport got wind of the show and after getting a private tour of the exhibit offered up the exhibition space in the domestic terminal at Hartsfield-Jackson. It was slated to go on display at the beginning of April, but with quarantine and all, has been delayed until later this summer. It will be on display for one to two months. We're also planning a smaller version at the Brunswick airport to hang simultaneously. All of the flights from here go to Atlanta so they will get the message twice. The whole thing has just been really cool.   
 Question: As a Golden Isles native, what do you hope people take away from seeing this work? 
Answer: Well, I hope they will realize that Georgia does in fact have a coast and that we have to protect it. I hope to play a small part in telling that story. 
And too, just how beautiful this area is. You know, I have lived here my whole life and I can wholeheartedly say that I never take this beauty for granted. I'm grateful for it every day. It is constantly changing — the light and whatnot — I have never shot the same thing twice. I will never get tired of it.