The Hunt Ball returns to the Golden Isles in full swing this year. From 5 to 9 p.m. Sunday, Oct. 10, the Frederica Golf Club on St. Simons Island will host a celebration honoring the Southern hunt.
According to event chair Amanda Johnson, the ball is a way to raise money that will directly support the local community.
"The Hunt Ball is a fundraiser for Habitat for Humanity of Glynn County, and it is our way of fundraising money locally, and the money stays here," Johnson says.
The organizers conceived the themed event when they realized there was nothing quite like it in the area, she adds.
"The Hunt Ball began in 2019. We were trying to do a fundraiser that was just a little bit different because we have so many fundraisers here in Glynn County, so we felt this was missing in the area," she says. "It is super casual, and all the men love it. They can wear their casual clothes and not be in a penguin suit all day."
The occasion celebrates a more Southern style of hunting — fishing, fowl, and game — and will feature wildlife artisans, demonstrations, an auction, and live music by the Mason Waters Band.
Attendees can come dressed casually or in their favorite hunting attire, Johnson says.
"The ball itself is outdoors, and it is kind of a sportsman event. We will have a really good time. People will dress in hunting attire or casual clothes," she says. "We will listen to music and have vendors there selling paintings of animals and outdoor scenes. There will also be vendors there that sell guns, even antique shotguns."
One of the most popular elements of the event is the food prepared, said Johnson. She said many local chefs come together to create uncommon dishes that are unique to the Hunt Ball.
"We bring chefs in from restaurants around town, and they are asked to cook something a little out of the ordinary. You will see things like wild boar, birds, and oysters, and they love preparing these kinds of dishes for the event," she says.
Johnson said she is appreciative of the influence the event has been able to garner. She enjoys getting people excited to be involved with Habitat for Humanity and giving back to the community, she said.
"The Hunt Ball is important because it gives Habitat for Humanity a platform to talk about what is going on in our community as far as building homes and how many families they are able to help," she says. "It really just gives us a platform and exposure."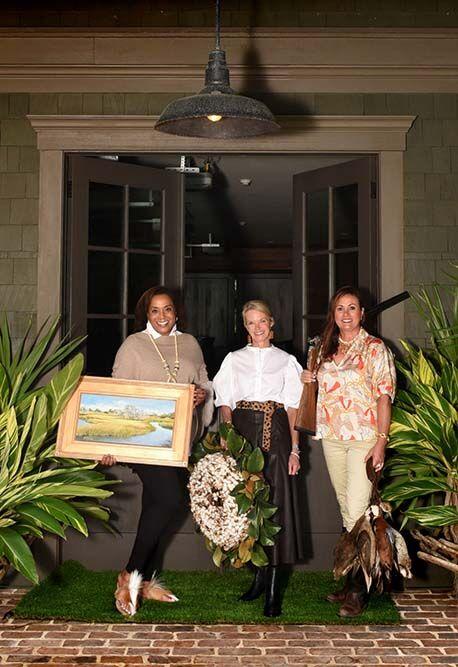 The first ball was a tremendous success, according to Johnson. This year they hope to raise even more to help support a multi-home development program that aims to build affordable homes in a new neighborhood, she said.
"We were able to raise $175,000 in 2019 to build homes. This year we would like to do the same or even more to start building Century Place, our newest project," she says.
Due to the global pandemic last year, instead of a ball, a mask-making fundraiser was held. Although grateful to continue to support a worthy cause, Johnson said the festivities of the ball were sorely missed.
"We still had a fundraiser last year for Habitat for Humanity. But, I think everybody will be glad just to be back socializing and having a good time with all their neighbors and other people who enjoy the outdoors," she says.
Those looking to get involved with the Hunt Ball can consider sponsorship options. There are several tiers of sponsorship, and all include tickets to the event. Individual tickets are $250. For more information, visit hfhglynn.org.