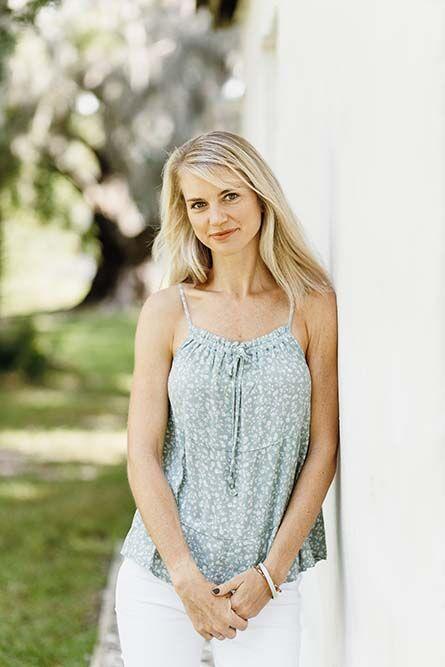 Some of Kate Buckley's earliest memories consist of hide-and-seek under pews and church picnics filled with fried chicken and deviled eggs. As a pastor's daughter, it was to be expected. Buckley's father is the Rev. Bob Brearley, the former head of St. Simons Island Presbyterian Church. While not initially planning to follow in his footsteps, Buckley always had an abiding faith. It was something that solidified on a youth mission trip to Honduras. But with that deeper connection to the Gospel also came some difficult questions.
"I started to grapple with the practical questions of the faith: Why does God allow people to go hungry? Why do bad things happen to good people … and most importantly, how could I follow Jesus in a real way?" she says.
These thoughts continued to occupy her mind, even after completing a journalism degree at the University of Georgia.
"I still could not escape the restlessness I was feeling. My mind continually wandered to the questions of my Christian upbringing," she says.
She finally decided to pursue out those answers — at seminary school. Buckley completed her program and worked to live out her faith in her life. She embraced being a full-time mom to three little ones, and a few years later, her husband's job brought them back to her hometown.
After her youngest child started school, Buckley took a part-time position in Pastoral Care and Ministry of Visitation at her former church home, St. Simons Presbyterian. 
"This position is all of the best parts of ministry. Writing and leading liturgy and prayers … chatting through the hard and the beautiful and the ugly and the sacred parts of life with church members," Buckley says. " … what an honor and what a blessing. It is heavy sometimes, but it is holy always."
That, she feels, can also be said for life in general. It was this appreciation for the blessings amidst the brokenness of daily existence, that laid the foundation for Buckley's book, Bless It.
"The book came about on accident. In the middle of the summer of 2020, I read over some 'blessing cards' created by DOWNTOWN CHURCH in Columbia, South Carolina, where my friend is the head pastor," she says.  
"They were real life beatitudes, offering words of grace and comfort in stationery sets. Our own church was starting a September series on the Beatitudes from Matthew's gospel, "Blessings in an Upside Down World."
To prepare for that, Buckley penned verses that reflected on ordinary, slice-of-life moments.  
"Beatitudes for the 21st century, so to speak. I phoned my amazingly talented artist cousin, Teresa Lacks. She agreed to do some charcoal and pen sketches for 10 to 15 'blessings,'" she says.  
Buckley's poems were paired with the drawings and were then distributed to the congregates.
"They were invited to prayerfully write to someone that card made them think of — a nurse, a neighbor, a friend, a relative, a first responder, a teacher," she explains.  
The project prompted her to start looking for blessings in all moments of life. And, Buckley found many. Over time, they would become the pages that fill her book.
"The floodgates of my quarantine-induced creativity — and over-functioning — were opened, the river of blessings came in a torrent," she says with a laugh.
"Everywhere I looked, something was broken and off-kilter. But that same something was not devoid of beauty or purpose. It was this life truth that every light has a dark and every human, a shadow and every beginning, an end. It was everywhere: Blessings in the brokenness."  
Her cousin agreed to continue drawing and the two ladies were off. Buckley hoped that readers would find that, while many questions in life remain unanswered, there is still an overwhelming amount of beauty that can often be found swirling with sorrow.
"The world as we know it is a spinning, spiraling hot mess of huge potential for growth, floating on top of a wave of destruction and devastation. There is hope and there is joy and there is richness in the same soil of sorrow and of suffering," she says.
"They co-exist, like the Christian faith proclaims: Ashes and new life. So yes, I wrote this book only when I decided to write down with honesty and unapologetic facing of life questions, not with answers, but with a lens of grace."
Bless It is available locally at G.J. Ford, The Vine, The Market at Sea Island, Righton Books, Wakeup Coffee, and via Amazon and Lulu online bookstore.