Leslie Kiger carefully picked up a pot filled with colorful blooms, gently placing it on a cart. The sales associate at ACE Garden Center on St. Simons Island has been incredibly busy as over the spring and into the toasty summer months.
"It has been a record, for sure. Everyone has been outside, working in their yards," she says, situating the plants.
While she can frequently be found bustling around the center offering guidance to shoppers, Kiger also ventures out to customers' properties to provide direction for their home gardens.
"Typically, I come out and walk around the yard and talk about issues that I see, whether it's bugs, fungus, or areas that don't seem to be getting enough water. I walk around with the clients and they can make notes or I can do a plan. It just depends on what each person is looking for," Kiger says.
"Some people want to add color but they don't know what to do. Some people don't know what their sun and shade situation is like. Then, some people really just don't know anything at all about plants and just need some assistance."
While a lot of topics are broached, the one issues that Kiger sees most often improper watering.
"That's the biggest ... some things are really easy and others are really picky. Some people think that half a cup is watering, which isn't necessarily true," she says. "And different plants have different requirements. Petunias have got to have water ... but you don't have to drown your lantana twice a day."
Once Kiger has done some troubleshooting, clients can proceed on their own or ACE can do the work for them. That includes ordering the plants and arranging for them to be picked up at the center. Or, Kiger says, they can be delivered.
"We got mulch, soil, fertilizer — so whatever they need, we have it here. We deliver anywhere Glynn County and on orders over $300, we do free delivery," she says. "We also have a couple of guys here that can plant them if needed. But a lot of times they have their own landscapers too, which is fine."
The turn-around time on organizing the project is often very quick. Kiger can pull the plants and have them ready within a week or so.
"If it's a lot of stuff that I have to get together, it can take a little longer, but usually it's pretty fast," she says.
With the arrival of July and August, Kiger suggests holding off on major planting projects, opting instead for adding potted blooms hardy enough to survive the sweltering temperatures.
"I wouldn't recommend planting your whole landscape in July or August. But you can definitely do the summer flowers — lantana, vinca, and purslane," she said.
"Purslane comes in lots of different colors and it's a succulent type of leaf. It opens up in the sun and closes back up at night. It's a heat lover."
Naturally, watering becomes an issue in the extreme heat. Kiger says it's a good idea to take extra time to check in on potted plants and beds around the yard to ensure they're getting the water they need.
"Watch your sprinkler and make sure it's getting everything. You may need to do some supplemental watering. Pots are particularly difficult in the summer months. You might notice them if they're close to your front door, but if they're farther away, you may not," she says. "It's just a good idea to pay more attention in the summer."
And, of course, for many residents another major gardening issue, regardless of the season — deer. On St. Simons Island, as well as other areas of the county, the creatures frequently venture into yards to nibble on greenery. Kiger says that this can be a tricky issue to remedy.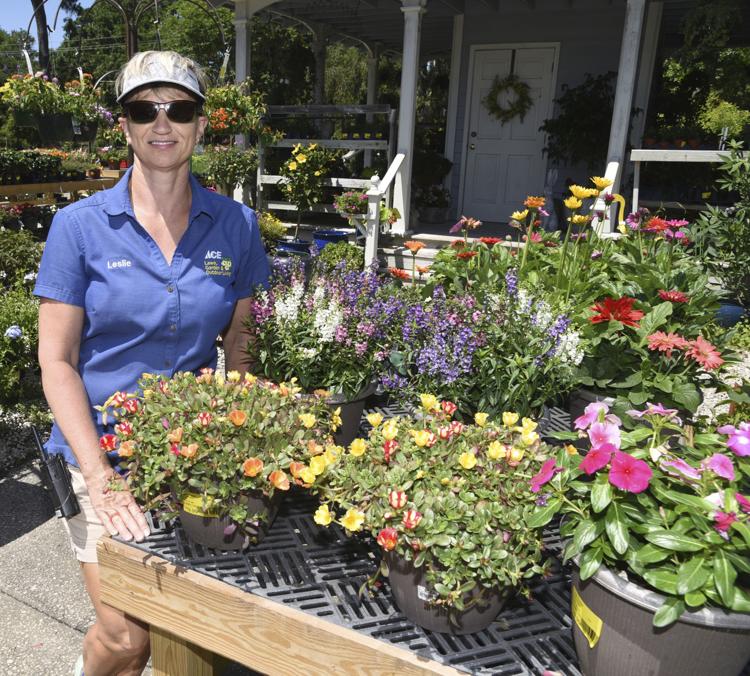 "First, you never want to feed them because you won't be able to get rid of them," she says with a laugh. "But, my best advice for keeping them away is to do something with a smell and taste deterrent. We have a product called Bobbex that is both. It has a smell and a peppery taste to it that they don't like."
It's information like this that Kiger enjoys sharing with clients. She views it as an education process and a continuation of her teaching career.
"I've been doing this for almost 20 years. I taught school for 10 years but I feel like I'm still teaching, I'm just teaching about plants and fungus and grass. It's just a little different," she says with a laugh.