Norm Leonard, owner of Kingfisher Paddleventures, spends almost every summer day on the waters of the Golden Isles as he guides guests seeking adventure across the fast-moving rivers, marshes, and ocean waves.
Whether doing a four-hour float down the Satilla River or an out-and-back trip from Gascoigne Bluff, Leonard enjoys experiencing the beauty of the Golden Isles through kayaking. In fact, after he bought the paddleboard business in October 2016, the first thing he added were kayaks. He's watched a couple get engaged while kayaking. He's been outpaced by an octogenarian. He's taken kids to areas where they can cannonball off boards and boats, just like they were in a pool.
Whatever the reason you want to pick up the paddle for an afternoon of fun out on the water, there are ways to enjoy the experience, he says. "I think some people forget that they are out there to have fun. So, let's go have fun and relax a little bit," Leonard says.
But preparation is important. So take a peek at Leonard's list of tips before you head out for some of the best views of the Golden Isles from the water.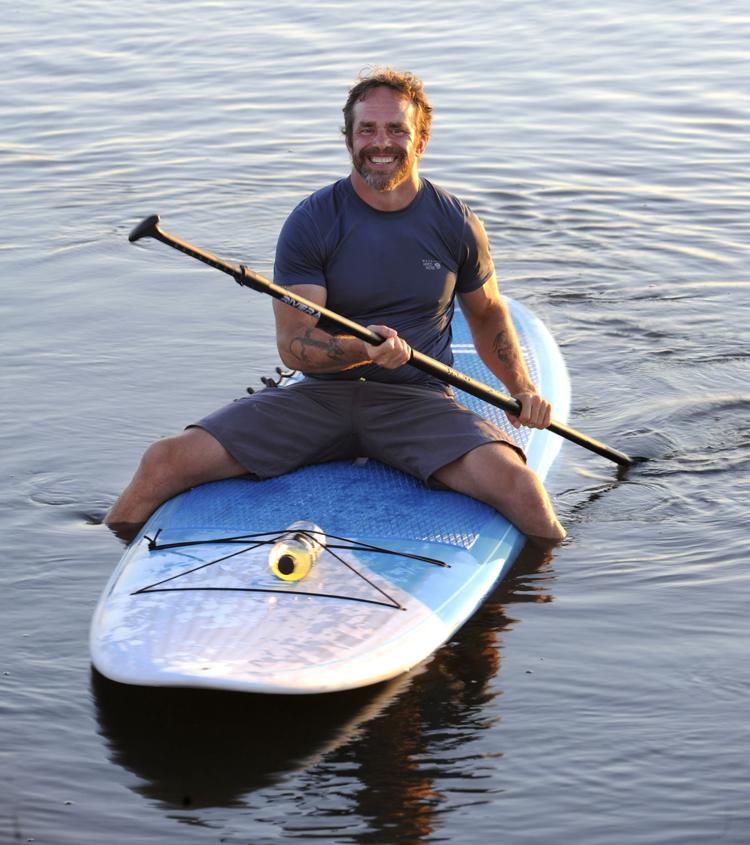 Tips of the Kayaking Trade:
Type of boats: Not all kayaks are the same with a variety of hulls and length of the boats. Some are short with bubble-shape hulls that are perfect for white water courses. For our area, where you can paddle on calmer waters for miles, flatter boats can reach as long as 20 feet with a rudder or small keel attached.
Then, there are the sit-in kayaks vs. the sit-ontop options. "The sit-in kayaks are more traditional, and there are a lot more styles of those. The sit-ontops have been more popular for about the last decade. There's a lot of different sizes of those now, too," Leonard says. He works exclusively with single and tandem sit-on-top options, calling them the "jack-of-all trades, master-of-none type of watercraft. But given that my average customer has either never sat in a kayak or does it on vacation once every three years, it's the appropriate type of craft to have."
Tides: With tidal amplitude averaging 7 1/2 feet daily in the Golden Isles, it's important to plan when you should head out or back. "As the tides go up and down, the landscape changes. A landmark that you picked out is all of the sudden either flooded or the water has drained away, and it doesn't look the same. You are sitting lower in the water, and you pick out a house or bridge or something like that — and then you can't see it anymore because the bank of the tidal creek is in your way," Leonard explains. That's why local knowledge is crucial if you are heading out for a marsh paddle. "If you aren't going to use my company, please use a company to go out with because the tides can be challenging."
In addition to the tides, wind and currents also impact the paddle routes. "Wherever I put in, we think about the weather and the wind quite a bit because, you know, your kayak doesn't have a lot of draft; so the wind is going to be an issue and the tide also is. Ideally, what we will do is paddle against the tide and the wind on our way out, and we spend most of our time doing that, then we can turn around. That same tide and wind will push us back to our starting point much faster than we got there."
Footwear: Any type of shoe that can get wet is generally going to be fine, Leonard says. Since many of his clients are vacationers who may have not packed their Tevas or Chacos, he suggests a pair of running shoes that they don't mind getting wet or anything "that straps on to your foot." One thing to avoid: flip-flops. And rarely does Leonard let his paddlers go barefoot because of the dangers of stepping on an oyster bed. Nobody wants to paddle their way back to shore with an injured foot that requires medical attention.
Dry Bag: It's a good idea to invest in a dry bag to keep your keys, phone, or possibly a camera in it if you plan to kayak without a guide. When Leonard takes clients out, he always brings one so people can keep keys in it, but he advises leaving most valuables in the car. Inside his dry bag, Leonard also keeps a tow rope, compass, first aid kit, and a couple of other bits of safety gear.
Wildlife encounters: Don't touch the wildlife. Ever. Or feed them. "We will approach, but with respect, so we don't get too close. We will talk about it, and look and point and laugh and have fun," he says. "But with all wildlife, we give them space and remember we are in their home. This is a space that's been set aside for them, and we are the visitor."
Common courtesy: Watch out for other boaters, Leonard says, because there is plenty of water out there for everyone to enjoy an experience without feeling crowded. "I basically have my boaters practice the on-the-water equivalent of defensive driving. So, you see somebody else out there, you give them your space and practice common courtesy and good manners and everybody's going to be o.k.," he says, adding "never drink before or during the time you are on the water."