Luxury vinyl plank, or LVP, has become the MVP of flooring choices. LVP mimics wood flooring with added durability and less cost than the hardwood options. It comes in many shades and sizes, giving homeowners a wealth of options from which to choose.
"Right now, it is the fastest growing segment of the flooring market. It's because of cost; its ease of installation; and its appearance, quite frankly. The looks have gotten to such a place that it's just difficult for the untrained eye to tell if you are looking at wood or vinyl. It's very desirable," says Mike Cudd, owner of Duke's Coastal Flooring in Brunswick.
Cudd, who has also been involved in the restaurant and real estate and development industries, bought Duke's in December 2017. Keeping the same Duke's staff in place after he bought the flooring business has allowed the team to "continue to build upon the good reputation that Duke's historically had," Cudd says.
With a showroom that was recently renovated, doubled in size, and reorganized, Duke's Coastal Flooring is showing how many options are available for homeowners today, and many of those options are in the luxury vinyl market, from COREtec to Shaw and Mohawk.
Shipped like wood, the planks arrive at the storeroom in long boards and, like hardwood, can be installed in a variety of patterns like herringbone.
The ease of installation, however, sets LVP apart. Two options exist: glued-down or a click-lock system. "Many people will choose the click-lock system because it allows you to finish over an existing floor. So if you have tile or even wood down, as long as it is level, you save on the demolition cost normally associated with taking up the existing floor," Cudd says. "And the way you install it, by clicking it and locking it, the do-it-yourselfer can oftentimes handle the work with luxury vinyl plank."
Shade variation allows for boards to arrive with different tints. Saw marks, knots, and irregularities between boards, which one would normally find in hardwoods, make it even more difficult for the average person to distinguish between the two types of flooring.
The waterproof nature of LVP is another desirable aspect for many clients, Cudd says, and is a popular choice for living areas, powder rooms, and kitchens. "For spills, ice maker leaks, and things of that nature, it does provide some safety that wood would not," he says. That being said, for places where there will be consistent exposure to moisture, such as near a shower or bathtub, Cudd advises that a greater barrier exists with ceramic or porcelain tile.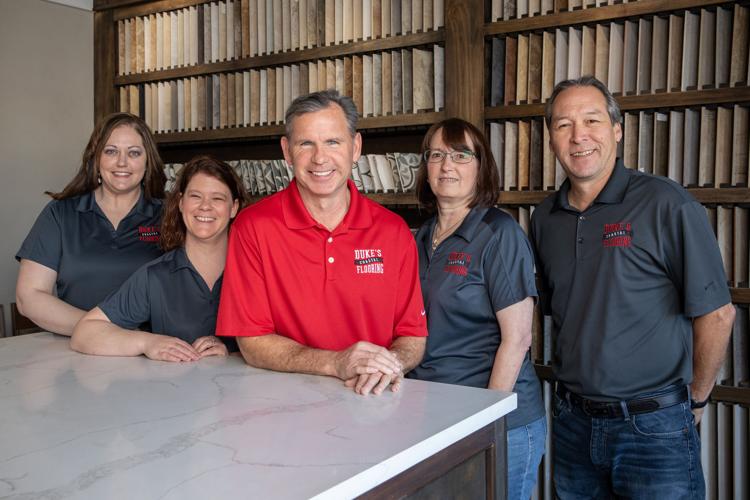 Families with pets or children will find LVP offers a good choice for its durability and warranty options that can extend up to 25 years for residential use. With the click-lock system, if an individual board is damaged, it can be replaced fairly easily.
One thing to consider: If someone in the home has mobility issues, you may want to choose a glued-down option rather than a click-lock system, Cudd says. "Perhaps you have a wheelchair or things that could create pressure points — because there is some degree in flex in this — you would be better served with a glued-down vinyl plank because it is going to be sturdier," he says.
Commercial properties are also turning to LVP for high traffic areas, too. Oftentimes a concrete floor is a good candidate for glued-down planks that can withstand steady use for years. "In different kind of settings, it's really kind of desirable if you've got groups or party areas where you could have drink spills and things of that nature. And it's long lasting, and easy to install," Cudd says.
Cleaning LVP is a breeze. No need for special treatments; often water will be sufficient to clean up any spills. "It's eco-friendly, from a chemical standpoint. You aren't having to put chemicals back in there," Cudd says.
For homeowners wanting something more durable than carpet; more water resistant than laminate; and less expensive than hardwoods, luxury vinyl may be the way to go. Cudd advises clients to come in for a consultation. "Let us know where it is going, how it is going to be used, how wet that area might be, and those will lead us to product selection and installation technique," he says.