Delicious seafood dishes are easy to find in the Golden Isles. A dish that both celebrates a staple in the state of Georgia and offers a unique dining experience in coastal Georgia is a little more challenging to come by. 
Search no more. The Reserve Steakhouse at The Westin on Jekyll Island is serving up the steakhouse experience, and one of the signature dishes on its menu is the bourbon peach-glazed pork chop, with a side of sweet potato casserole. 
The dish also features the chef's own pork seasoning blend, the recipe for which is a secret that cannot be fully divulged. 
"It's chef's secret spices, but I can tell you some of the things that are in it," says Chris Contois, sous chef at The Reserve. "There's some paprika in it, some brown sugar, some salt and pepper."
The peach bourbon glaze features fresh peaches, rosemary, and a bit of bourbon.
"What I really wanted and what I envisioned when I came up with this, was to use fresh peaches … because I figured, we're in the Peach State, right?" says Skipp Worden, executive chef at The Reserve.
The Reserve Steakhouse offers a modern steakhouse with sweeping ocean views. Worden helped develop the restaurant's menu, which not only features prime cut steaks but also live lobsters and scallops, along with an extensive wine list.
"When Skipp got on board is really when we found the identity of the restaurant," says Kevin Baker, director of sales and marketing at The Westin on Jekyll Island.
While The Reserve's menu does include seafood, Baker says the restaurant's culinary team also listened closely to the responses of customers and crafted The Reserve's dining experience around that feedback. 
The restaurant provides options that are unique in this area. 
"There's really not a steakhouse in the area that's specifically a steakhouse," Baker says.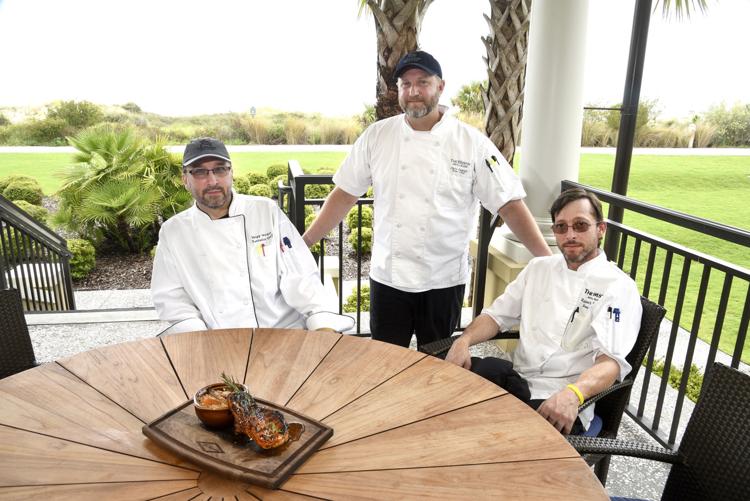 To prepare the bourbon peach-glazed pork chops, first bring the meat to room temperature. Season the pork chop with oil and spice rub, then grill the meat to one's liking. 
The sweet potato casserole is made with roasted sweet potatoes and a brown sugar crust that can be recreated at home.
"No marshmallows, please," Worden says.