In today's world, it can be difficult to sift through the noise and find useful information to help plan your future. Experts may offer different considerations for renting versus  buying, but the fact remains that you need a safe haven for your family.
For some, renting makes sense. But if you want to choose a path to help you build wealth and stability, home ownership is worth considering for the following reasons:
Stability. You own the home, and no one can force you to move. You can decorate and remodel to meet your needs and design desires. You can avoid rent increases and dealing with a property manager for repairs. You control where you live and how you live, usually only constrained by the Homeowners' Association rules and fees. 
Financial Increase. Home ownership increases wealth. Historically, real estate is still the safest investment you can choose. You may also enjoy tax benefits, and many see savings in their housing payment versus a rent payment. Additionally, you can turn the home into an investment by renting it out, creating an income stream in later years. 
Looking at information based on Glynn County statistics may help you choose if home ownership is the best option for you.   
By the Numbers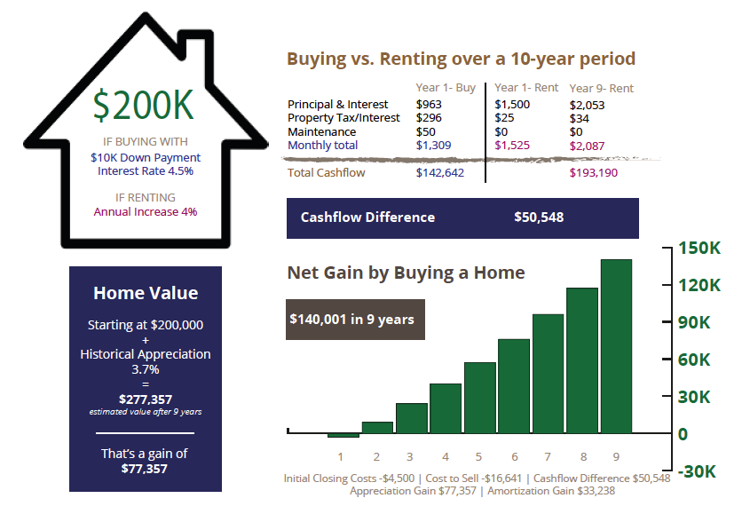 Let's say you purchase a home for $200,000 with a down payment of 5 percent ($10,000) and at an interest rate of 4.5 percent (APR 4.792 percent). Your monthly expenditures would come to $1,309, which covers the principal and interest; property tax and insurance; and maintenance. Using the historical average of 3.7 percent appreciation, the home may increase in value to $277,357 in 10 years time. During this same 10-year period, after making scheduled payments on time, your mortgage balance would decrease to $156,762. 
At the same time, renting a similar home could cost you $1,525 per month for the first year. Taking into account an annual rental increase of 4 percent, that would turn into a monthly rent of $2,087 by the 10th year, bringing the total amount spent on rent during those 10 years to $193,190. Considering the rent savings of $50,548, appreciation of $77,357 and amortization gain of $33,238, this creates a net gain of $140,001 in a 10-year period when you factor in costs to sell.  
Is homeownership right for you? Only you can determine that; but if you have questions, please speak to a lending professional at Homestar Financial Corporation in Brunswick. They can provide facts to help you find the right option for you. It's important to note that home values do not always increase. Please consider all options before deciding.