Volume upon volume has been written on chess. But now, in its 20th century since the game emerged in India around 600 A.D., there is still no requiem for it.
Instead, it thrives, grown by some high-profile matches of the past, especially between Russian and American masters, and a scholastic boom among children still mastering their multiplication tables.
Gary Cumby, a Baptist pastor, has been playing since his childhood. A St. Simons Island resident, he teaches dozens of students at Frederica Academy, St. Simons Christian School, and St. Simons Elementary. On a Monday afternoon, Cumby guided his motorized wheelchair between rows of tables at St. Simons Elementary where students faced off over chess mats.
Cumby arranged the matches and offered advice as they played. The students would be mismatched in tennis, basketball, and athletic contests, but not in chess, and that, Cumby, says is the beauty of the game.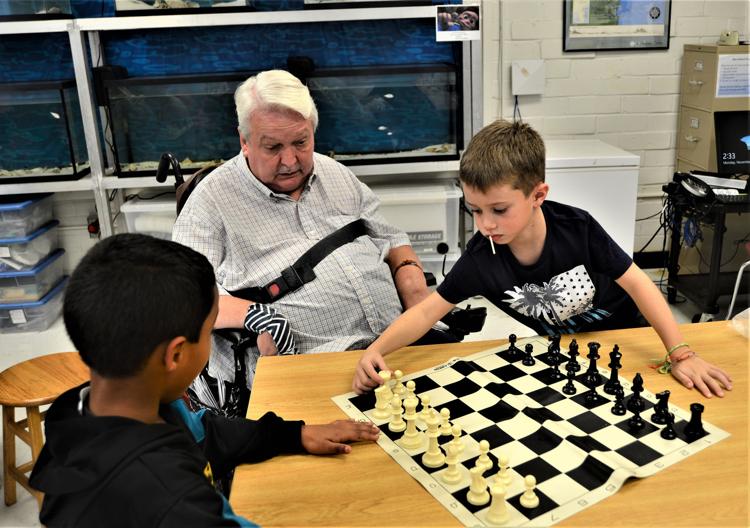 "Equal sides, equal opportunity,'' he says. "It doesn't matter how old you are or how big."
As in events played on courts and fields, there is trash talk, but it is good-natured to the point of comedy. One player says "check," and his opponent grunts and grabs his chest as if stabbed.
There is another difference in chess and recreational athletics.
"When we have tournaments, not everybody gets a trophy,'' Cumby says. Checkmate.
As he made the rounds between tables, he sometimes smiled slightly upon spotting a doomed move. He sometimes offers advice, but often lets it play out.
"I'll let them play a few minutes then I'll tell them some things,'' Cumby says.
To a novice player he says, "These are your fighting pieces, the knights and the bishops, OK? You need to attack the middle and get your people fighting."
Cumby has to keep track of student's abilities and ensure no one is over-matched.
"You don't want to put anyone in to just crush someone. It's discouraging,'' Cumby says.
But losing is an important thing with its own lessons, says Shannon Biddle, whose sons, Cormac, 10, and Nolan, 7, are Cumby's students and also young athletes.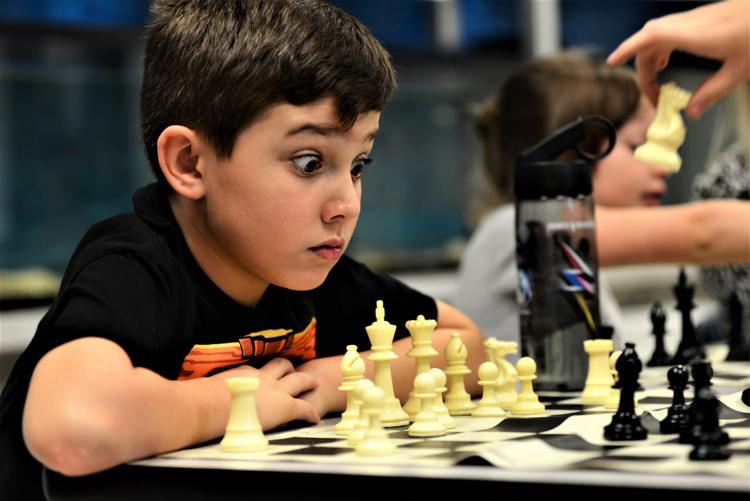 "I like it when they lose. They learn more. I just think it's a phenomenal game, the strategy, the critical thinking,'' Biddle says. "I enjoy the opportunity for them (to engage) in an independent activity."
Given Cumby's physical limitations, she serves as his "chess mom,'' handing out snacks and drawing a grid and pieces on a whiteboard so Cumby can talk his students through a defensive move.
Snacks can be strategic. As his students crunch popcorn and granola, they aren't talking and Cumby can teach uninterrupted.
She also helps teach, having learned first from Cormac, then Cumby as she advanced. 
Biddle was working with a young girl who had been playing just two weeks encouraging her to consider whether letting her opponent take a piece would be beneficial.
"You have to decide if you want to sacrifice that man,'' she said.
Later, she explained a competitive rule as the young player sat with a fingertip on top of a bishop pondering a move.
"OK. If you're playing in a tournament and you touch a piece, you have to move it,'' Biddle says. "It's a hard habit to break."
It's best, she said, to sit on your hands until you're sure.
Not all of his students are this young.
"I had some grandmothers come talk to me about teaching them because they wanted to play their grandchildren,'' he says. "They ended up playing each other."
Indeed, a lot of chess is passed up the family chain instead of down.
Frederica Academy students Sophie McGlaughlin and her sister, Amelia, 12, take private lessons from Cumby each week as well as at school. A fourth grader, Sophie was drawn into chess watching older children play.
"They had snacks,'' she says. "But mainly because, it's fun."
Surrounded by the aroma of Starbucks coffee, Cumby was teaching Sophie the old fashioned way, referencing a book of 2,000 checkmates in two moves.
"Most can do it in three or four,'' but two moves adds an element, he said. "It forces them to look at the board and evaluate."
He had Sophie set up the board. "Put a white knight on F1, a black king on G1, and a black bishop on G2,'' he says.
After arranging the white pieces in opposition, Sophie sat with sunlight turning her blonde hair into a halo. Studying the board, she fingered the five beaded bracelets on her wrist.
"Evaluate the board,'' Cumby says. "See what the situations are. Force the issue."
"Forcing the issue is not a problem for Sophie," Cumby says. "Her cuteness conceals her tenacity."
Raising his eyebrows and smiling slightly, Cumby said, "she's vicious" in tournament play.
As she listened to Cumby, her father, physician Tim McGlaughlin sat reading at a nearby table. He likes for both of his daughters to play.
"I think it just expands the mind. It makes them think analytically,'' he says.
Indeed, studies have shown that chess players perform better in the classroom. The benefits don't stop with the young. Chess appears to slow the progression of Alzhiemer's and similar diseases of the memory in the elderly and there are plenty of other pluses in playing.
McGlaughlin says he wishes he could play more chess with his daughters.
"I used to try to let them win. Now, it's everything I can do to win,'' he says.
Cumby's students do well in chess tournaments taking a lot of first places and there are two coming up, Feb. 22 and April 18 at Frederica Academy. 
While some opt for the game as an extracurricular activity, chess' history as a required subject is scattered. But the game is popular in Eastern Europe. In 2011, Armenia began requiring all students 6 and older to take chess.
There are an estimated 600 million people playing the game around the world including 25 to 30 million in the U.S.
A few of them are at Frederica Academy where students study under Cumby on Fridays. At one such session, the students were having too much fun in practice. Cumby shook his head with an expression that said, "some days are like this."
Looking across the board at opponent Ethan Tsai, Ved Stephen asks, "Are you ready?"
Ethan responds spiritedly, "Ready to defeat you."
"Ready to blunder,'' Ved says.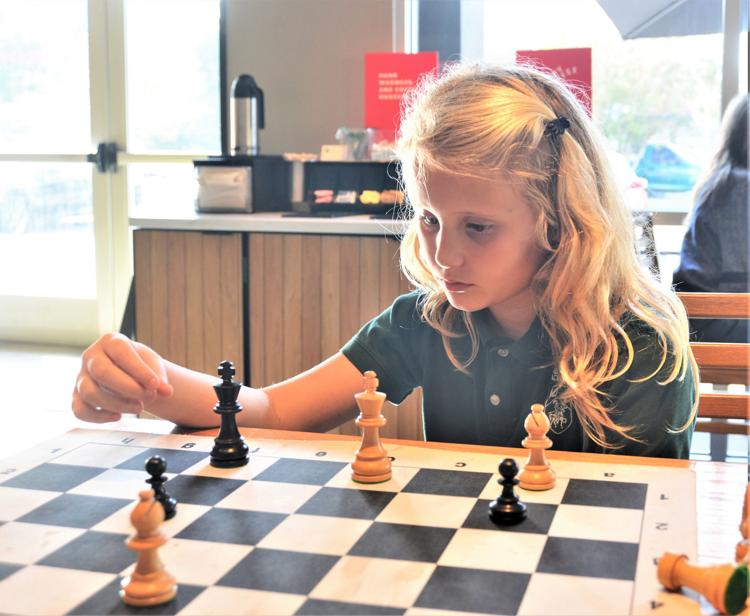 As he does with other students, Cumby makes his rounds saying to one student, "you had a good idea, but ..."
Not all of Cumby's advice is appreciated, depending on which side of the board he's on when he makes a suggestion.
"Pastor Gary helps students crush other students' mojo,'' Luke Smith grouses with a smile.
Soon after, Cumby changed up the matches, pitting girls against boys in some cases and splitting up pairs of close friends.
It got quieter as young minds pondered moves in a very old game.