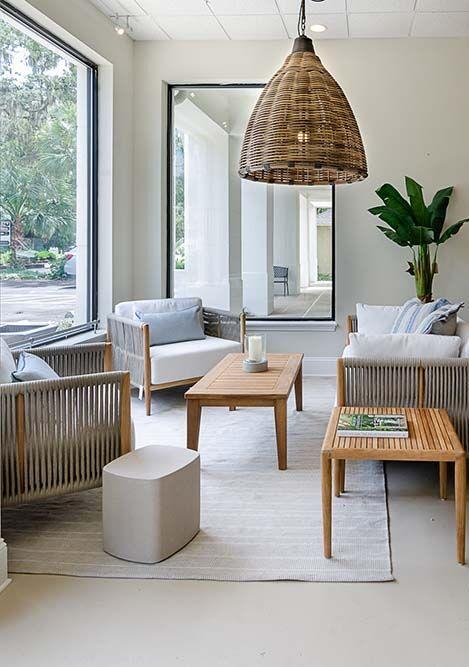 Cooler weather is finally arriving on the Georgia Coast, and with it comes a chance to really take advantage of the beautiful porches and patios that are predominant in our community. And outdoor entertaining has never been more appreciated or more necessary than in the age of Covid. Pierce & Parker Outdoor is excited to help our customers meet those needs, providing the means to truly bring an indoor decorating experience to your outdoor space.
Furniture is the place to start when it comes to outdoor décor, primarily because it's what makes the area a comfortable and inviting hangout. Comfort is paramount in casual spaces, and the best way to assess comfort is to come take a seat before you make any decisions. When it comes to the design aspect, there are so many new materials that look great and stand up to our salt air climate. We have started getting in fully upholstered and slipcovered sofas and club chairs from Lee Industries and Century Furniture. These upholstery pieces sit and look like indoor upholstery, but are fully weather-proof. In fact, Lee has a demonstration video featuring a sofa placed on the bottom of a lake for a month. Then, they pulled it out, pressure washed it, and it looked like new.
We are also seeing all of our vendors do more with mixing materials. Brown Jordan has a new collection of teak and weather-proof rope furniture, and Lloyd Flanders features teak and woven loom pieces. Another innovation is Lloyd Flanders' All Season pieces, where the cushioning is built into the loom seats, negating the need for a separate cushion. Summer Classics has released several collections of ultra-durable woven resin that is indistinguishable from the natural rattan that it mimics. Seaside Casual sells the industry's highest quality resin-based Adirondacks and other chat pieces in dozens of mix-and-match finishes. And we have just opened with Kingsley Bates, whose furniture feature a number of materials including teak and sling dining chairs.
Once the bones of your space are set with your outdoor furniture, the real fun of personalizing begins. We are buying more and more unique and interesting occasional tables (cocktail tables, consoles, end tables, and drink tables) that you can use to make a more distinct statement. We have a huge selection of tables made from concrete, woven, teak, aluminum, rope, ceramics, and more — in fact, we recently received a large shipment of occasional tables from Made Goods, a design-forward interior furniture manufacturer that has expanded into outdoor furniture.
Similarly, outdoor pillows and rugs provide a chance to personalize with a pop of color and the selection of color-fast fabrics keeps expanding. It can be fun to switch things up for autumn by incorporating pillows in earth tones and seasonal patterns, like gingham. And outdoor rugs are improving in leaps and bounds — some of the newer designs by Wendy Jane, Dash & Albert, and Surya approximate the texture of wool while continuing to be completely stain- and fade-resistant.
One of the keys to making your outdoor space warm and inviting is to have the appropriate lighting, especially as the sun starts to go down earlier. Outdoor lighting has expanded well beyond bronze lanterns — there are now all sorts of outdoor pendants and chandeliers in every sort of finish. We recently got in several dramatic chandeliers from Summer Classics, and we're expecting in more shortly from Palecek and Jeffan. And we've even found a few options for outdoor table lamps. On the flip side, shade is equally important when the sun is beating down. It's important to have an easily tilted umbrella — we have lots of color options at different price points from Treasure Garden and Frankford.
Outdoor living is more than just arranging patio furniture. It's about incorporating items with both functional and decorative appeal that allow you to fully enjoy relaxing, dining, and socializing. There are plenty of things that you can add to enhance your outdoor experience and Piece & Parker Outdoor has everything you need to complete your outdoor living space!