Dexter Jones slid the bookcase to the side, and stepped into the speakeasy portion of Reid's Apothecary known as The Study. The soft glow from the Edison bulbs illuminated the Prohibition-era style pub in downtown Brunswick, as he sat his case on the ground. Jones unsnapped the fastenings, and pulled out his alto saxophone.
"I play tenor sax too, but it's at home in the closet," he says with a laugh. "It's just extra equipment to carry. I only pull it out when a band needs one." 
That happens frequently for Jones, who plays with bands in Jacksonville, Amelia Island — plus places in between and  beyond. But the St. Marys resident can often be found giggin' around the Isles, where he performs solo at various local hot spots. 
"I'm here a lot," he says of The Study. "I also play at the King and Prince Hotel and Gnat's Landing. In Kingsland, I play at Op's Pizza Kitchen. Then, I play with three or four groups." 
It's clear that word about Jones' talent has spread far and wide. But it wasn't easy to come by. It took him decades of development to get just the right groove. And the journey really began when he was a child. 
"I'm originally from Stamps, Arkansas, and my mother pretty much made me perform in church. That started when I was around five years old. I started by singing in church. I started instrumental music when I was in fifth grade, and started playing saxophone in sixth grade," he says. "Ever since then, I've performed in church every Sunday"
He continued playing and performing through his college years at the University of Arkansas, Monticello. That's where he further honed his skills under the tutelage of a dedicated teacher.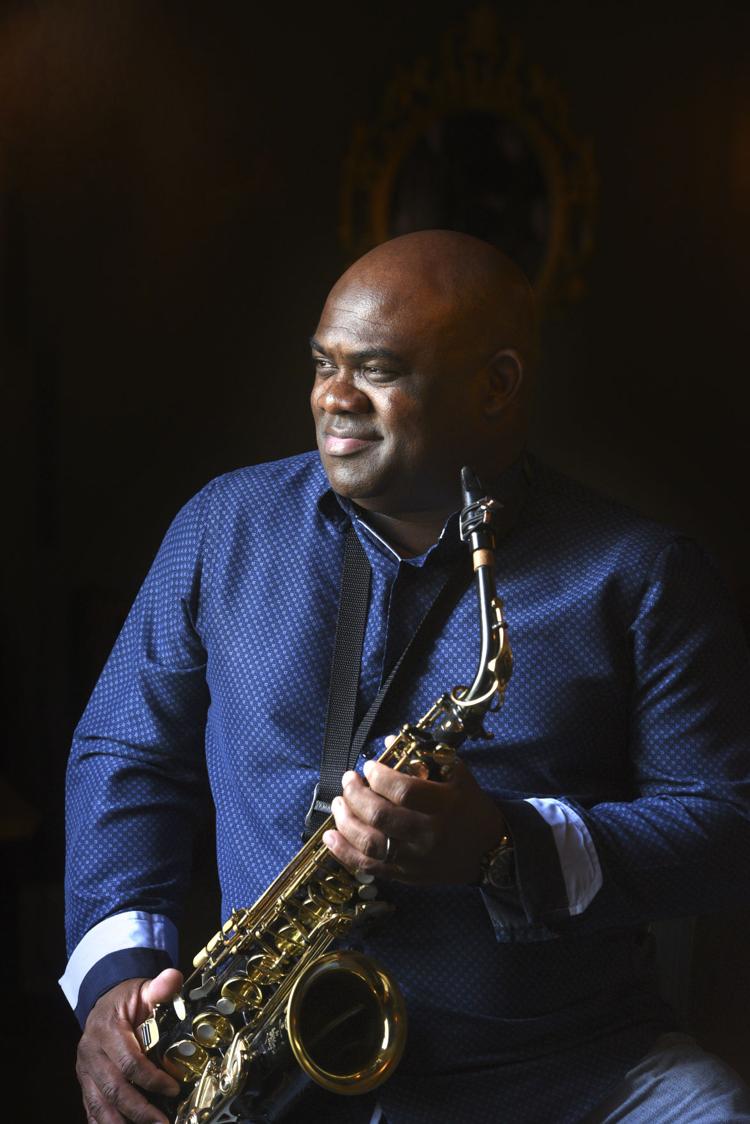 "My saxophone teacher, Dr. Andy Gwen, was one of the best saxophone teachers in the state at the time. I didn't know that then, they gave me a scholarship and I just went," Jones says with a chuckle. "But I did that for four years. He had me do a lot of competitions and so forth."
From there, he went to serve his country, enlisting in the United States Navy as a musician. That afforded him the opportunity to play around the world, including performing for two sitting presidents — George W. Bush and Barack Obama.  
"I played extensively, all over the place. I started out in Hawaii. I was part of a group that went down to American Samoa. We played for the royal family there, which was pretty neat," he says. "Then, I went off to Chicago, and played in their big band, Navy Band Great Lakes. I did a lot of performances all around the Mid-West." 
Jones played for Medal of Honor recipients, as well as other military leaders from around the world. He retired from military life back in 2017 as an E-6.  
Since retiring, Jones has continued doing what he loves most, taking to the stage with bands throughout the region. A couple of years ago he decided to try doing a solo act, which has kept him quite busy. 
"It's worked out so far. I didn't know if it would or not," he says. "Most people sing and play the sax but I'm not a singer."  
But considering the excited crowds and packed audiences, Jones doesn't need to sing. His instrument does the talking for him, so to speak. That descriptor may not be too far off the mark, either. 
"The saxophone is known as the instrument that most closely relates to the human voice. It really resonates with people because it simulates singing. You can do so much with it. The range is endless," he says. "The types of music ARE endless. I've played everything from classical music to rock and roll. There's such a broad span."
While he has the capability to play pretty much any genre, Jones prefers to keep his set list upbeat. The titles that make appearances are usually something that gets the audience moving — at least, that's the goal. 
"Most of what I do is more in the pop genre. One of my favorites to play is 'My, My, My' by Johnny Gill. Of course, 'Georgia on my Mind.' To get people dancing, I like to do 'September' by Earth, Wind and Fire. That one gets people up," he says.
I love getting the crowd going. That's like my drug. When I see the audience really getting into what I'm doing ... I get even more engaged and I give even more back. It really gets me going."