Crack!
Sharp, crisp, and ephemeral — like a bullwhip.
The colorful balls scatter pell-mell across the smooth table, only to ricochet off the padded rails and collide again with each other. One ball disappears down a corner pocket. The rest continue to knock about until time and energy recede, leaving a scattering of balls in motionless position across the green felt expanse.
That is what happens when the green-chalked tip of the tapered cue stick smacks that heavy white ball with precision force and authority, sending it on a tight trajectory into the pyramid of solid and striped balls at the other end. That is what happens after you say, "rack 'em up," to a bona fide billiards player William "Will" Hoyt.
"Looks like you're stripes," I said to him during a friendly game of pool at Bardelous in downtown Brunswick.
Hoyt nodded affably, studying the table like Kasparov plotting his next move on the queen. He proceeds to sink four straight shots, tapping in the last one with a finesse that leaves the cue ball on a side rail behind the striped 10 ball. And me with no clear shot.
"Pool is like a physical game of chess," Hoyt explained. "Once you get to the level where everybody can make any shot, you've got to figure out a different way to win than just knocking the balls in."
I'm nowhere near that league, but Hoyt sure as heck is. The McIntosh County native has twice competed in the American Poolplayers Association's World Championship in Las Vegas. Most recently, Hoyt and sister, Amber, teamed up to place 63rd out of 640 teams in doubles competition there. Brother Matt Hoyt also competed in last year's world championship.
To earn a spot in the championship, they had to win their APA regionals. The local APA region encompasses Brunswick, Valdosta, Darien, and Jesup, he said. The APA covered the expenses of flying them out there and putting them up in a Vegas hotel for a week.
"If you have a knack for it and you're looking for something challenging to do, pool's a good choice," said Hoyt, 31. "It engages your mind constantly. There's not a part of pool that's not fully engaging your mind."
Folks of the engaging sort can try their hand at pool around here at places like Bardelous, 1412 Newcastle St., and at Side Pokkets in the Glynn Place Mall. Side Pokkets is Hoyt's place, so named because another pool hall already has dibs on the correct spelling of pockets. Hoyt still holds his day job with McIntosh Heating and Cooling, but Side Pokkets has developed a growing crowd of regulars since opening last July.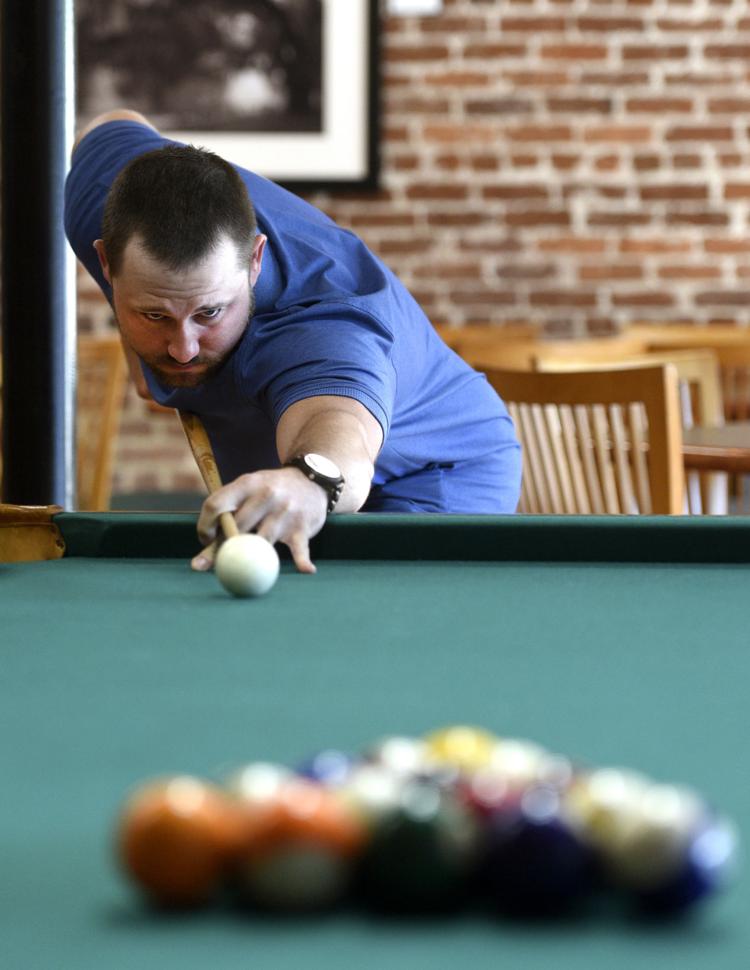 If you are nostalgic for pool tables in smoky bars where guys named "Spider" come at you with the business end of a cue stick for sharking them, Side Pokkets and Bardelous are definitely not your type of pool hall. Side Pokkets features nine professional pool tables, as well as darts and other challenging distractions in a "clean, vibrant atmosphere." Bardelous has three pool tables, darts, board games, cards, and "absolutely no TV." Food and snacks are available. Craft beers, imports and wine are about as edgy as it gets at these pool joints.
"It's good, clean fun," Hoyt said. "It's a family atmosphere, definitely."
Suddenly, Hoyt is staring down a shot on the 9 ball while thinking ahead to a winning position on the 8 ball. My only defense is the obstacle course created by the five balls I have remaining on the table. The 9 ball drops, but Will is already looking ahead to the cue ball as it glides to a halt in perfect position to sink the 8 ball, side pocket.
"Geometry is 100 percent your friend in this game," Hoyt explained. "Knowing your angles. And you have to be able to run numbers in your head. You have to adjust speed to the angles because the angle changes."
And then the 8-ball drops in the side pocket.
"Wanna play again?" I asked.
"Rack 'em up," he said.