The pier on St Simons Island provides a beautiful backdrop for strolling couples, standalone fishermen, and plein air painters. For one such artist, Peggy Buchan, the south end spot has become her open air workspace — an oasis of light, color, and creativity.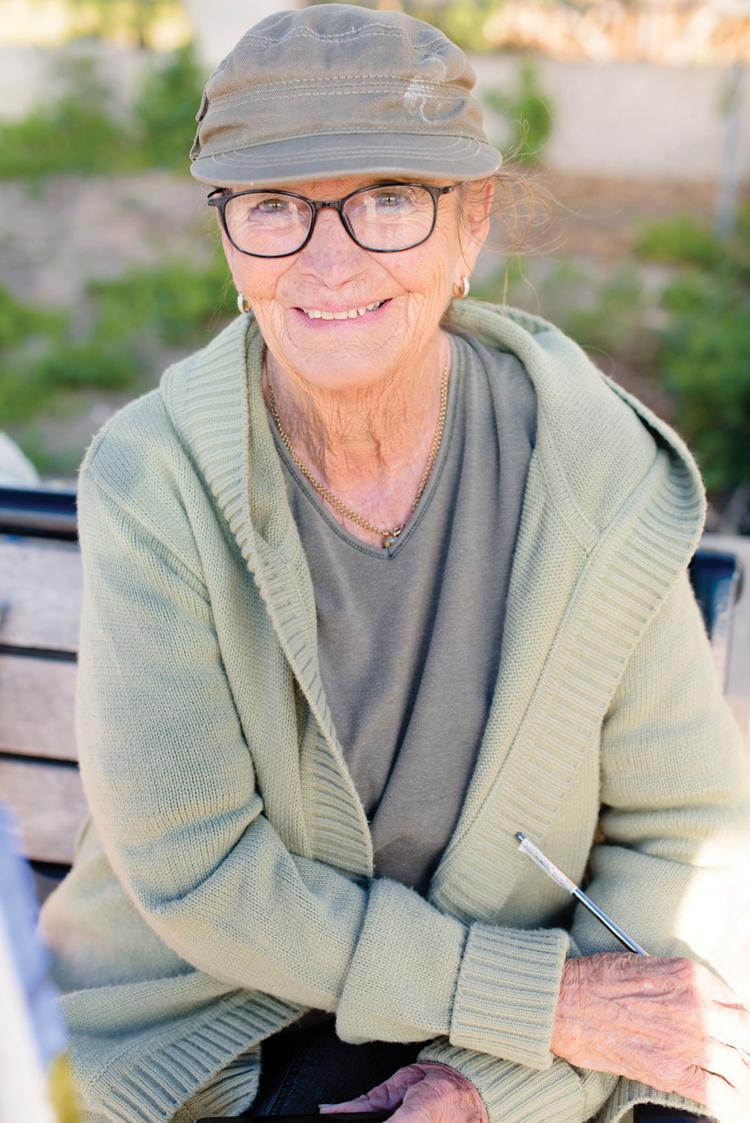 Situated under one of the large umbrellas at the entrance of the pier, Peggy can be seen most days perfecting her artistry under the protective watch of her dog, Muffin. Painting by memory most of the time, her canvas artworks feature well-known locations found throughout the island: the lighthouse, Christ Church, and a mixture of marsh and ocean views. She knows these sites by heart as a second generation island native.
"Having lived and painted at Taylor Fish Camp for so many years, I am accustomed to painting with lots of people around. I love it because I meet people from all over the world," she says. "I have paintings in Japan, China, England, France, and every state in the Union. My paintings travel where I can't go!"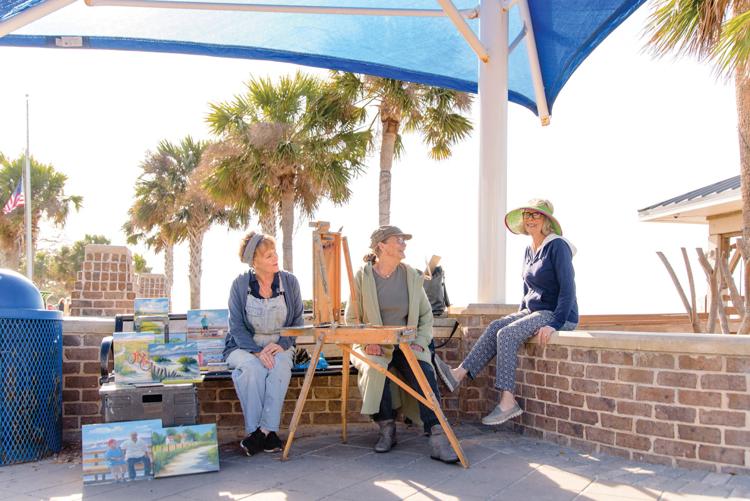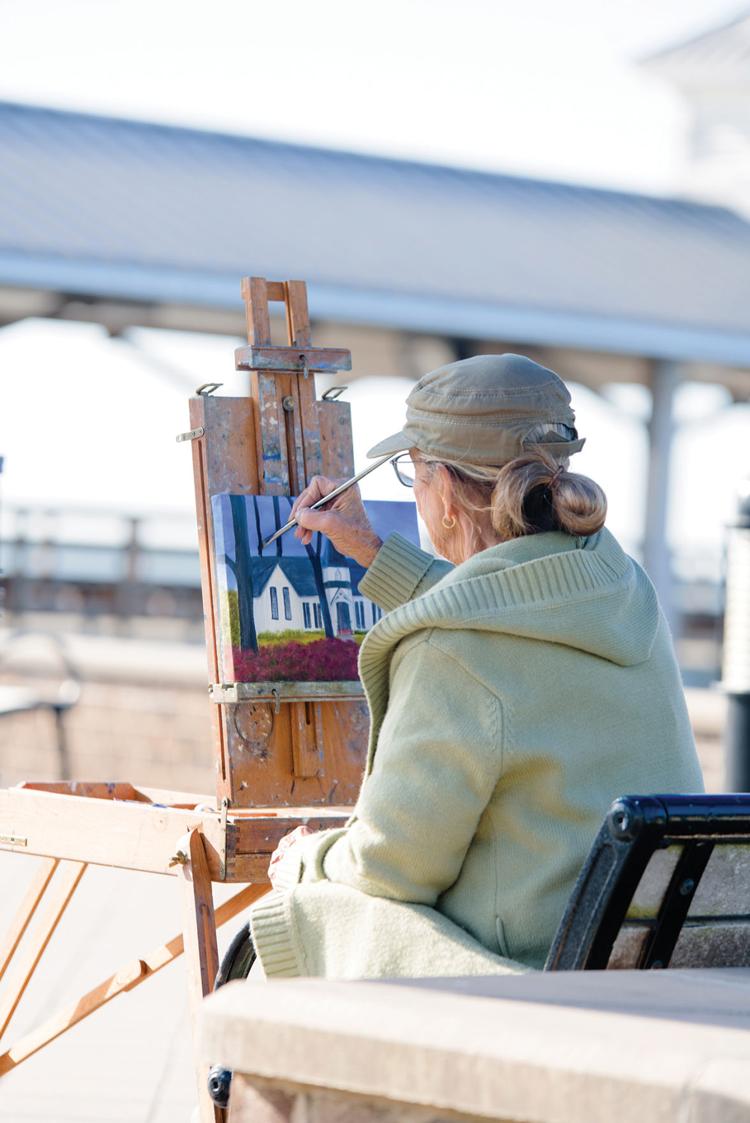 For Peggy, painting isn't much of a solitary venture. She is often joined by two of her good friends and fellow painters, Karen Keene Braswell and Alyson Tucker, as they set up their stations in the middle of the pier. Peggy, who lovingly refers to the trio as the Three Musketeers, says the women not only keep each other company but they also keep an eye on each other's supplies when one steps away. Often, the ladies will go have a coffee together after a long morning of painting.
Peggy is an early riser, getting in several hours of painting before calling her "quitting time" around 1:30 p.m. Each day, there is a variety of freshly painted canvases on display, as locals and tourists stroll by. Typically, she has 5 by 7 inch and 8 by 10 inch sizes with her, but she takes custom orders on both the size and the subject of the painting.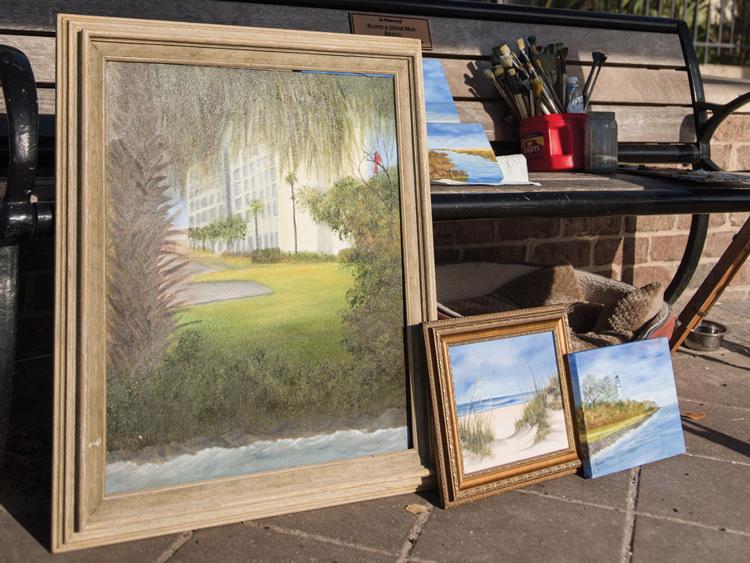 With a sweet demeanor that suggests she has never met a stranger, Peggy enjoys interacting with other locals and the tourists that visit Pier Village as much as she does painting. "I really love the people that my paintings enable me to meet," she says.
You can tell you have a Peggy Buchan painting by her unique symbol included in her painting signature: a cork. Peggy and her husband were avid fishermen, and she decided to incorporate her love of the sport into her artwork years ago. Any marsh landscape with water just looked empty without it, she says.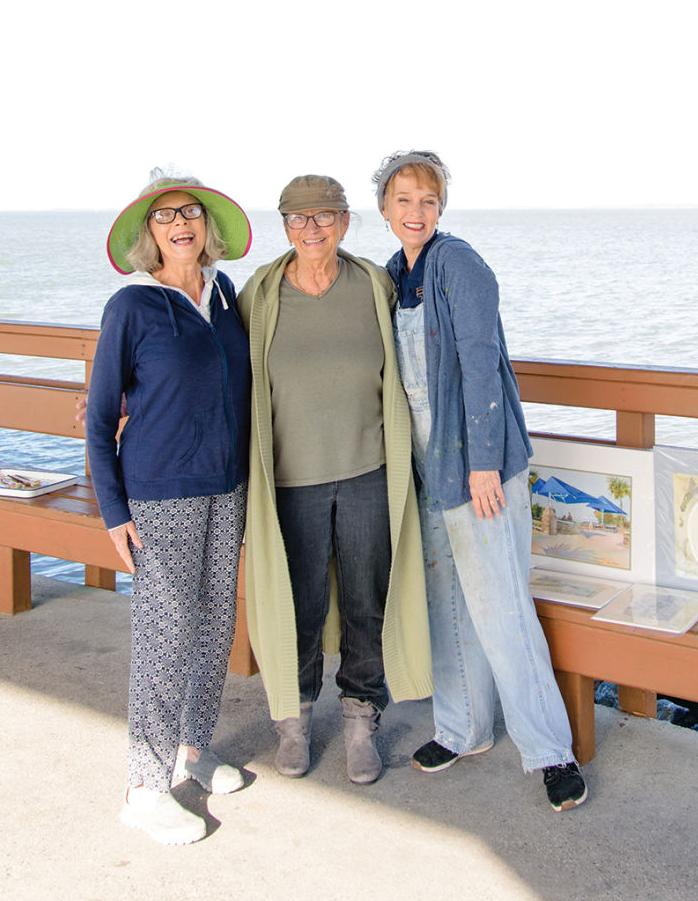 Customers who bought some of her earliest work have even asked to have her cork signature added to their lighthouse and beach canvas paintings.
Whether she is painting the pier or the Cassina Garden Club slave tabby cabins, Peggy says her happiness comes from doing something she loves that brings joy to others. "Paint what you love. Don't expect to get rich. Always be honored that someone likes your work enough to want to hang it in their homes," she says to future artists out there.
And if you ever stroll to the pier one morning, keep a watchful eye for Peggy, Muffin, and the others capturing what makes the Golden Isles so special.