Not long after the Golden Ray cargo ship overturned in the sound between St. Simons and Jekyll, I visited the Golden Isles.
Like everyone else, I was in complete wonder of the enormous ship laying on its side with 4,200 cars aboard. Over a year later, I returned to the island as they had begun, finally, to cut the ship apart. I was having breakfast with my sweet friend, Frankie Strother, in the Oak Room of Sea Island's Lodge, looking over her shoulder as the water glimmered around the ship.
It brought to mind two stories. Both dealing with ships in World War II.
Daddy was married, with a child, and would probably have never been called to fight. But Daddy was a patriot, a man grateful for a country that would give him an opportunity to make a better life for himself outside those impoverished mountains. So, he enlisted and, because he volunteered, he was allowed to pick his branch of service.
He chose the Navy. He wanted to sail the sea and experience the feeling of being in the midst of an ocean with no land in sight. For well over two years, he served aboard a submarine chaser, one that arrived at the tail end of the Battle of Midway. At one point, due to a raging storm and violent sea, the ship — never, ever, call it a "boat" in front of my daddy — took on so much water that, for two weeks, they were wet, up to their ankles, until they could find land and dry out the vessel. Most of their food ruined so they lived on pineapples, a food Daddy refused to ever eat again.
Then, I thought of my dear friend, Mrs. Wanda Parks, who is 96 years old. The story of our friendship began when my niece, Nicole, who is a physical therapist, asked me to stop by the nursing home where Mrs. Parks was residing temporarily while in therapy.
"She is such a big fan of yours. It would make her day."
It did. But it made my month. She was excited to see me so, as I was preparing to leave, I promised to visit her in her sweet, two-story farmhouse with the picket fence and picturesque garden. One day, Tink and I were driving past the house and saw Mrs. Parks working her flowers.
"Pull in here," I directed. She looked up from her flowers and grinned with joy when she saw it was us.
"Come in," she urged.
What we found was a home typical of our country's greatest generation: a spotless, cherished house with everything neatly in place and not cluttered with an abundance of unnecessary items (like our house). She did not know that I was coming or would ever keep my word to do so, yet she had a copy of every book I've written, stacked neatly on a shelf next to a couple of framed photos.
I was touched and humbled. Starting that day, I stopped by to see Mrs. Parks every couple or so months. Her mind is sharp as a tack. She can beat anyone at Scrabble and, though her lower back bothers her a bit, she still lives independently and gets around well. I could write a book on the stories she has told me but here is the one that I was reminded of by the ship.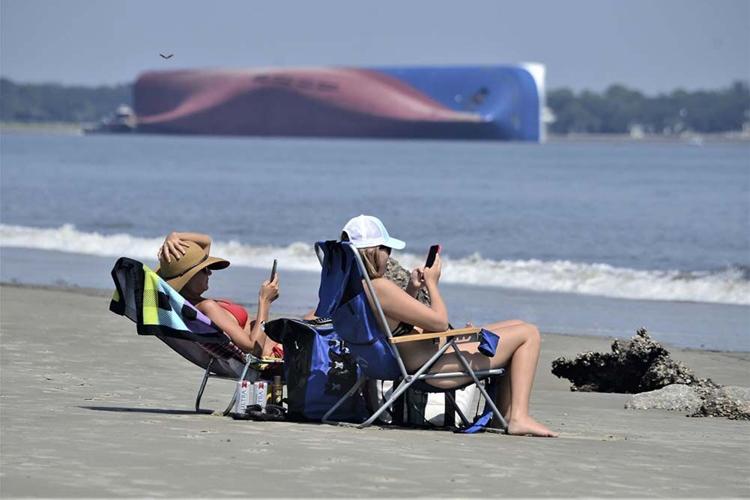 The pretty Wanda had been courted by two Parks brothers but her heart went to Erwin. It was the late 1930s when he went to trade school in Clarksville, Georgia, and learned to weld. When the war started up, a shipyard in Brunswick — the port from where the Golden Ray had set sail — began building cargo ships for the war effort.
Erwin gathered his bride and, along with a few other fellas, headed to South Georgia to use his welding skills to help build Liberty ships, the workhorses of the military effort that would carry supplies where needed. It was the winter before the war ended and the Navy sent notice that six more ships needed to be built during December.
Erwin Parks and the entire slate of shipyard employees stepped forward and promised to deliver seven ships. They worked around the clock, including Christmas Day, and refused any extra pay.
I tear up, thinking of heart-strong patriots like my daddy and the Parkses. These were mountain people who had grown up amidst trees, rivers, and streams; who, as children, never dreamed they would see the ocean.
That overturned ship reminded me powerfully of the debt owed to those shipbuilders and sailors.
Thank you, Golden Ray.