There is no equivocation in Charlie Crawley when he talks about his favorite recreational sport.
"Pickleball will be an Olympic sport in my lifetime," he says standing beside a tennis court with lines added to lay out a court-within-a-court to accommodate pickleball.
There are two players to a side, hitting a plastic ball back and forth over the nets of two tennis/pickleball courts. There aren't many "remember when" stories in pickleball because it's relatively new to St. Simons, but spreading like a grass fire on a windy day. "I brought this sport to the island with my wife in 2014," says Crawley, an island ambassador for the sport.
They went to Jacksonville to learn to play, and pitched the idea to Glynn County of painting some new lines on the tennis courts to make them dual-purpose. It took a year just to get the blue lines overlaid among the white tennis boundaries on island and mainland public courts. Another set of blue lines delineates the junior tennis courts. Now, every Friday, there's a crowd of pickleball players at the two courts in the corner of a complex of tennis courts at Glynn County's Epworth Park. 
Come Spring, however, the pickleball players will have a set of courts made for them that they won't have to share with tennis players. That should end some simmering resentment because tennis players believe tennis courts are made for tennis, but the 'twain meet because some play both games. Jeff Bush was president of the U.S. Tennis Association chapter when he learned about pickleball about five years ago.
"I've been playing it ever since," he says. It was an older crowd playing at the time, he said, "then it got competitive." Indeed, as he waited his turn, there was a spirited game of doubles in which the partners were mixed in gender and clothing. Some wore matching sports outfits, while others were in shorts and t-shirts that would be suitable for wearing behind a push mower. The game is short on pretentiousness and long on friendliness.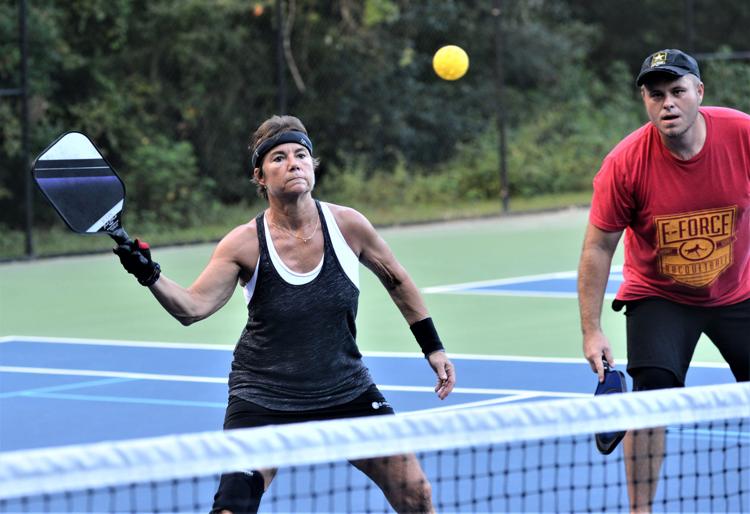 Perhaps no one has deeper ties to tennis than Burnett Rooks who coached the sport 25 years at Glynn Academy.
"I'm absolutely in love with pickleball as much as tennis,'' said Rooks, who plays on the indoor court at The Club on St. Simons Island. 
He finds it a fast, competitive game with rules that equalize the abilities of players. And with the smaller court, "You don't have to run as far," he said.
The rules require an underhand serve and a prohibition against entering "the kitchen," a no volley zone, seven feet from the net until the ball is returned twice from each side.
"You can't volley from the service line," which means there are no long stretches of players standing the full length of the court apart and hitting the ball back and forth as in tennis, Rooks says "Not being able to serve and volley like you can in tennis equalizes things."
Scoring by points, as in volleyball and badminton, also eliminates the arcane language of tennis including "love 30," "deuce" and "ad in." That can be confusing to casual fans, but pickleball games are played to 11 points, and teams must win by two.
Since the first game of pickleball in 1965, the game has been played by people of all ages and abilities. U.S. Rep. Joel Pritchard, and two of his friends invented the game after they came home on Bainbridge Island, Wa., and found their children bored. They put up the badminton net, but couldn't find a shuttlecock so they substituted a Wiffle ball, and handmade wooden paddles, and lowered the net. The net has remained low, two inches lower in the middle than for tennis. 
The game grew by word-of-mouth at first, but now has advocates like Crawley around the country. Information can be found online at www.usapa.org and by Crawley's blog at pickleballssi.blogspot.com.
Some found pickleball as they were looking to play something else.
Leah Tucker and her husband, Sandy, had been playing racquetball for 40 years when they traveled to The Villages in Florida, and asked for equipment to play their favorite game. 
"There's no racquetball here," they were told. "There's pickleball. Get some paddles out of the shed." 
They tried it, loved it, and now Sandy is a distributor for Engage Pickleball. Anthony Aloi, 29, an assistant golf pro, has a longer history in the sport than many of those on the court with him.
"I played in high school. It was a unit in gym class. I enjoyed it," and he still does, he says.
He hadn't played for years but was watching a game at The Club when, Aloi says, "Some nice lady offered me a paddle, and said, 'Go play.'" Now he plays three or four times a week. 
On a Friday morning with all the courts busy with pickleball or tennis, the difference was noticeable. The pickleball matches seemed to move continuously, while there were lapses in the action on the tennis court.
Although it seems an everyman's game, it can be expensive. 
"They've got the shoes, and they've got two or three paddles," Rooks says of those who sink serious money into their recreation. 
Players can spend $150 and up for good composite paddles but beginners' paddles can cost as little as $15, especially for wooden ones.
A good paddle costs $65 to $100, Rooks says.
But he cautions, "Don't spend $95 on a paddle if you have a $5 game."