From the whispering moss to the sandy shores to the sweeping marsh vistas, there's something undeniably magical about the Golden Isles.
But for those who call this area home, they know that there's an element that really puts the sparkle into this special place — its people. The community is filled with men and women who truly put the "golden" in the Isles every day as they cater to their customers and run their businesses.
And the Mitchell family is certainly one of these. For four decades, Tom and his family have owned Frederica House at 3611 Frederica Road, St. Simons Island. Over those many years, they've developed a rapport with locals and visitors alike, which has kept both returning to their restaurant throughout the years.
"We have watched a lot of kids grow up and now they come and bring their kids here," Tom says, seated in the expansive dining room. "My son, Tim, works with us now. But all our children have really grown up here."
His manager Steve Eckard smiles and nods knowingly.
"They really have," Eckard adds. "Mine are 19 and 20 now."
Considering its long history, the restaurant has a legacy of its own. It's in the top three longest-lasting restaurants on the island, no small feat considering the volatility of the industry.
"We've seen a lot of folks come and go," Eckard, who joined the business in 1981, says.
"We're one of the three oldest restaurants. There's Bennie's, then Crab Trap, then us," Mitchell notes.
Like the other staples, Frederica House has an ambiance that truly sets it apart. The rustic building, situated along the island's busiest thoroughfare, has always stood out. The wooden structure brings to mind an antique farmhouse or hidden cabin. And that continues when one steps inside. The building is constructed entirely of porous cedar logs, which were originally white and were used as fencing timbers to corral large cypress logs floated up from Florida.
The two-story structure is decorated with bright bursts of greenery that further cultivates that outdoorsy feel. Upstairs, there are tables with ample seating to accommodate large get-togethers and family dinners, including a private room perfect for celebrating special occasions. Peeking over the railing, diners are treated to a view of the lower level and its fully-stocked bar.
Frederica House offers a wide variety of handcrafted cocktails, carefully curated wines, and a healthy beer selection. The choices pair well with the menu, which serves up some of the coast's favorite cuisine. It boasts a wide variety of dishes, including fresh catches that can be prepared fried or broiled.
"We have catfish, rainbow trout, salmon, flounder," Mitchell lists.
"We change up our fish a lot. We only serve what's fresh," Eckard says.
The menu also offers popular steak and pasta dishes. But Eckard and Mitchell know there's one in particular that's become a clear favorite over the years.
"It's our fried shrimp, no doubt. People absolutely love it," Eckard says. "There's no telling how many thousand of fried shrimp plates we've served over all these years."
Naturally, each meal is crafted with care, using only the best.
"We serve Wild Georgia Shrimp because they're the best in the world,'" Eckard says.
Frederica House's shrimp are lightly breaded, which could even be called "dusted" rather than coated. And over the years, they've learned how to fry to perfection.
"You cannot overcook shrimp. If you do, you might as well throw it out and start over because they won't be any good," Eckard says.
The restaurant serves the shrimp with coleslaw, as well as its own special cocktail and tartar sauces, also all made in-house.
"People love our tartar sauce. They come in just for that and get cups of it," Mitchell says.
Taking that extra time to create something truly fresh and homemade is just another piece of their recipe of longevity.
"You really have to do it the right way and be consistent every time," Eckard says.
"That's what we've done over the years ... that's why we're survivors," Mitchell adds.
Frederica House opens at 5:30 p.m. Tuesday to Saturday. Their menu and more information can be found at fredericahouse.com.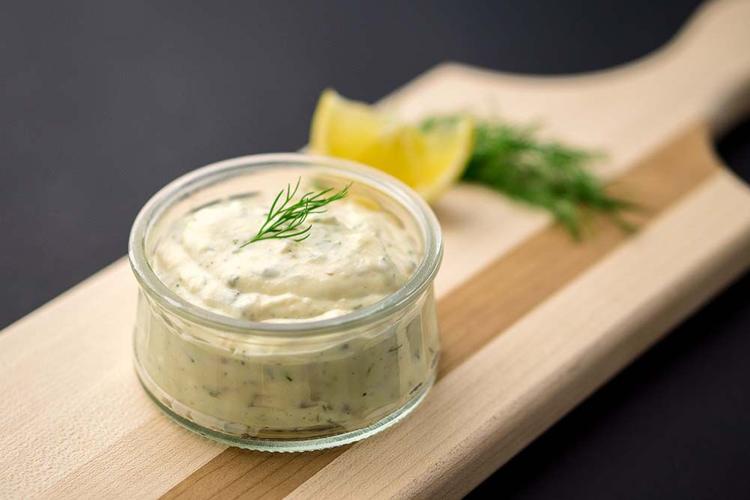 Frederica House's Coveted Tartar Recipe
Ingredients for the tartar sauce
1 cup real mayonnaise
1 Tbsp sweet pickle relish
¼ tsp garlic salt
1 Tbsp lemon juice
¼ tsp black pepper
2 Tbsp finely chopped onion
Directions
Combine all ingredients in a bowl and stir. Add more lemon juice or relish if desired.