It was well past lunchtime on a toasty Thursday afternoon. But Island Jerk, located at 1519 Newcastle Street in downtown Brunswick, was packed with hungry customers, excited to place their orders.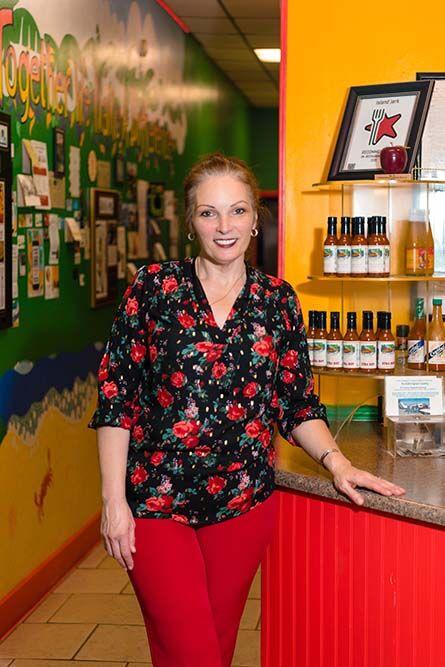 Behind the counter, Bernie Gendron was calming bustling from the kitchen to the register to the tables. The owner and baker, Gendron, who also operates Ms. B's Boozy Cakes, serves up authentic Jamaican cuisine at the location.
The restaurant, which has been open for eight years, has become a local favorite and was even recognized as one of the Top 25 Small Businesses from the Who's Who in America organization in the fall of 2020.
Over that time, Gendron become a beloved figure, often referred to as Ms. B, who feeds both bellies and souls.
"It's comfort food," Gendron says with a smile. "Jamaican food is also food that is good for your body."
The menus is filled with fresh vegetables and island flavors. Starters include, among other things, coco bread, conch fritters, plantains, and falafel. The entrees include an assortment of meats, chicken, pork, shrimp, fish, as well as tofu that can be prepared in styles like jerk, eschovich, curry, or garlic pan fried. Oxtail is another classic island dish while the sampler trio allows diners to get a taste of a mix of curried meats. There's also a very popular veggie delight dish that's a major favorite.
"People really love that one," Gendron says. "But we have food for everyone here ... including vegetarians, vegans, or those who are gluten free. We even have gluten free cake."
Regardless of what one selects, everything on the menu is handmade with love right on site. Gendron also sources her ingredients from as many local vendors as possible.
"We like to keep everything as local as we possibly can," she says. "We like to help other businesses out."
That helpful attitude is something that is found amongst many of the downtown restaurateurs. Each one is extremely supportive of new neighbors and views the increasing revitalization of the area as beneficial for all.
And that's certainly how Gendron sees it. "It helps everyone ... it does. Brunswick reminds me of where I grew up in Maine. It was also a small town where everyone supports everyone," she said.
For Gendron, however, that sense of support extends to those who are in the greatest need. A few years ago, she began a Meals in Reserve program to serve the homeless.
The premise is simple — a diner purchases a meal for themselves and then offers a $5 tax deductible donation that will cover the cost of a meal — Express Jerk Chicken or falafel as well as a bottle of water — for a local homeless person.
"We have about eight people that we feed every day. And people have been very supportive of it. Every single person on this earth deserves to eat. Food is not a luxury," she says.