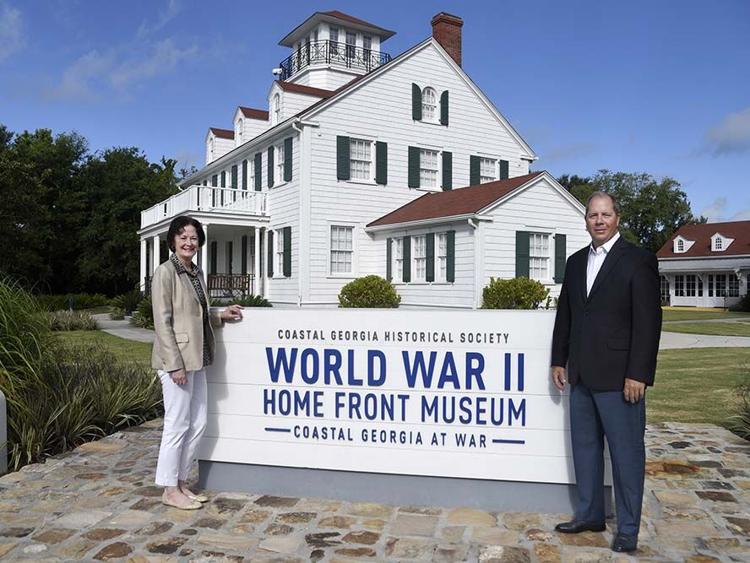 When I was 14, I visited the Golden Isles for the first time on a school field trip and had what I can only liken to my version of a Damascus Road experience.
In the cemetery of Christ Church, the scales fell from my eyes and glory shone 'round about when Eugenia Price and her friend, Clara Gould, walked over to Anson Dodge's grave where I was standing. At the end of that conversation, I knew that I had to become a writer of books.
More than 20 years and two best-selling books later, I visited the Golden Isles again for the first time since that Damascus Road experience when Kevin Lokey invited me to speak at a small Rotary Club that met at Sea Palms.
During lunch, as Kevin and I conversed, I told him that I had just started a syndicated newspaper column dedicated to telling stories of the South as seen through the eyes of her people. I had, at that point, six newspapers. Kevin, never having read one word I had written, generously said, "I know Buff Leavy. I'll call him and see if he'll take a look and consider carrying it."
The Brunswick News, thanks to Kevin, became my seventh subscriber en route to what would be over 50 newspapers before challenges hit the industry.
When the World War II Museum was opened on East Beach, I was invited but had to pass because of speaking commitments. Over a year later, I decided to make a trip to St. Simons Island to see it. During my research, I discovered that Kevin Lokey is the current President of the board. "Finally," I thought to myself. "I can repay his kindness by giving publicity to the museum."
I love all things and people of World War II. I especially admire Roosevelt and Churchill. With delighted pleasure, I sit on the Board of the Little White House in Warm Springs and jump at the opportunity to learn anything new about that era. Mimi Rogers, the quite capable museum's curator, gave me a personal tour and she knew, in detail, the answer to any question I asked. Her knowledge is stunning. It's similar to listening to an audio version of an encyclopedia. When I mentioned that I have a dear friend who is 96 and her husband worked at the Naval Yard in Brunswick (J.A. Jones Construction), she immediately brightened and said, "Oh! I must speak to her." She nodded enthusiastically. "I'm serious."
Mimi gathers knowledge and triple checks her facts. Here are a few things I learned:
• The picture-perfect museum is in the former Coast Guard Station. FDR, experiencing a premonition, began building over 40 stations to protect America's coast in 1936.
• During World War II, more people died on the eastern coastline than died in Pearl Harbor.
• The St. Simons airport was built by the WPA (Works Progress Administration) in 1938. The federal government gave it back to Glynn County in 1995. During the war, it operated as a Naval Air Base and Navy Radar Training School.
• Behind the King and Prince, a German U-boat sank the Baton Rouge and the Oklahoma, tankers carrying fuel north for the war effort, on April 8, 1942. Twenty-two men died but others were saved thanks to the Coast Guard boats, the shrimp boats, and rowboats of locals as well as the yacht of Coca-Cola magnate, Charles Candler, which arrived from nearby Cumberland Island.
• Airships, that looked like the Goodyear Blimp, were made at the Naval Yard by Goodyear, using rubber-coated fabric.
• America's shipyards — 18 of them — built Liberty ships faster than U-boats could sink them.
• The Naval Air Base eventually became Glynco (FLETC) where Federal Officers including U.S. Marshals are trained.
• John Connally, the Texas Governor who was wounded during the JFK assassination, trained on SSI for his war work.
• While the museum glistens like a gem in the light of the sea and white sands, it is a true treasure chest inside with audio from islanders like Kappy O'Connor who, when she was not much more than seven, would go to the Cloister Administration Building as a volunteer plane spotter and Sonja Kinard whose father was the captain of the Candler Yacht. It also has films and interactive stations.
I believe this museum to be in the top five of the many dozen museums I have seen in the course of my years. It was enthralling. Kevin, it looks like I still owe you a favor because this one was all my joy.