When the holidays arrive, I find myself in the kitchen more than any room of the house. I can get lost in an afternoon of making pumpkin bread, brewing my favorite spiced tea, or baking holiday cookies. This year, as I was looking through the wealth of my pantry, I saw for the first time more than just ingredients but ways to bring the holidays into my entire home. I didn't need to break the bank or go any farther than the grocery store to give my home that special holiday touch.
Dried orange garland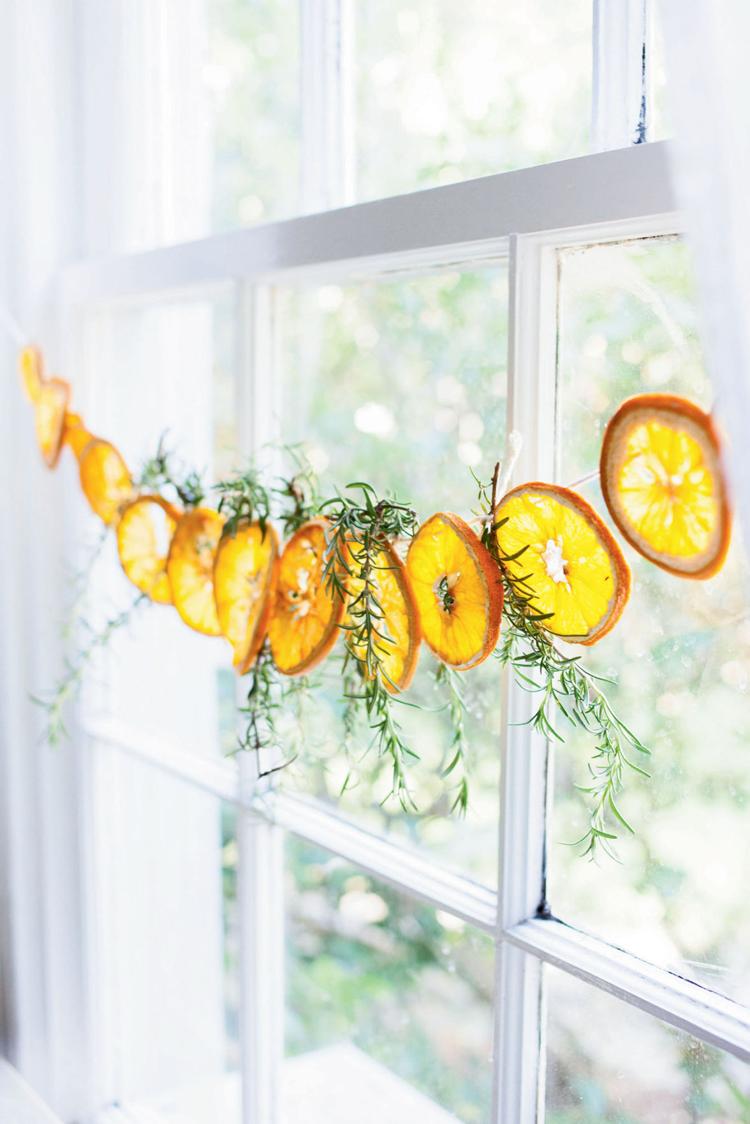 Living in the South has many benefits, but some of my favorites are the streets lined with citrus trees and kind neighbors who share bundles of lemons, grapefruits, and kumquats. Once you are finished making marmalade, save an extra orange or two to make your home feel and smell a little more festive. Drying citrus takes just minutes to prep and can lead to anything from a lovely garland to Christmas ornaments–or as you will see later, an adorable addition to your gift wrap.
Materials:
2-3 Oranges and/or grapefruit
A sharp knife
Baking sheet
Parchment paper or baking mat
Twine
5-10 Sprigs rosemary (optional)
1. Preheat the oven to 250 degrees. While the oven is warming, use a sharp knife to thinly slice oranges no more than 1/4-inch thick. Pat the slices dry.
2. Line your baking sheet with parchment paper and place orange slices flat in a single layer.
3. Bake for about 3 hours, flipping once. The oranges are ready when the rind is dry and firm but not burnt.
4. Now take your oranges and poke two small holes in the top of each. Begin stringing evenly across the twine.
5. For an extra accent, take a few sprigs of rosemary and tie around the center of the garland.
6. Hang the garland on your mantel, window, or use it on the tree. It smells just as good as it looks.
Advent in a jar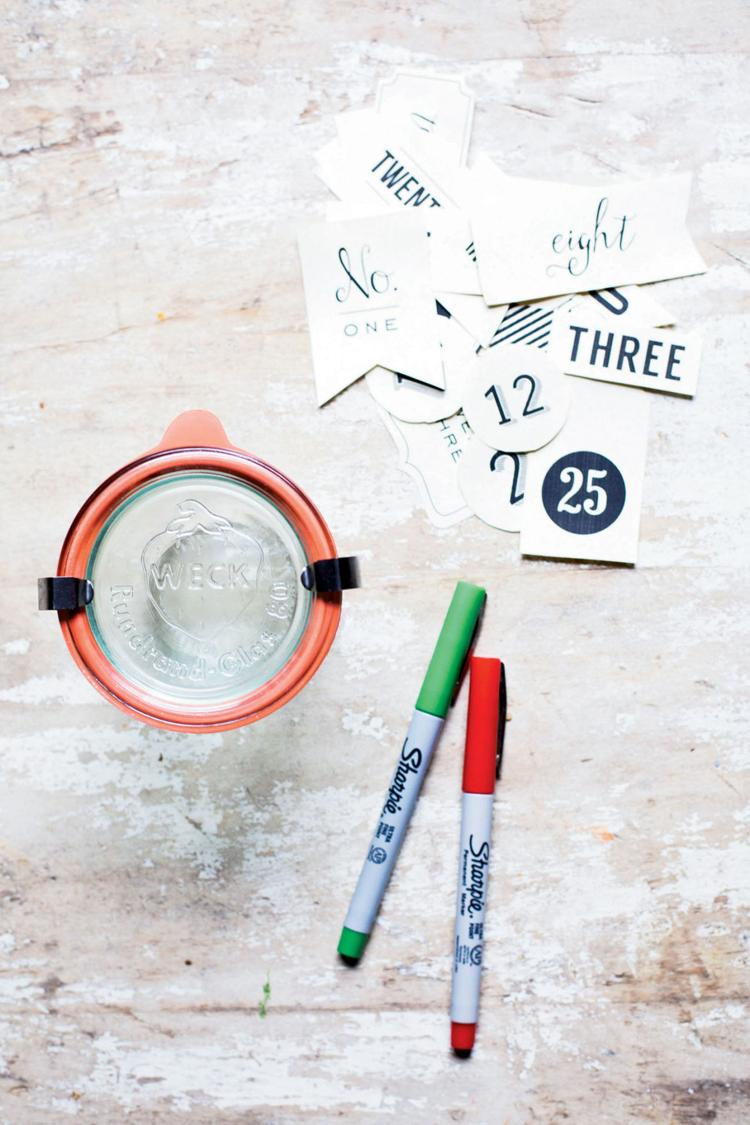 Starting holiday traditions is one of my favorite things about being a parent. It did not matter that my daughter was only 6 months old, we did every cliche holiday tradition last year and loved every minute of it. As she gets older and can anticipate Christmas Day, it will only get better. This Advent Calendar is a great way to count down to the big day and only uses a simple jar from your cupboard and your imagination.
Materials:
1. Print out and write numbers 1-24 on small pieces of paper.
2. Write a little message on each day (see my examples below).
3. Add your numbers to the jar and put on the lid. Now it's time to count down!
Advent Activities:
Watch a Christmas movie
Make hot cocoa
Drive and look at Christmas lights
Pajama day!
Bake Christmas cookies
Send Christmas cards
Stamped tea towels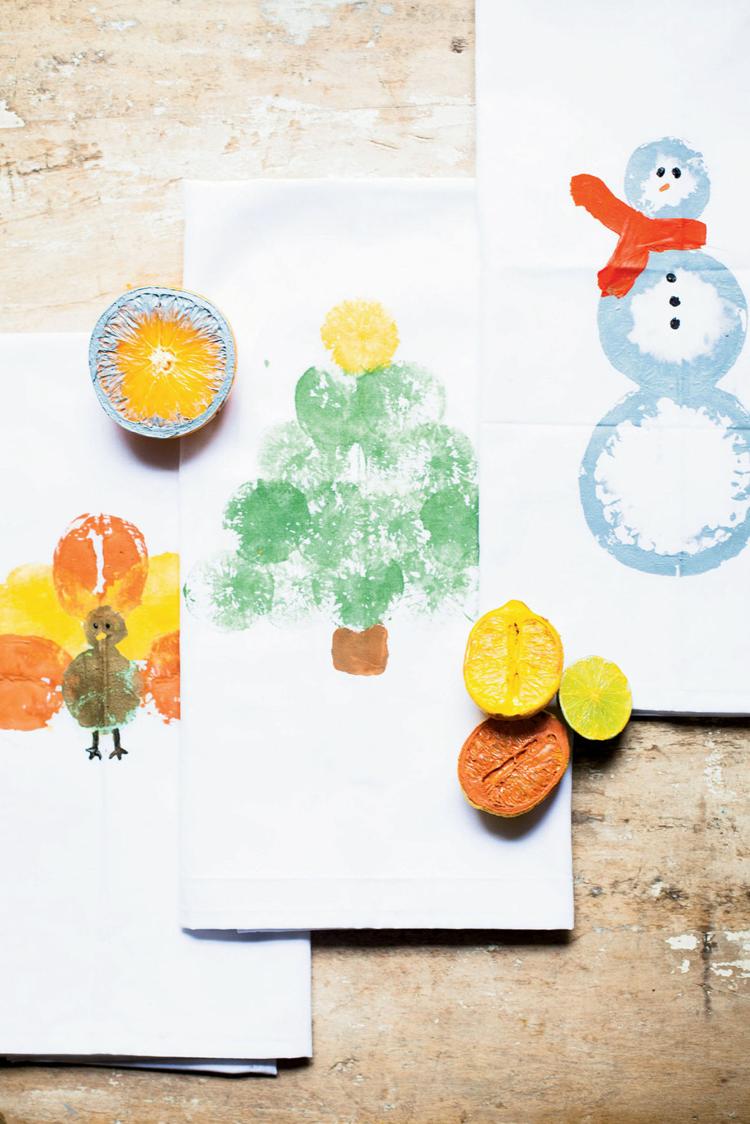 There is nothing better than a gift made with the unmistakable touch of a child. These stamped tea towels can be made with the assistance of the youngest toddler or become your own work of art for your closest friends and family.
Materials:
Plain white kitchen towels
Fabric paint
Stamps (halved citrus, potatoes, celery, etc.)
1. Make a plan for what you want to stamp, whether its a snowman, a simple pattern in holiday colors, or painting your favorite holiday quote!
2. Choose your paint colors and get them ready to stamp. I found it was helpful to practice stamping on paper beforehand to see how thick the paint should be.
3. Spread your towel out, making sure you put something under it so the paint doesn't soak through.
4. Stamp away! When you are finished, hang the towels to dry. Once the paint is completely dry, wash the towels and they are ready for use.
DIY gift wrap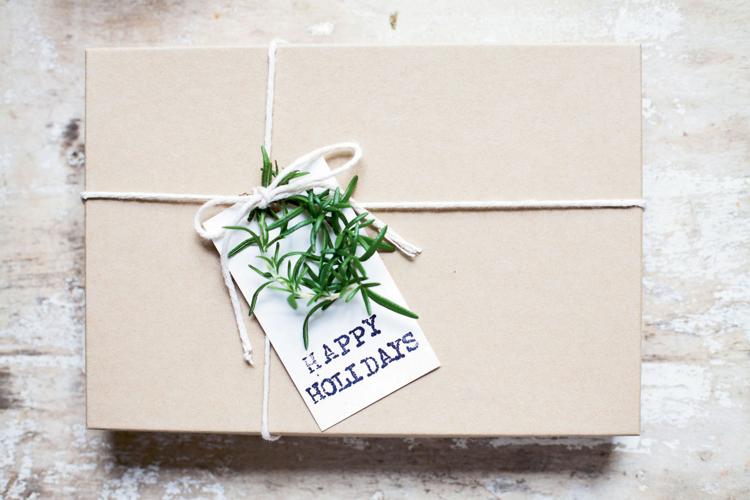 This year, consider scrapping the expensive gift wrap and plastic bows for beautiful trimmings from your yard or kitchen! The possibilities are endless.
Materials:
Gift boxes (I found kraft boxes were the easiest to use for this)
Twine
Adornments (rosemary, dried citrus, olive branch, etc.)
Gift tag
1. Wrap your box with twine and knot on the front middle.
2. Add a gift tag or take card stock and stamp one yourself.
3. Now it's time to embellish. Make a tiny wreath from Rosemary and tie on your package with twine. You can also add an extra dried citrus round leftover from your garland (page 81) or add something as simple as a small stem from the Christmas tree!