Orange. It's the color of the sun setting across the marsh, flames singeing marshmallows, and koi swimming in ponds. However, it is rarely the first hue that comes to mind when one is designing cabinets. Even those wanting to branch out from the white or brown variety rarely go so far in the color wheel.
But, Abigail Hoover had an uncompromising vision for the mudroom lockers at her Island Retreat home on Saint Simons Island. The mother of two brought a Hermes box to interior designer Laurie Watson with Mary-Bryan Peyer Designs and asked her to get as close as possible to that color. "Being able to bring in the orange was fun," Watson says with a sly grin as the two women walk past the room where the finished pumpkin-cream-like cabinets from Ted Strehle now stand.
"It's in just the perfect place, where you aren't staring at it all day long. You can appreciate it," Watson adds, pointing out how the warm pigment pulls the eye to other details in spaces nearby, including in a Chinese painting featured just inside the guest bathroom.
"Every time I walk back there, I just smile. It just makes me so happy," Hoover adds.
Orange isn't the only color chosen to adorn the home in creative ways. The main living space — an open kitchen, dining room, and living room area — adheres to a crisp, neutral backdrop with pops of blue and green used distinctively throughout the space. Gold accents in the kitchen include an ornate La Cornue range, purchased through H&H Lifestyles, and tan basket pendants add more texture to the room. A second kitchen area off the main room features the rich pigment, Hague Blue, on cabinets dominating a wall.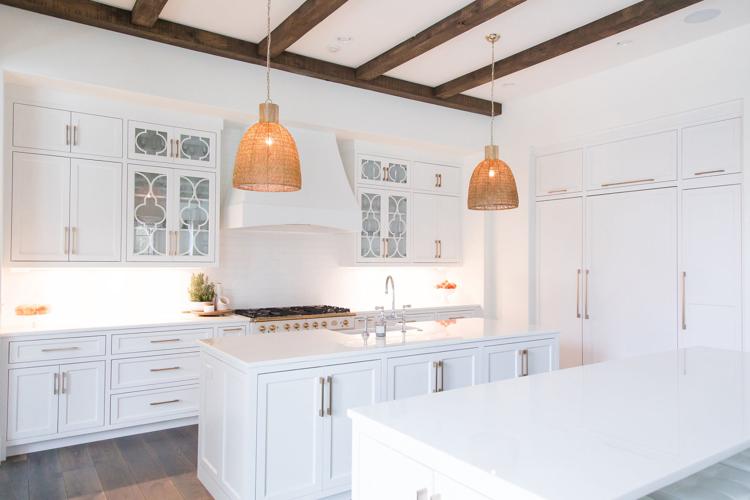 "To have a client that is not afraid of color makes my job super fun. Normally, I am trying to talk people into it, and I didn't have to do that with her," Watson says. "My job is super easy when I have a client with great taste."
It has been a little more than a year since Abigail and Steve Hoover and their two children moved into the home on the south end, and this past March, the couple opened their home for the 66th Annual Christ Church Tour of Homes. Watson usually has a home on the annual tour, and when it came to choosing one for this year's tour, she knew the Hoovers' place was the perfect fit.
"Something I always love to bring to the tour are houses that are attainable to people," Watson says. "This is the epitome of real life here: kids, a family. It's beautiful, elegant, modern, sophisticated, but little."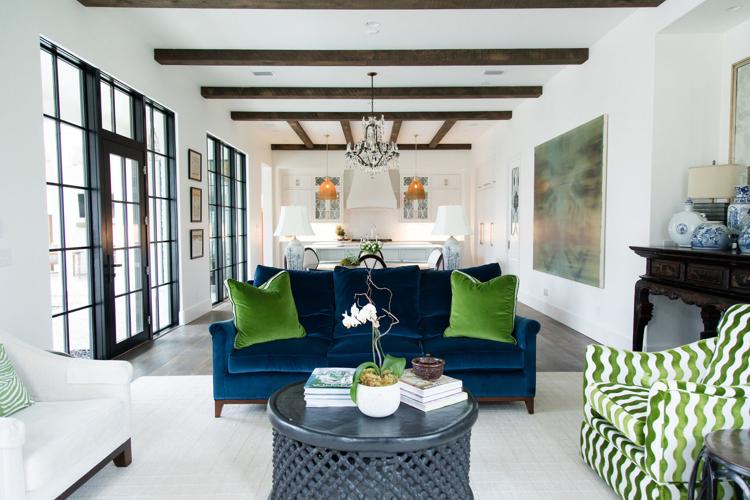 The couple tend to gravitate to separate design styles. So Watson worked on a transitional tone that would incorporate Steve's love of contemporary minimalism with Abigail's traditional leanings. "We've been able to marry the tastes well," Watson says.
The minimalist comes through in the whites and neutrals that provide a clean background palette for detailed pops of colors, which added the flair Abigail Hoover desired. "If you have a favorite color, do it; just do it small. Then you aren't going to be tired of it because it isn't a trend," Hoover says.
Watson and Hoover, who are friends, found an informal way of discussing fabrics, color choices, and light fixtures: usually sending screenshots of potential looks to each other any time they came across something inspiring. Not many ideas got nixed by either woman, except "sometimes a price got a 'No,'" Watson says.
Some of the key design elements in the home were conceived even before Nathan and Liane Brock at Wiregrass Studio drew up the architecture plans. A main concern was having living spaces where multiple things could occur at the same time without anyone feeling left out or overwhelmed, especially around the holidays. "In our other home, we had a separate dining room, a kitchen, and an eat-in kitchen. And at Christmas and Thanksgiving, not everybody could fit at the dining room table. So we were separate and I hated that," Hoover explains. "I also didn't like that, when you are cooking for Thanksgiving, you missed feeling part of the everything when someone's watching the parade. I wanted a room where they could hang out in the kitchen or the living space, and we are still all together."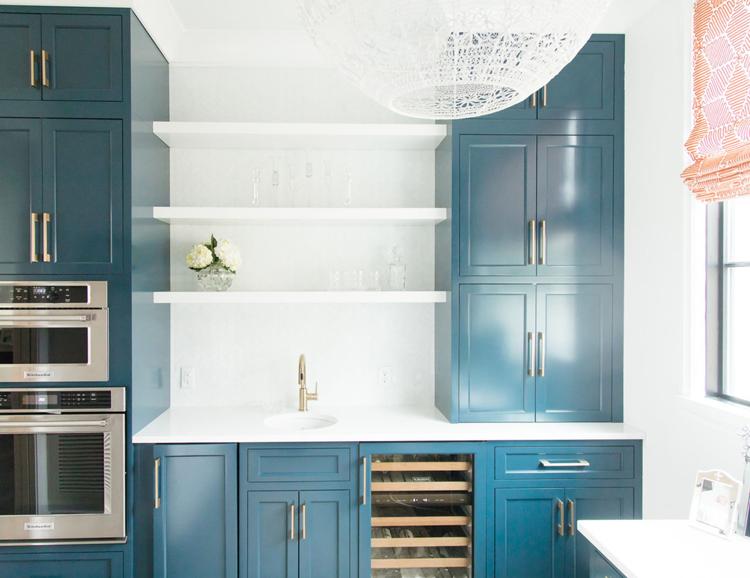 And she got just that — and right on schedule, too. The Hoovers moved in before the holidays in November 2017 and had the chance to experience the benefits of the new layout. "With the double island, I can seat everybody. I can put eight people at that table, and eight people here, and we can have a bigger sense of family and fellowship when there are a lot of people in the house," Hoover says.
Intention was also key when it came to art and furniture. By already knowing where certain items would be placed, the Hoovers were able to feature their favorite pieces and build them into the layout. For instance, a wall inset in the main living space was created specifically to fit an ancient Chinese altar table. "In our other house, it was in a place that you would blow right by it. So I definitely wanted to have a center place in the living space," Hoover says.
A large butterfly painting by Rusty Dumas — first purchased decades ago by Steve Hoover at an art market at the St. Simons pier — now hangs on the wall just to the left of the altar, another standout that influenced the design. The deep greens and blues found in that painting proved to be the color scheme the Hoovers and Watson chose for most of the decor, with the orange accents as a third, limited option.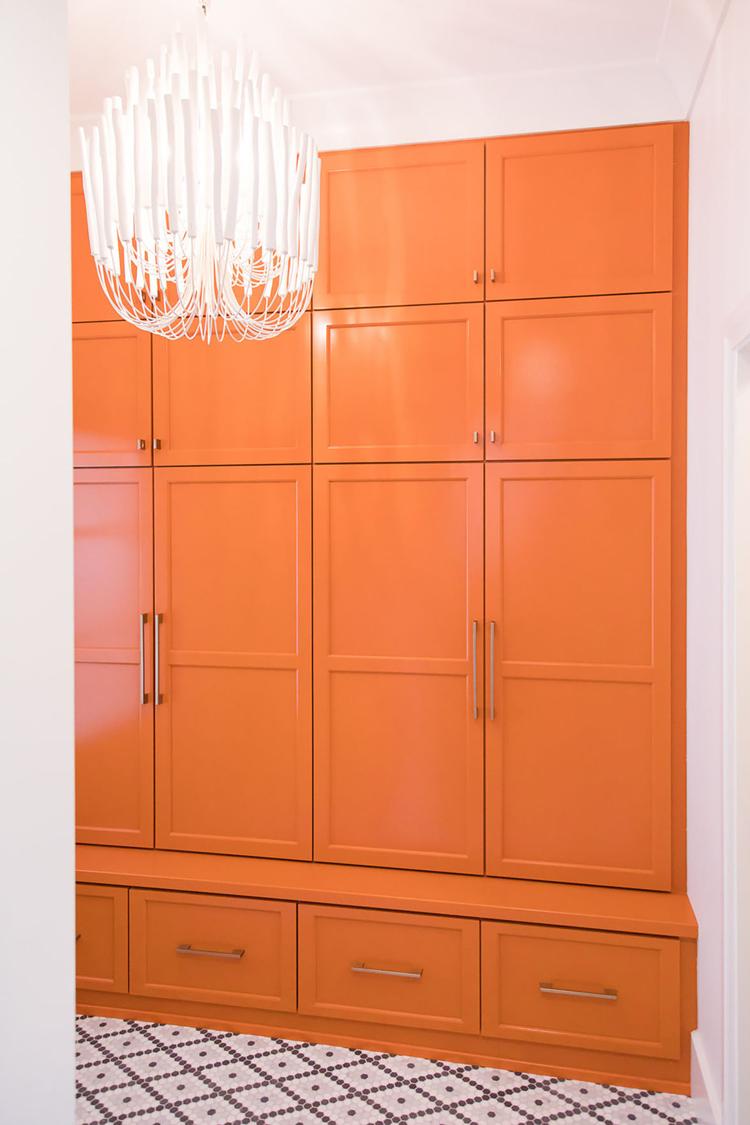 "It's a challenge, with primary colors, to work with them. They have such presence on their own. So we really had to make them second fiddle together, so they could marry together and not be like 'Hello, Blue,'" Watson says.
One of Watson's favorite ways to bring in a color is through the furniture. "Don't be afraid of a solid color piece of furniture. Everyone wants to go with a neutral sofa. We hear that all the time. Yes, that's the easy way out: Do a neutral palette and drop pops of colors for pillows. You can't go wrong doing that. But don't be afraid if it's a green sofa or a blue sofa," she says.
For the Hoovers, she chose a striking, peacock blue sofa made from a polyester blend that mimics velvet. Velvet can be unforgiving, she says, because it can become hot and doesn't clean well. The Hoovers have two children and a dog, so blended fabric becomes a necessity without sacrificing on the texture or look of the piece. Watson complemented the couch with bold green and white striped chairs to the side.
All of these greens and blues accomplish what Hoover wanted out of her new home: a place where there isn't a strong boundary between outside and in. "My vision was to have a house where you felt you were outside when you were inside. That you had a lot of natural light," she says.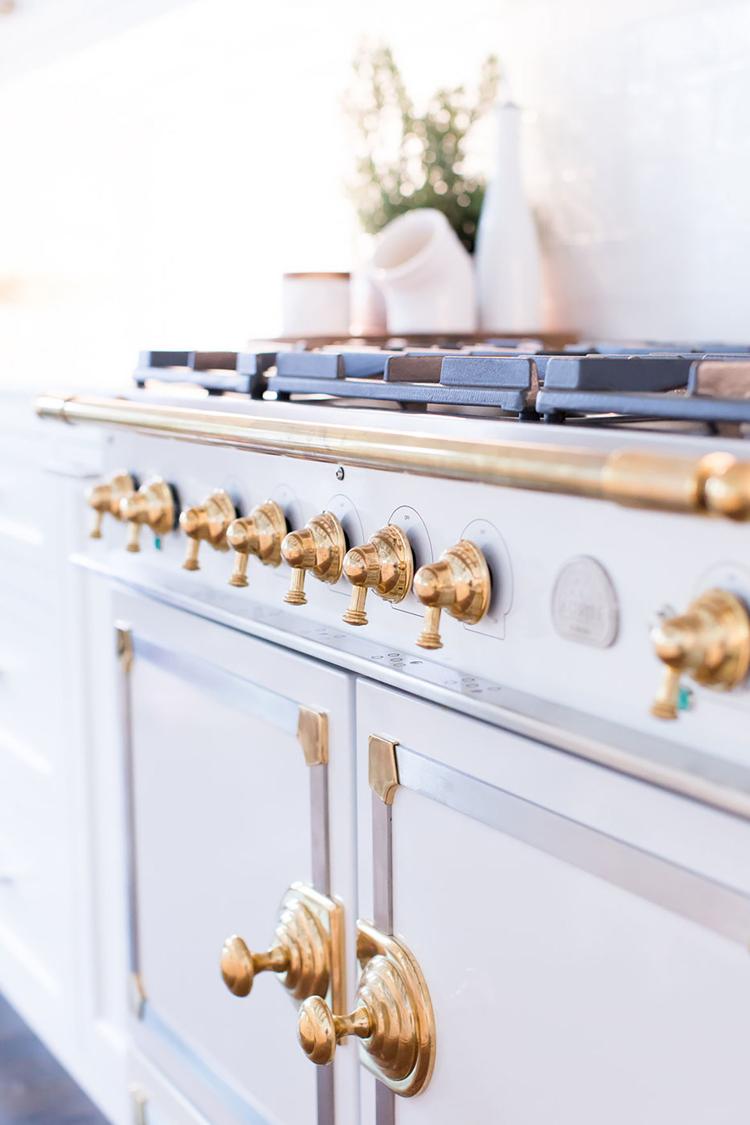 Large windows overlook the courtyard, which features a pool that mimics a reflection pond but is built for the kids to enjoy. Another plus of using large windows, the parents can keep an eye on the children while still inside the home, and the courtyard allows for additional privacy, too.
Watson knew function was critical in designing the home. With the square footage at 4,000, the home is on the smaller side of Watson's typical projects. "That's the great thing about this house. There is not an ounce of wasted space," Watson says. "Every room has purpose, and that is key, in my opinion. There's nothing worse than having a room you don't know what to do with."
One area that Watson enjoyed working on: the laundry room. Watson believes that laundry rooms should be as close to the closets as possible. In this case, the Hoovers changed their plans to move their laundry machines into the master suite and another near the children's rooms. The original location of the laundry — set off the main kitchen —was then converted into the side kitchen, allowing for extra storage and more areas for the family to bake and cook at the same time.
At the end of the day, the Hoovers find joy in the little things — like convenient laundry areas — and the big ones — like a wall of orange cabinets. For Watson, that is the highest compliment a designer can receive.
"I pat myself on the back when I am able to deliver a project where people can walk in and don't really know why they feel great in this house. They just feel good," she says.