Whether it's whiskers and tails or tusks and trunks, don't miss out on some wild opportunities headed our way.
1. Paws and Pours: Yappy Hour returns
By Bethany Leggett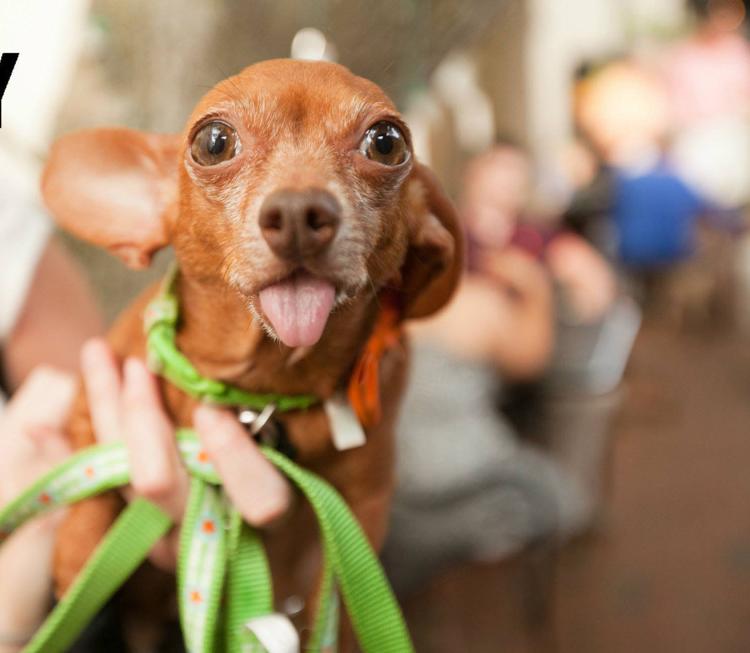 The Golden Isles is filled with pet friendly establishments. From outdoor patios with water bowls to jars of treats at check-out stands, many restaurants and shops give a bit of love to our four-legged pals.
And this April 27, the Humane Society of South Coastal Georgia is once again partnering with Palm Coast to host the annual "Yappy Hour" evening. All shapes, sizes, and breeds are welcome for a fun evening as animal lovers and their pets mingle for a howling good time from 5:30 to 7:30 p.m.
A $10 donation will get you in at the door of the St. Simons coffee shop and bar, which will be serving up tasty appetizers along with a cash bar for those wanting to cool off with a Happy Hour beverage. The Golden Island Strummers will take the stage to perform during the evening as animal lovers gather on the back patio. And there's even a special treat for the fourlegged friends in the audience.
"The wonderful thing about the Palm Coast venue is that they have an outdoor, pet friendly area. People and their pets can mingle, have delicious appetizers, visit old friends, and meet new ones. The doggies also get to join in on the fun by mingling with friends while enjoying delicious doggy daiquiris. It's a fun time for everyone!" says Humane Society staff member Staci Drawdy.
All donations made at the door that evening will go to the Humane Society of South Coastal Georgia as they provide a temporary shelter for dogs and cats awaiting adoption. In 2016, the humane society had more than 700 adoptions take place.
2. Sunday Stroll at the Farm at Oatland North
By Bethany Leggett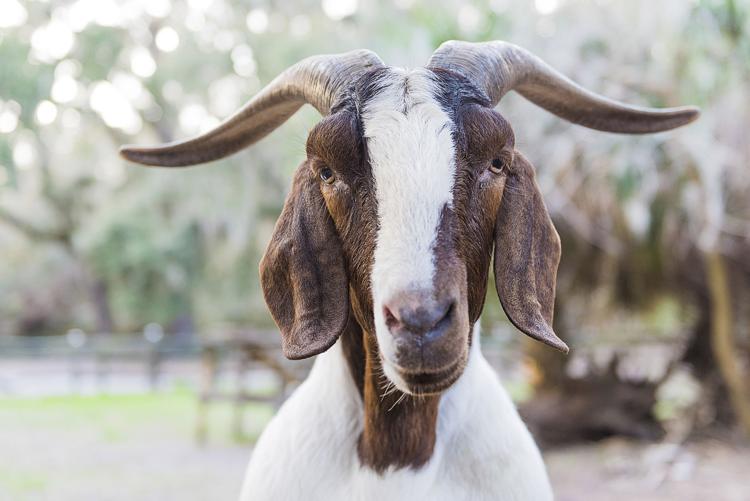 On the north end of St. Simons Island sits a sanctuary where abused, neglected, and abandoned animals find comfort and care. Just off the turn on Cannon's Point Road lies The Farm at Oatland North, and each Sunday, with weather permitting, the staff host an open house from 2 to 4 p.m. Visitors can meet the animals up close, and if Sundays don't work well, the farm offers open houses by appointment as well.
Through the past dozen years, the farm has become a safe haven for cows, goats, horses, and more. In the 1700s, the land was part of Oatland Plantation. After Doug Taylor bought the property in the 1940s, the farm passed down generations until his granddaughter Barbara Hasell Murrah started the animal sanctuary with her husband, Bascom. Their horse Lightning was the first animal at the farm, joined shortly after by two cows — Amanda and Panda — that the couple's daughter, Natalie, brought with her.
The farm animals have grown in number as the Murrah Family began accepting retired, abandoned, or abused animals to live out their days with dignity and care. Since Barbara Murrah's death in 2013, the nonprofit animal sanctuary runs with the help of the Murrah Family alongside a dedicated number of volunteers and friends. Those able to lend a hand help with a variety of tasks in the day-to-day operations. From animal care, grooming, and maintenance to stall cleaning, database updating, and fundraising support, there is something for any animal lover to get involved with at the farm.
If you are interested in attending a Sunday open house or would like to schedule a time during the week, call the farm at 912-399-8159 or go online to thefarmssi.org.
3. Take a paddle trip down the Altamaha River
By Bethany Leggett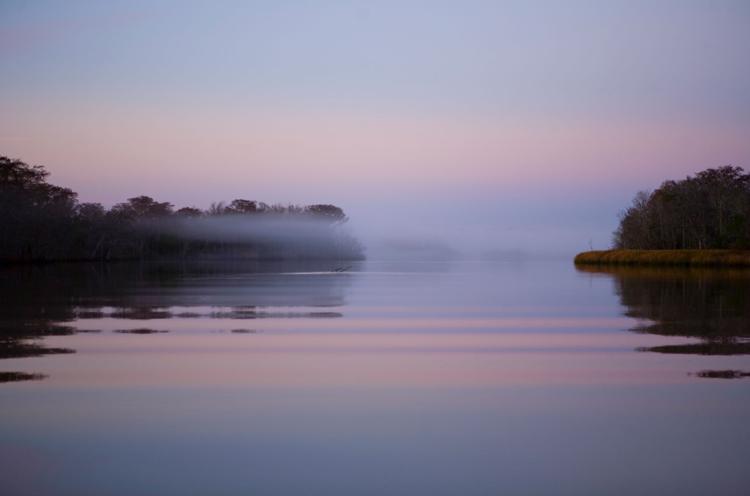 Nature lovers, grab your paddles for an up close and personal experience with the wild outdoors along the mighty Altamaha River.
As part of Georgia Conservancy's Heartland Rivers of Georgia Paddle Series, the Altamaha River Paddle from March 24 to 26 will be a chance for outdoor enthusiasts, bird watchers, and photographers to witness life along the biodiverse waterway.
The vast Altamaha, known as the "Little Amazon" of Georgia, starts in Lumber City where the Oconee and Ocmulgee rivers come together. The river drains 100,000 gallons of water per second from the second largest watershed into the Atlantic Ocean, and its vast expanse is home to the largest concentration of endangered species in the state. More than 100 species on the rare or endangered list call the free-flowing waters of the Altamaha home, which makes the paddle trip a unique chance to spot wildlife.
The March trip begins Saturday along the main stream of the lower Altamaha for a 16-mile course to Darien, where kayakers will disembark at Skipper's Landing. The next day, the tour will wind through the lakes across from Altamaha Regional Park campground.
The river paddle, recommended for intermediate paddlers, coincides with the Georgia Conservancy's 50th anniversary with a special tent revival planned for Saturday night. Starting at 6 p.m., the old-fashioned backcountry meeting on the riverbank at Altamaha Regional Park will be a chance for conservationists to share stories over plates of barbecue from Grassroots Farms. Award-winning fiction writer Taylor Brown will sign copies of his latest novel "River of Kings," which is set along the mighty banks of the Altamaha River. After dinner, photographer Ben Galland and Grassroots Farms owner and pit master Brandon Chonko will join Brown as the trio give a presentation about the impact of the Altamaha River in their respective careers and the importance of conserving Georgia's natural resources.
In addition to the Altamaha trip, two additional paddle trips are planned for Heartland Rivers of Georgia Paddle Series — a Hazlehurst paddle on May 13 and Hawkinsville paddle on September 30.
To register for the Altamaha River Paddle, go to www.georgiaconservancy.org/altamaha. Cost for the tent revival is included for trip attendees; $5 for non-paddling guests.
4. Turtle Walks with Georgia Sea Turtle Center on Jekyll
By Cohen Carpenter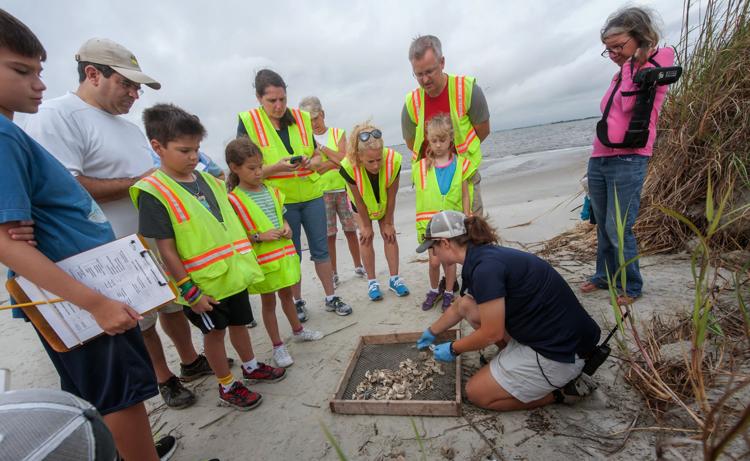 You don't have to travel far to see the beauty of life up close. The beaches of Georgia's barrier islands are used every year by loggerhead sea turtles looking for a safe place to lay their eggs. With help from the Georgia Sea Turtle Center, you could observe these endangered turtles finding their perfect spot during a "Turtle Walk" on Jekyll Island.
On the walk, join naturalists for an hour presentation on sea turtle biology before heading out to the beach in search of female turtles in the act of laying their eggs. Of course, there is no guarantee that you will find a mother in the act, but an average of 110 nests are found on Jekyll Island every year, and more than 150 nests were found in both 2015 and 2016.
Turtle Walks will take place on most weeknights at two times, 8:30 p.m. and 9:30 p.m., in June and July; however you will likely be able to make reservations as early as April. Fees are usually around $20. A maximum of 25 people can take part in each walk, and reservations tend to fill up quickly. Children are required to be 4 years or older due to the physical demands and timing of the events.
For a more thorough search experience, the turtle center also offers "Rides with Night Patrol," where up to four people are driven along the beach in a utility task vehicle also in search of nesters. The rides cover more beach than the walks, of course, giving you a higher likelihood of finding an active nester. Night rides cost about $100 per person, and children are required to be at least 6 years old.
Later in August, as the hatchlings begin to emerge, you can join naturalists for a "Nest Walk" as they track nest progress by counting the number of vacant eggshells. These walks take place in the mornings, and a more extensive search like that of the Ride with Night Patrol will also be offered. Oh yeah, and you might actually see one of the little guys or gals crawling away to its soon-to-be home in the great blue!
Call to make reservations, and check out gstc.jekyllisland.com for details like what to bring (bug spray, water) and what not to bring (flashlights).
Fun Facts
• Nests have an average of 110 eggs
• Chance to survive to adulthood range from 1 out of every 100 to 1 out of every 4,000 hatchlings
• Females reproduce about every three years
• Females typically lay four separate nests per reproductive year, about two weeks apart from one another. Not all are laid in the same area or even on the same island!
• It is thought that nests with cooler underground temperatures produce more males, whereas those with warmer temperatures produce more females
• Oldest known nesting female loggerhead is estimated to be 80 to 90 years old
5. Wild Roadtrip: An Elephant Sanctuary coming to South Georgia
By Debra Pamplin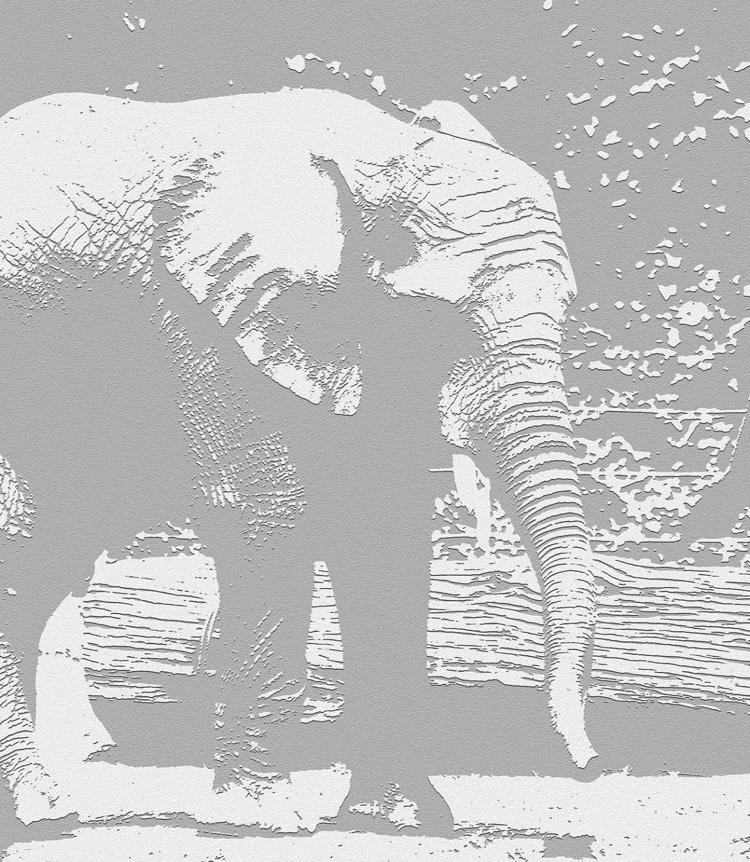 About three hours from the Golden Isles, a repurposed cattle ranch will be the new home of an 846-acre Asian elephant sanctuary. Carol Buckley, founder of Elephant Aid International, wanted to rescue elephants and rehome them to a more suitable, natural environment. She found a spot in Decatur County, Georgia, 30 miles northwest of Tallahassee.
"Zoos are not in a situation, nor is a circus in a situation where they can provide for an elephant according to the elephant's biological and psychological needs. It's just not possible. It's not the mission of a zoo or circus to do it that way; sanctuaries are," Buckley says.
Buckley spent 18 months searching for the perfect parcel of land for her vision. The ranch includes a mixture of wooded areas, open pastures, and lakes.
"It was right on the Georgia-Florida line; perfect shape; perfect mixture of rolling pastures, of ponds, of small lakes, of hardwoods, creek bottoms; just the perfect combination," land broker Walter Hatchett says.
This new habitat will serve as a refuge for those elephants who lived a life of captivity or other past traumas. Elephants need room to roam 30 to 50 miles a day, and a few adaptations to the previous cattle ranch included an elephant-proof barrier fence. Buckley says that the environment keeps the elephants interested and in tune with their surroundings.
"Even though they're in captivity, they're wild. Even if they're born in captivity, they're still wild. They're never domesticated; even in their homeland in Asia, they are not domesticated," Buckley says.
Since 1974, Buckley has been responsive to many aspects of elephants' lives. She cares for them, lives and transports them, advocates for them, and has even been known to spend nights outside in their habitats with them. She works with federal, state, and foreign government agencies to create and enforce regulations that protect these gentle giants kept in captivity. America's first elephant sanctuary, The Elephant Sanctuary, was founded by Buckley 20 years ago in Tennessee.
Buckley plans to have seven to 10 elephants on the property within six months. Though the sanctuary won't be open to the public, there will be cameras throughout the property with a live stream available online to educate kids and adults about the beauty and majesty of elephants.
One special elephant, Tarra, will hopefully be one of the animals to call this new ranch home. Tarra is a 42-year-old elephant that Buckley has had since she was a calf. In 1974, Buckley met a tiny baby elephant named Fluffy that was being used to market tires for a local car dealer. Buckley stepped up as a volunteer to feed and care for her. A year later, Buckley bought her, changed her name to Tarra, and founded Tarra Productions. By 1980, Buckley had taught Tarra to roller skate. It was Tarra that first led Buckley to find a different environment for captive elephants.
6. Visiting hours with four-legged friends
By Debra Pamplin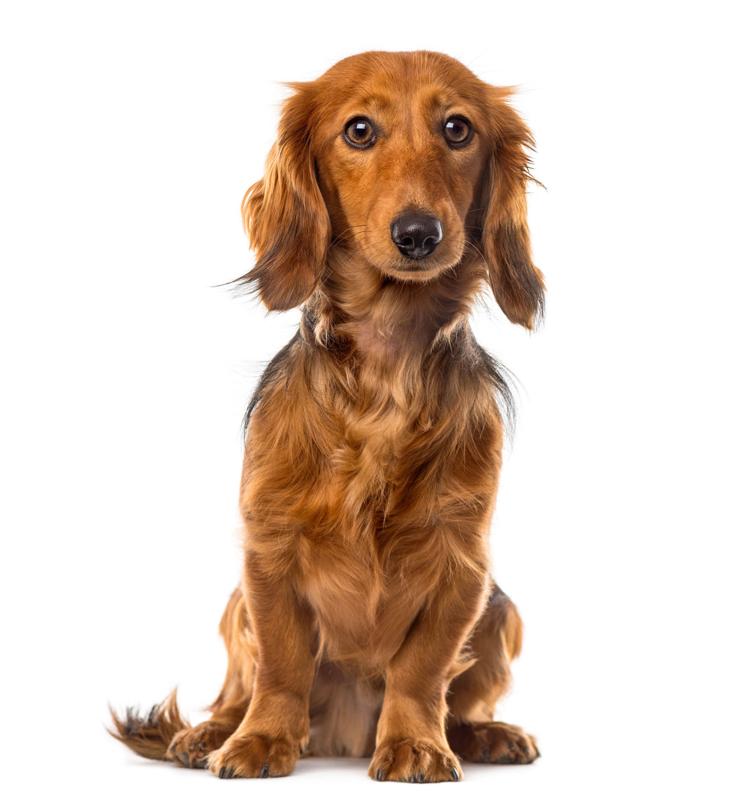 Dogs are known as 'man's best friend' for the loyalty, peace, and nonjudgmental love they offer to those they encounter. And local community centers are incorporating dogs as a way for their members to embrace love and happiness throughout their days, too.
In Brunswick, a chapter of Therapy Dogs International is making a difference in the lives of nursing home residents, says chapter director Ruth Baker. Since 1998, the program has been active in Glynn County, with a current roster of 43 active handler/dog teams that visit the hospital, nursing homes, rehab facilities, shelters, and hospice care facilities.
Recently, a group visited Morningstar, which serves children and youth with emotional and behavioral disorders and intellectual disabilities. A few furry friends kept five boys company for about an hour, forging a bond of unconditional love. Across town, a pup named Elliott walked the corridors of a hospice facility with his owner, visiting patients and bringing comfort with a wag of his tail.
Canines in Camden are also finding their way through corridors to bring happiness with them. Down in Kingsland, a new dog therapy program has begun at a nursing home center. Lakes Crossing has developed a pet therapy program that runs once a month and is broken down into two sessions based on the size of the dog. Small dogs and their handlers can interact with patients at the nursing home from 2 to 3 p.m. on the first Saturday of every month, while larger dogs can visit from 2 to 3 p.m. on the third Saturday of each month.
Brandy Serrato, director of community relations for the Kingsland facility, encourages future volunteers to stop by on scheduled days, even if they can't stay for the full hour. Prior to each visit, she meets with the dogs — and owners— to explain what it takes to become a therapy dog team. A light screening of the dogs' attitudes and disposition is done just to ensure the fit between dog and patients will work.
The Camden program kicked off during the first week of January with a Paw Parade, where newly signed volunteers and their dogs participated in parade around the lanai and brought smiles to the residents.
So for those who want to share their dog's love with others, find out more information about Therapy Dogs International and bring a smile to residents near you.
A barking good time
• For Brunswick residents, contact Ruth Barker, chapter director for Therapy Dogs International, at 912-634-8156.
• For Kingsland residents, contact Brandy Serrato, director of community relations at The Suites at Lake Crossing, at 912-882-9700.
7. Off the Path: Birdwatching at Jekyll's Amphitheater
By Cohen Carpenter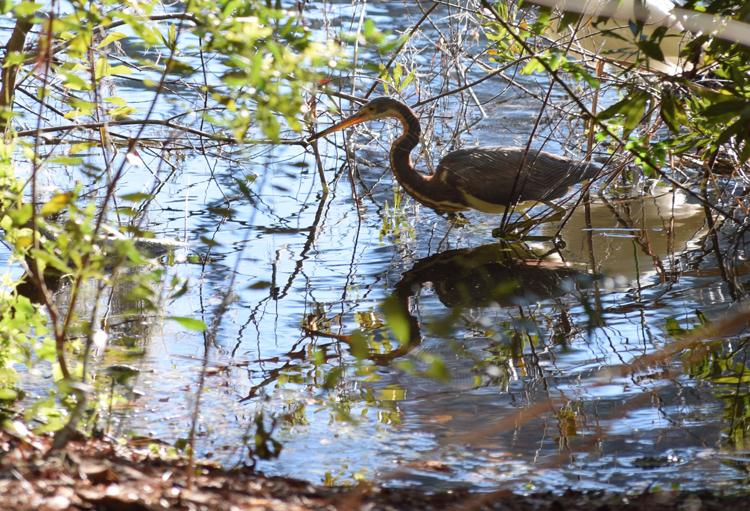 Take a half-day trip to this hidden gem on Jekyll Island for a great birding adventure. A wooded trail leading to the amphitheater and pond just beyond it allows for a dense wildlife viewing experience for any bird nerds.
The now-vacant Jekyll Island amphitheater was once used for performing arts events, such as the summer-long Jekyll Island Musical Theatre Festival that was coordinated with Valdosta State University and the Jekyll Island Authority in the early '90s. For present-day visitors, the venue sits unused as the gradual but steady overtaking by Mother Nature continues. Its bare concrete stage, withering rows of bleachers, and remnants of a ticket booth all tell of a seemingly abrupt abandonment, the energy surrounding the not-so-distant performances lingers in the air just above.
As you gaze around the arena, it becomes clear that although human players no longer grace the stage, the area surrounding the amphitheater is now home to a different cast of performers. It is not uncommon to see herons, egrets, and roseate spoonbills perched in the vegetation surrounding the pond. Cooper's hawks, ospreys, and other raptors can be seen swooping around.
The variety and abundance found here could take hours to find elsewhere. Not to mention the many songbirds and woodpeckers you are likely to see on the short hiking trail leading to the amphitheater and pond.
Don't forget your binoculars, spotting scope, and camera. Also, download a birding app like eBird to see what species have been spotted recently. Local birder Matt White likes to visit the nearby pond around high tide to spot his favorites because "at low tide, many of the wading birds are feeding in the marshes," he says.
Along with birdwatching, you could see whitetail deer on the trail, and don't be surprised if you see an alligator in or around the pond. Some of the nesting birds benefit from having alligators below to "protect their nests from mammals like raccoons," explains Park Ranger Bre Ondich. It's one of life's dichotomies: While they provide protection from others, alligators simultaneously pose a threat to fallen eggs or nestlings, as "the alligators will be the first to grab them," Ondich says.
Jekyll Island Authority urges caution when exploring around the amphitheater, since it is not currently maintained. Revitalization of the amphitheater is a point of interest for the authority, however no current plans are active.
8. Bark for Life becomes a celebration for many
By Bethany Leggett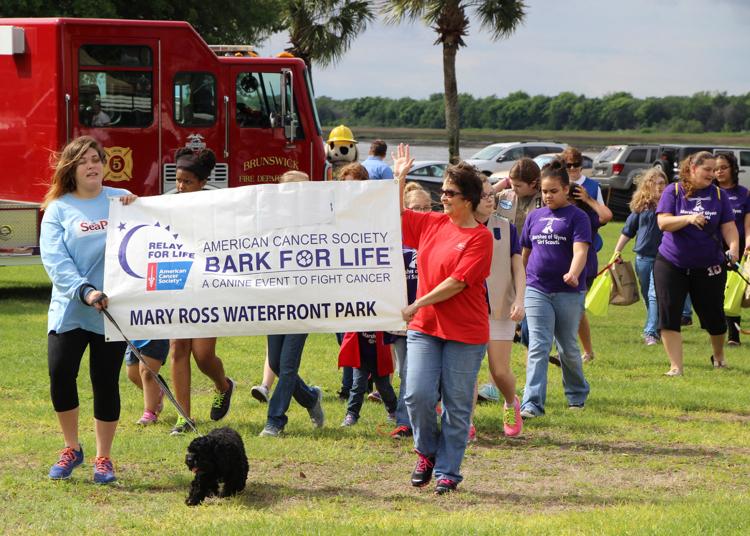 Dog owners across Glynn County will be tying their laces and reaching for leashes for the 2017 Bark For Life event that welcomes dogs and their owners for a fun-filled way to fund cancer research.
The American Cancer Society sponsored dog walk is a special combination of activism and positivity. Essentially a miniature Relay for Life with a focus on dogs and their owners, the furry fun kicks off with a walk at 10 a.m. and lasts until 1 p.m. at Mary Ross Waterfront Park on March 25.
During the afternoon, keep your eyes peeled for the doggone good Jumpin' Jax Flyball Club. The Jacksonville flyball club includes teams of four dogs and their handlers. The dogs will run through a series of obstacles with a ball in their jaws in a relay race to see which team will lead the pack as the winner.
The family friendly Bark for Life includes a silent auction, activities for kids, live music, and a dog costume contest that promises to leave tails wagging. This year's theme — Super Heroes Wanted — promises to show the inner hero inside each canine, whether they are a chihuahua or wolf hound.
Lap dogs will find themselves taking laps for a good cause as the day gives a leg up for anyone participating in the main Relay for Life event in April. All funds for Bark of Life are transferred to the main event fundraising.
Dogs can be registered in advance for $20. On-site registration is $25. If you are a student, the fee is $5. Go online to relayforlife.org/barkglynncountyga for more information.
9. Boats and Biology for all ages at Tidelands
By Bethany Leggett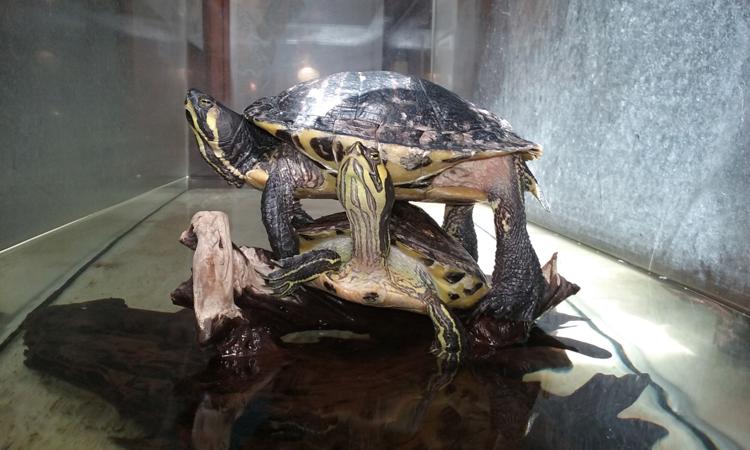 Start off your Spring Break with some fun in the sun on April 3, when Tidelands Nature Center hosts a Boat and Biology Day at the pond behind the educational center on Jekyll Island.
Aqua bikes, paddle boats, kayaks, and canoes will be out on the water for people to enjoy. Families can head to the University of Georgia 4-H center at 100 S. Riverview Drive for a fun day of activities — with a dash of science included.
"Boats are our big draw, so we will have a sampling out on our pond. But there will also be a biological, educational component to the day. And it will be a great day to come visit Tidelands," says Corinne Zelie, program specialist at Tidelands.
Besides hosting educational activities like the Boat and Biology day, the nature center is open weekdays with an impressive collection of critters on display. Saltwater exhibits include touch tanks with horseshoe crabs and hermit crabs; aquariums with shrimp and red drum; seashell displays; and a loggerhead sea turtle tank. The center also has snakes, birds, and even baby alligators to see. Admission to the exhibit area is $4 per person. The center is open weekdays from 9 a.m. to 4 p.m. and from 10 a.m. to 2 p.m. on weekends.
And if you prefer to see the animals in their natural habitat, call the center for a reservation for one of their nature walks on Jekyll that run from March to October. The cost for adults is $5 and $3 for kids ages 6 to 12.
For more information, call 912-635-5032.
10. Cats hit the beach for Spring Break
By Bethany Leggett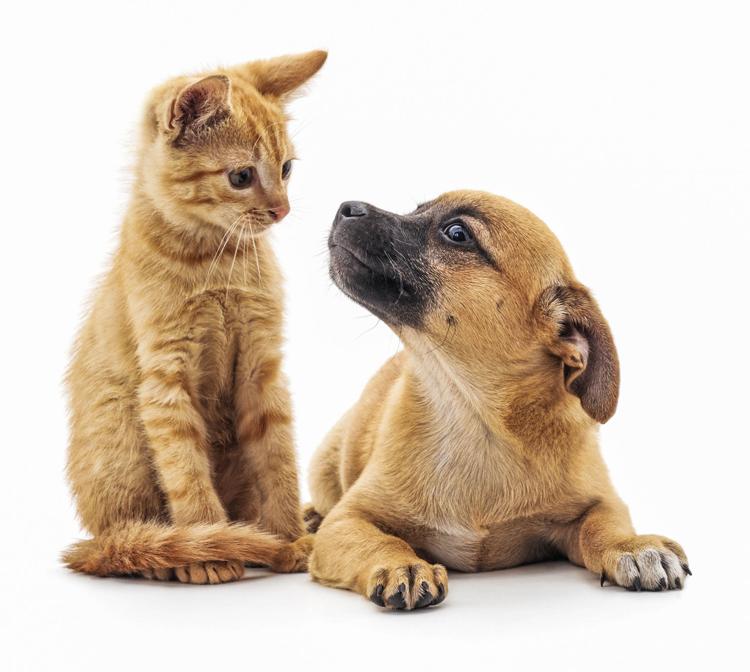 Frisky felines will be on the prowl during the first weekend of April when the popular cat show, Southern SophisTICAts, returns to Jekyll Island.
Whiskers and tails will be waving through the air during the show, which is hosted in conjunction with The International Cat Association. This April's theme, "Spring Break at the Beach," will give cats and their owners a chance to have a bit of fun on April 1 and 2. From 9 a.m. to 4 p.m. each day, the International Championship and Household Pet Cat Show will bring cat enthusiasts together in a friendly environment where felines take centerstage.
More than 30 breeds of cats and kittens will be given the chance to show off their sassy personalities during the two-day event with all-breed and specialty categories. Vendors will be on hand, selling cat toys and other accessories for the four-legged friends.
For those wanting to expand their furry families, rescue kittens from the Humane Society of South Coastal Georgia will be at the show.
Rules and fees for entering the contest are available online at seregiontica.org or by contacting Angela Sherzer at aallen201@aol.com. Registration for the cat show ends March 27.
One of those planning to attend this year's competition is Bonnie Miller. Get to know the cat whisperer and pet volunteer with the Humane Society of South Coastal Georgia in our By Hand column on page 110.