Spanish. French. Cape Dutch. John Shackelford Jr. knows how to embrace a period style while incorporating modern approaches to functionality within the home. Formal, segmented designs of yore have opened up into styles where walls no longer differentiate between the kitchen, living room, and dining room. And while some design elements are timeless, he knows tastes change over time.
"Usually, the front of the house — whether you are doing a Spanish or French style — you have to keep it a little more traditional to make it look more like a period house. But on the back, you can sort of take liberties, if that is where the view is, and put as much glass as you could get," says the architect, who ventured into his career under Frank McCall in the 1990s after graduating from Georgia Institute of Technology.
Shackelford has spent more than two decades designing new homes and remodeling older ones in the Golden Isles with his company, John P. Shackelford Jr., Architect + Interior Design. Whether it's updating a bathroom or kitchen or building a new home, the architect likes to follow the project from sketch to finished construction. And with interior designer Nancy Stoddard on staff, the two are able to combine tastes, fabrics, and styles to build a home from the inside out.
A Morning Chat with Johnny Shackelford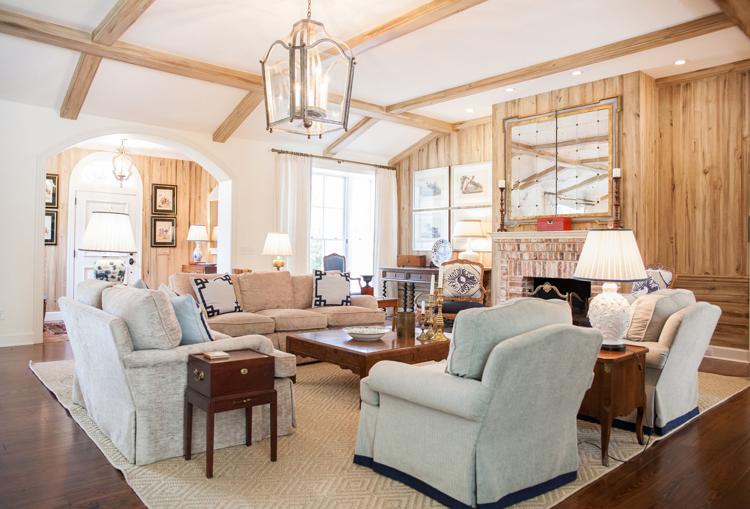 Golden Isles Magazine editor Bethany Leggett recently spent some time with Shackelford as he took her through a crash course in architecture design.
Leggett: Do you have a majority of clients with new homes or remodels?
Shackelford: More new, but then I do a lot of remodels, too. So it just depends. Right now, I am finishing up a house in Ocean Forest. It's an Italian villa. It's going to be pretty spectacular.
When we are talking about a new home versus a remodel, how does that affect the timeline? Is it longer to do a new home or to take the bones of something already built and fix it for the client's tastes?
Usually, it's just about as long to try to do a remodel. And usually, most people at the end of a remodel — unless it is just something somewhat simple — tend to say "I wish I had just torn the house down." It's a fine line between where it should be: bulldoze the house or remodel.
I've done a lot of houses that we just take it down to the studs to redo it, and that might take longer than a new house because you have to tediously take something apart, you know.
I know you don't like the term 'fad,' but what's changed since you started in 1991? What are some timeless elements that you are still implementing today?
Things come and go. The Spanish style was really popular there for a while, and it's not so popular anymore … Of course, everyone wants an open floorplan today with a lot of light, especially on the back of the house, and as many windows as they can get wherever they have a view.
I would say houses are not as formal as they were back then. People want more open rooms and places that flow together, as opposed to having a separate kitchen and breakfast room and dining room and all that stuff.
Right. Would you say that's because nowadays, people are communicating while they are in the kitchen? It's not just a place that is never seen. It's part of the family space now.
Oh, definitely. People don't have as much help as they used to have or they eat out all the time, especially in that market for vacation homes.
Oh, yes. I imagine you design someone's vacation home or second home differently than you would their primary residence. Do certain rooms take more prominence or less prominence knowing it's going to be used as a second home rather than a primary one?
Especially in this area, people want more bedrooms because they intend to have more company. The closets in the guest rooms don't need to be huge for vacation houses. Now for the master, we usually put in big closets and bathrooms. But, I think that's a big difference. They are a little less dressy or formal than a primary home, but that's not always the case.
You mentioned light earlier. So many people have wonderful views involved in their properties — whether it's the marsh or ocean.
What are some unique ways you can incorporate light into homes down here along the coast?
You can do things that borrow the light.
I did a house on the beach at Sea Island a couple of years ago, and we had a gallery along the front of the house. We had windows that opened up into the hallway upstairs, but the bathrooms didn't have windows because they were interior bathrooms.
So I put a round window in the hallway that would borrow the light from the outside.
That's really neat. Maybe the answer to adding natural light isn't always putting in a window but using the ones you have to their greatest advantage?
Right. I am doing that in the Italian house now. In the laundry room, there was no window. So we put a decorative quatrefoil window with an obscured glass in it. So it borrows the light from the outside window. So it's a wonderful space, but it would have been a dark space without it.
I typically don't do many skylights.
Some people like them, some people don't. I just haven't used that many in the last couple of years. People aren't crazy about them.
When it comes to building materials, how do you feel about tabby?
I really haven't used tabby in a long time because people got tired of it.
And I sort of got tired of it. But if I do use it, I try to make it look more like the ruins, say at Sea Island at the golf club. The kind that have a little bit of shell in it. The original tabby was a building material they used to build the walls with, and they would cover it with plaster. So, you never saw the shells on the original tabby buildings because they plastered over that. It has only been in the last years that the plaster would get washed off and you could see the shells coming through ... when I do tabby, I try to copy the look of washed plaster and you just see a few shells coming through.
In general, is there a design element you think fits well with our area?
Any kind of tropical themed house fits, I think. If you copy the house from the West Indies or islands. Or any house that was built with the Southern areas. They tend to have more porches. They did have bigger windows than houses built in New England. It's just a certain feel that a house fits the area … although the old houses, they probably didn't have huge porches. But over the years, people said they need a porch to sit outside because it's too hot to sit inside.
I understand the business is architecture and interior design with Nancy Stoddard on staff as the interior designer. So how does that collaboration work?
We work together if we are on the same project. It's good because, from the very beginning, you are planning the house from the inside out. It really works well to do that. I live in South Florida a lot of the year, and this is probably one of the best places in the country to buy antiques and some great second-hand furniture.
I am guessing each project is something new for you. So how do you design something different for repeat clients?
I'm doing a remodel in New York. I had done the family's house in Sea Island. Then, I did the mother's apartment in New York, and then we redid the mother's house in New York for the daughter … It's more of a Georgian style house with the shake, but it turned out to be a really beautiful house. We had 8-foot ceilings and we managed to give the illusion of height. We took the plaster off the ceiling and left exposed the rafters to look like beams … Actually, I thought of that idea at a house I did on Sea Island, and it had lower ceilings. I said, let's just take the Sheetrock off and wrap the studs in the ceilings. And it turned out great. So it gives you an illusion of height.
Do you find that clients coming to you for the first time understand what your role is in bringing their vision into reality, or are there misconceptions about being an architect?
I'm more of the hands-on type. Some architects just design the house and then they're done with it. I prefer to see the project through because you can just see so many things when it is in the 3D. You just say, 'Oh, maybe we should do this instead of that;' nothing major, but tweaking little things. Maybe you see a view in the room that you don't like. Maybe you see through a door that you didn't know, so you can change that.
Have you ever designed something for a house and liked it so much that you brought it into your own house, too?
I used to do a lot of built-in passthroughs. That was fun. It would look like built-in furniture and you open it up and it would be a bar or something. I haven't done that in a while, maybe in a house a year ago.
Everybody loves it because you see an armoire that you open and then it opens to the next room. This house last year was a Cape Dutch house … it had the passthroughs in it, and everybody loved that.