There once was a family living in a house that had all the comforts they could want. The parents and children loved their home, but a small voice kept calling them to trade it all in for a life on a small farm. It wouldn't be easy, but it would be authentic, the voice promised.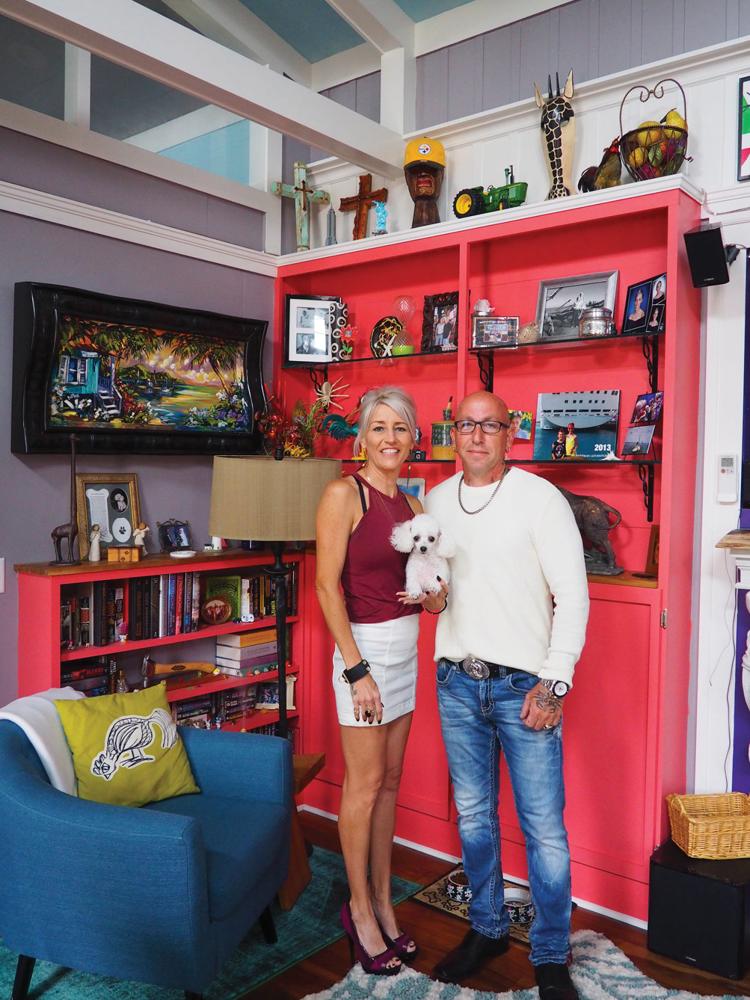 Fast forward years later, and you'll find Kristin and Corey Hoffman forging a new path at Tiny Acres Farm.
The couple purchased a four-acre plot on Green Swamp Road on the northern outskirts of Glynn County two years ago and have set up their homestead of tiny homes on the property with the beginnings of a farm starting to sprout up behind the buildings.
"Our vision was to be mortgage-free and own a farm," Kristin says. "We took our living space in our last house, just a normal-sized home, and decided 'What do we use and what do we want? What amount of space do we really need.'"
Corey and Kristin built the little buildings across the property by hand, starting with the 800-square-foot main house. A two-zone home — a master bedroom and dining room/living room/kitchen area — was all they really required on paper.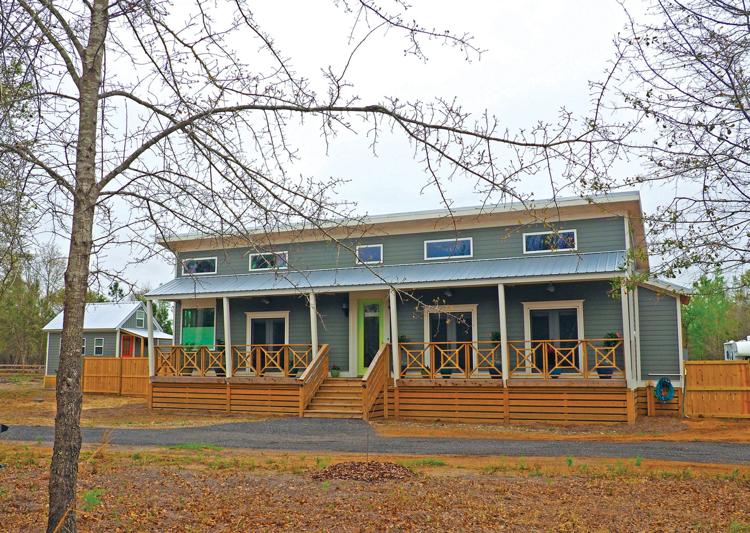 The couple finished the home last May, marking their one-year anniversary in their smaller space this month. Corey's favorite spot currently is the back porch that overlooks the farm and includes a sauna. For Kristin, her favorite is a little harder to choose. "I can't decide between my kitchen and my earring closet," she says with a laugh.
While some may balk at downsizing to 800 square feet, Kristin knows that the tiny homes shown on television are often even smaller. "I guess a true tiny house is a little bit smaller. This is just a small house, in a way," says Kristin of the common belief that tinyhome status describes structures of 500 square feet or less.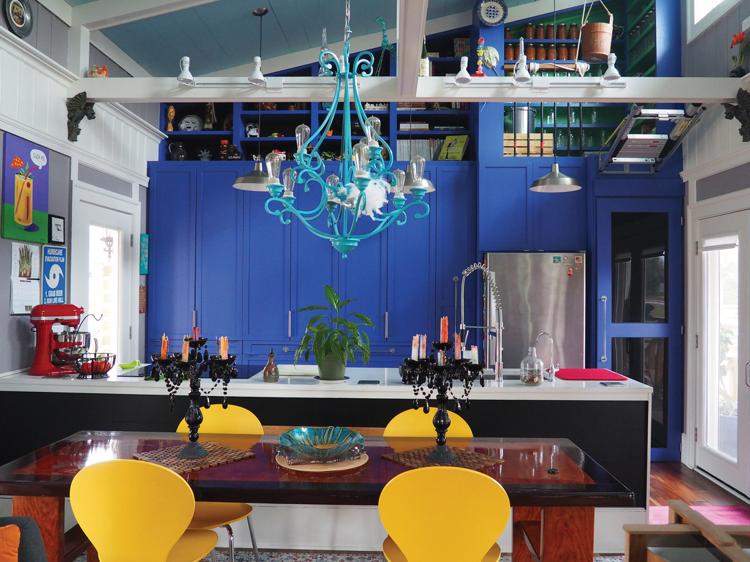 If that's the case, then their son Wyatt's 200-squarefoot home definitely fits the bill. With room for a loft bed, a desk, small closet, and fully functional bathroom, he has everything he needs. And if he wants something from the kitchen, he just travels across the rope bridge that connects his space to the main house.
There are plans to build a barn structure that will also include a new gym, while the old gym currently behind Wyatt's house will be converted into a canning kitchen for Kristin. And if their daughter Peyton decides to move home after college, they will build her a tiny home or studio for her photography.
When they aren't tinkering with the homes, Kristin and Corey are turning their attention to the land, where they are planting, pruning, and irrigating plots that will one day bear fruit — literally, since they have planted trees of citrus, almonds, apple, peach, cherry, and pear.
For the Hoffmans, dreams of all sizes can come true. "There are all of these little ideas you can do on a simple four acres of land," Corey says.
Designing to the max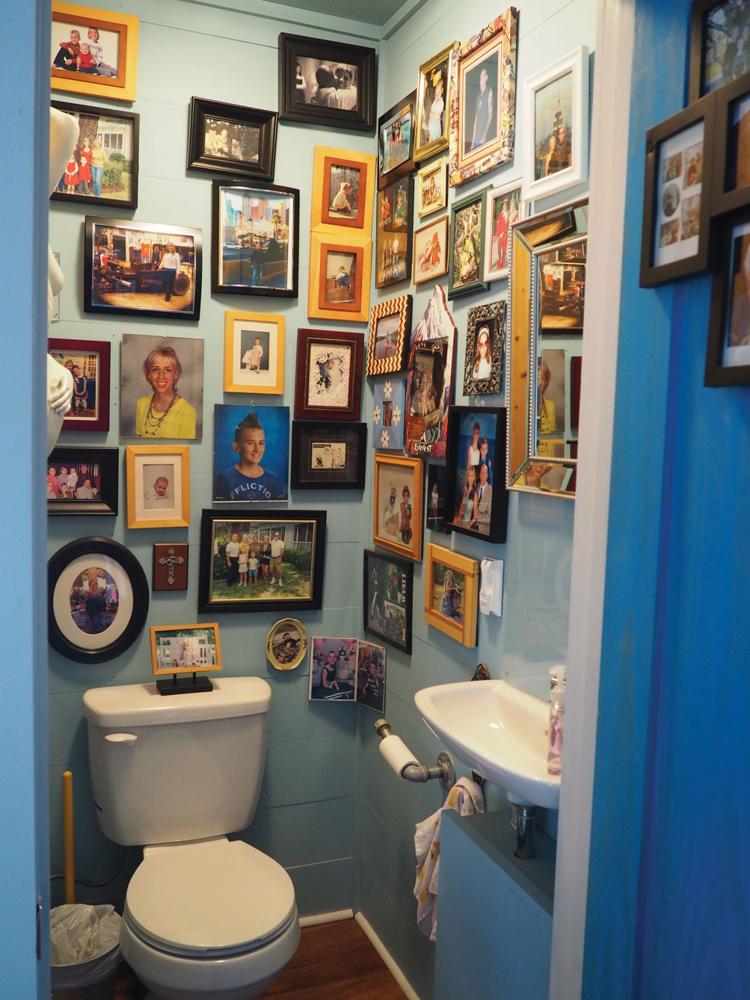 Minimalism isn't a term that fits the Hoffman homestead. While they have greatly reduced their living space, every square inch of their 800-square-foot home is filled with colors, artwork, or novelty pieces that they have collected through the years. There isn't a view that doesn't showcase their love for color, texture, and eclecticism.
Just take the guest half bath. The walls are covered by photographs framed in all sizes, surrounding the toilet and sink. "Isn't that fun," Kristin says of the pictorial display.
Space restriction doesn't mean taste restriction, either. The master bathroom features a rain shower over a built-in tub. In the kitchen, steel appliances add a modern feel and the brightly painted oversized custom cabinetry feature softclosed drawers.
The spalted maple dining table, which Corey made himself, is the largest example of various woods used throughout the home. Not an inch of sheetrock can be found, either, with Kristin and Corey preferring shiplap and board and batten.
Color Color Everywhere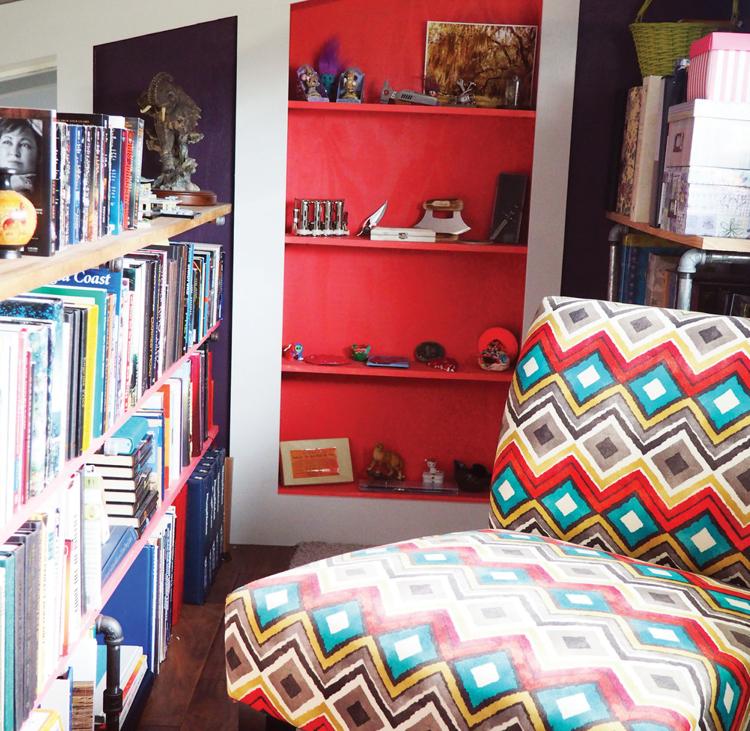 Kristin, who owns J.Kris and Co. Salon on St. Simons Island and is an American Board Certified Haircolorist, uses her chromatic skills at home to infuse the design with personality. "I can visualize color. Corey can visualize space," she says. "I know it can work. Corey can make it happen."
Kristin guesses she probably has five paint colors in each room. And even though Corey is color-blind, he knows when there's something he doesn't like. He isn't shy about his love for Kristin's mixing and matching. "You get a lot of people this day and age that are afraid to do stuff because of resale," he says. "That's never stopped us from decorating our way."
When size matters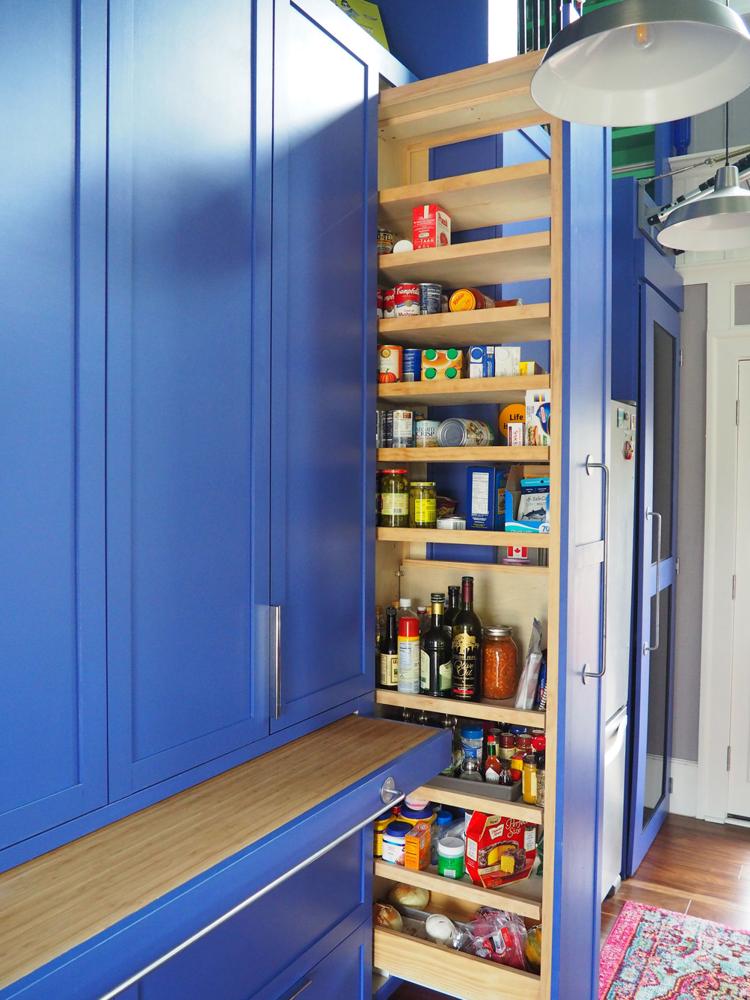 Scale is vital for planning a tiny home. "It's difficult to build because every spot in this house has a serious purpose," Corey says. "Everything in here, there isn't a corner that's not used. I think you really have to be seriously creative."
Tall ceilings are imperative, too, since height is something you can play with. "You have to be able to go up and that way you have storage," Kristin says. For instance, her closet in the bedroom is too tall for her to reach, but the hanging racks can be pulled down for easy access.
Other tiny home requirements include maximizing natural light, using pocket doors instead of swinging ones, and custom furniture can be built-in and sized for your needs.
Glass could become your best friend. Plexiglass in the bathroom allows for a bit of privacy without the need for blinds. And when the couple wanted a sound barrier between the bedroom and living room, they installed glass that kept the light filtering in but limited overflow of noise.
Zoned heating and air is another comfort to consider. Opening the screened french doors that run the length of their front porch and on the soon-to-be-completed screened back porch will allow natural breezes to flow across their living space without affecting the temperature in the bedroom area.
Hammer time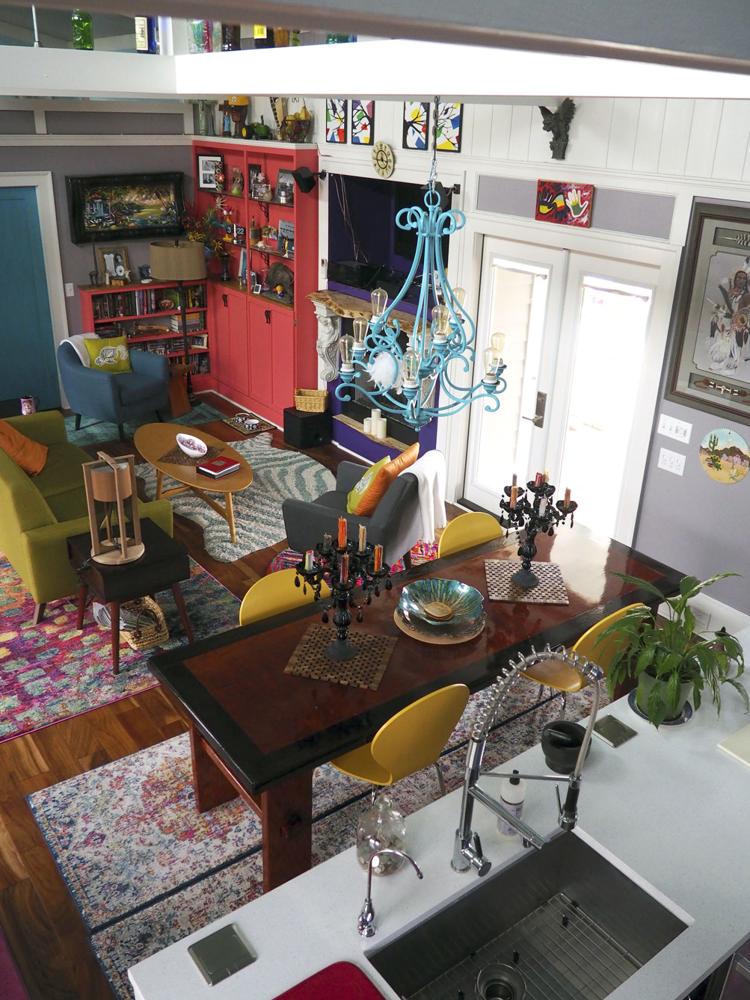 Having built two homes and renovated the others they have lived in previously, the Hoffmans aren't novices when it comes to building, especially Corey who worked for decades as a high-end trim carpenter in North Georgia.
"I worked in Brookhaven most of my life. The smallest house I did was 22,000 square feet. Now, I'm the opposite of that," he says with a laugh. "You know what's awesome about a tiny home, too? It's maintainable. It's easy. All of our other houses, I always thought that if I was 60 or 70, would I really want to maintain the outside of that house or pay someone to do it?"
To build their home, Corey planned everything to fit within a 16-by-50 foot structure. "It's built that way for a reason, so I can get all the lumber in one length," he says. "I don't have to worry about big beams or anything. It's all uniform."
Teenage dream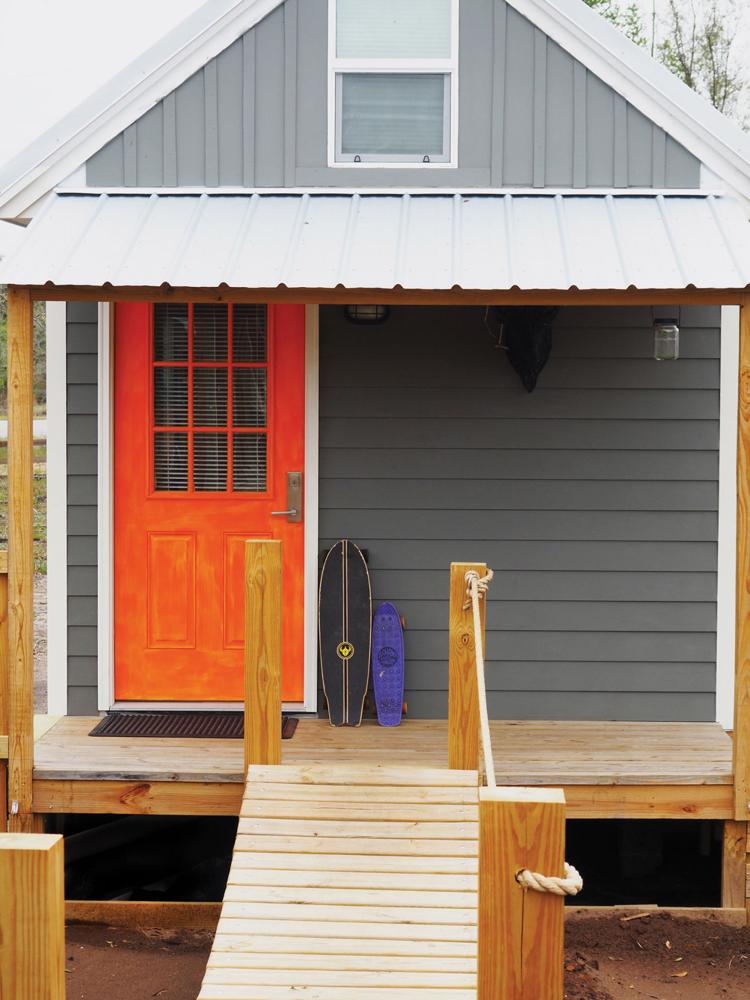 The smaller home on the property belongs to teenager Wyatt. The home measures 10-by-16 feet with 40 feet added in the loft for the total of 200 square feet. "His is a true tiny house," Kristin says of Wyatt's abode that sits just to the left of the main house, connected by a swinging bridge.
"He had some say in it," Kristin says of how the space was decorated. Large road signs are hammered into the ceiling. Fishing poles in the corner and framed sports memorabilia are fixtures that would be found in any guy's room. An extension ladder turned sideways has been transformed into a desk for him to do his homework, and a dragon-shaped toilet paper holder in the bathroom adds a touch of gothic to the decor.
A loft above holds a bed and some small storage places. An air conditioning unit, like those in a hotel, is used to moderate the temperature inside. A spare chair folds out into a second bed, a necessity since Peyton stays with her brother when she comes home to visit.
"I would be curious to see how those people with a tiny home on TV are living a year or two after. Some of those are this small," Corey says of the space that works well for his teenage son, but perhaps not adults.
On the land
It's easy to see that the land has become a playground for the Hoffmans' vision of living big in a small way and, as Kristin puts it, "farmin', and growin' stuff, and feedin' people" in the near future. Farming is in her blood, after all. Her grandfather was a farmer, and her father, who received an agriculture degree from the University of Georgia, worked for the U.S. Forest Service.
Returning to the Southern tradition of communal sharing has her and Corey excited about Tiny Acres Farm's future. "This year, we are going to just pop up at a few markets with what we have or anything left over," she says. "We have to decide and learn how much to plant, what sells, what we need. Then, we will decide the real structure of the farm. Are we going to do a CSA (community supported agriculture)? Are we just going to deliver to the shop for food internet sales?"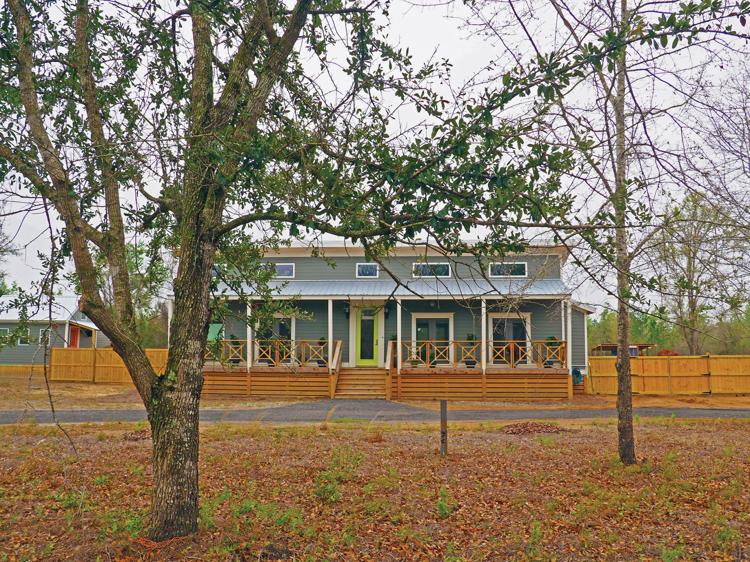 The latter option is something the couple seems to be leaning toward. They like the idea where someone could order vegetables online, and they could pick them up at the salon on the island or swing by the farm, similar to how Kristin's grandparents distributed their extra crops when she was young. "Theirs was through the telephone, but I remember the pad being beside the phone, when I was a kid. They would pull up in the yard and beep the horn," she recalls of customers swinging by for fresh produce.
Kristin is also channeling her 99-year-old grandmother, Willonell Dyer, who was the first person to teach her canning. Once the canning kitchen behind Wyatt's place is operational, Kristin will be passing along her grandmother's tips to others, too. "I like to give back to my hairdresser community, so we teach classes at the salon to hairdressers, and I would like to do that with the farming, too," she says.
Corey also has another level that could be used to help out the community. "I would like to sell it, but if it is going to rot, I'm going to give it away to someone that needs it," he says, adding that he is considering a longterm goal for hiring either returning veterans or recovering addicts to be extra hands on the farm.
The Hoffmans aren't immune from a few setbacks, though. Compared to building the house, the learning curve for starting the farm has been "massive," Corey says. They planted the fruit trees and a portion of the garden before the irrigation system had been put in. Then, there was the abnormally cold winter with snaps that lingered into spring. "Staying on track with the farm is the key. We have a million little things going on. I think you have to lock down one section at a time. That sounds like the smart thing to do for us," he says.