Christmas holidays on Jekyll Island have historically been fabulous, even long before electric twinkle lights were strung through the island's live oaks and massive Christmas trees were decorated in the center of today's historic district.
These modern-day traditions pale slightly in comparison to the holidays of the wealthy, well-known families who traversed the island during the Jekyll Island Club's heyday in the early 20th century, when millionaires and their families retreated from rough winters in the Northern United States down to the comparable warmth of the Golden Isles.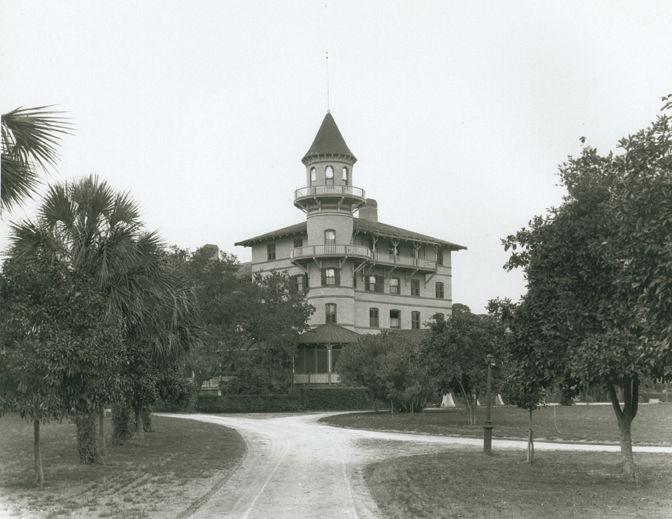 "There's sort of a misunderstanding. A lot of times people will say, 'Oh well the millionaires weren't here at Christmas, because traditionally January to about April was about the club season,'" says Andrea Marroquin, a curator for historic resources on Jekyll Island. "However, there was a period of time when they were opening the club in time for Christmas. And a lot of club members would arrive early, particularly the ones that had cottages."
The Jekyll Island Club formed in 1886 and remained open as an exclusive island club until 1942, when the resort shut down for the war effort. Famous names on the island at that time included J.P. Morgan's family, as well as the Rockefellers and Vanderbilts.
Most club members visited with their families, as the Jekyll Island Club uniquely catered to families.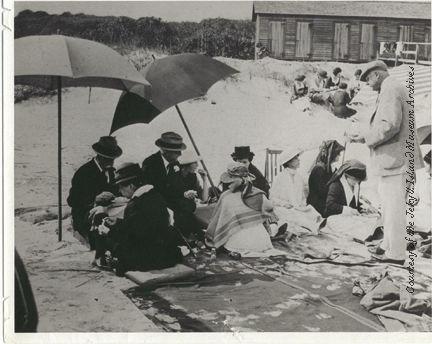 "It was a unique feature of the club," Marroquin says. "A lot of clubs were male only or female only. So families were encouraged here."
Jekyll Island Authority historians have collected extensive information about the club members' lifestyles and traditions during this time, through research, letters and diaries, and oral histories provided by previous employees.
Because the club members were often prominent Americans, their histories are well documented. Some of their stories also overlap with the history of the modern Christmas industry.
"For example, we had a club member whose family business was involved in America's first mass production of Christmas ornaments," Marroquin says. "So those are the kinds of connections we have here on the island." 
As some of the wealthiest Americans at the time, though, the members' lifestyles were oftentimes extravagant. The club members did not leave their lives of luxury behind. The necessities for such lifestyles were all transported down to the island, via steamship, train, or yacht.
"They certainly brought, for example, Christmas with them," Marroquin says. "Their holiday decorations came down with them."
The holiday season featured Christmas dinners, both in club members' homes, and at the hotel.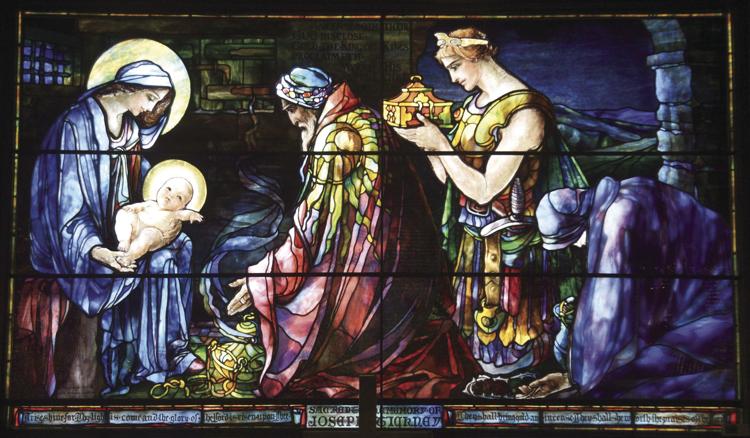 "They would have their special Christmas dinners and traditions," Marroquin says. 
Church services were held in Faith Chapel on the island, along with holiday parties and events.
Many club members also made sure to include their staff members in the holiday festivities, inviting them to events, and bringing gifts for them. "This was considered a luxury resort and (the employees) had the run of the island for most of the year, to themselves," Marroquin says. "But the club members didn't forget them." Today, Christmas on Jekyll Island is celebrated with gingerbread house events, Christmas tree lightings, and historic holiday tours. It allows Marroquin the opportunity to share some of the stories she's gathered during her time researching the island's history.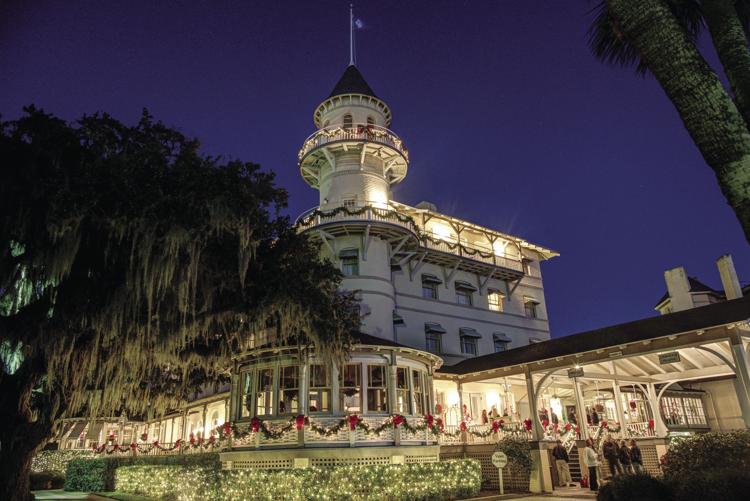 The members commonly hosted elaborate costume parties at Christmastime.
On display in the Mosaic Museum on Jekyll is an elaborate, richly detailed party dress worn by a wealthy woman during this period in the club's history. Those familiar with fashion history, though, have noted correctly that the dress seems a bit outdated, even for this historic period. 
"So there's a reason for that," Marroquin says. "They used to have costume parties at Christmas. And so while, yes, it was something she would have worn during the time period. However, it's actually harkening back to the time period of King Louis the 16th. And so it's sort of a Marie Antoinette kind of gown." 
Many of the members, though, cherished the same Christmas stories, carols, and other traditions that are beloved today.
"Their families had connections to a lot of those traditions that have grown over time that we cherish today," Marroquin says.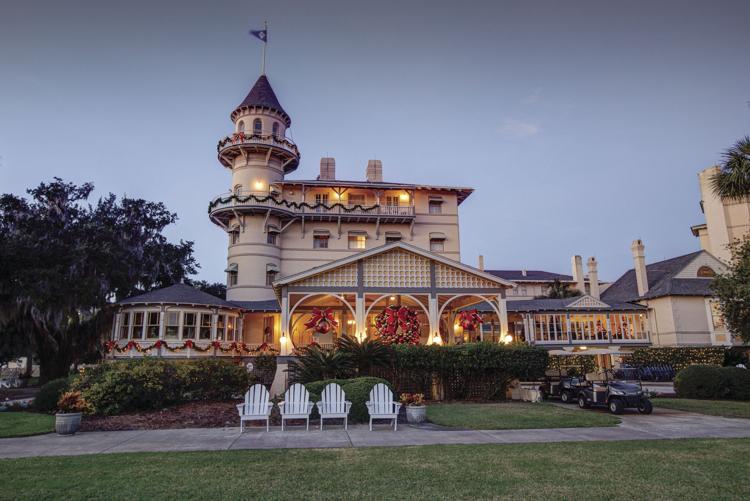 Gin Rickey
Ingredients:
Ice 
2 oz gin of choice 
½ oz soda water 
½ oz fresh lime juice
Lime wedge for garnish 
Directions:
In a Collins glass, mix the soda water, gin, and lime juice.
Stir well. Garnish with a lime wedge.
Sidecar
Ingredients:
Ice
Sugar for glass (optional)
2 oz cognac of choice
¾ oz Gran Marnier 
½ oz fresh lime juice 
Lemon peel for garnish 
Directions:
Coat the rim of a martini glass with sugar and set aside (optional). Place cognac, Gran Marnier, and lime juice in a shaker.
Shake well. Strain the mixture into the martini glass and garnish with a lemon twist.
Rockefeller Rye 
Ingredients:
Ice 
1.5 oz Basil Hayden Dark Rye
1 oz Domaine de Canton
1/2 oz fresh lime juice 
2 oz sweet and sour mixture 
Rosemary for garnish  
Directions:
In a shaker, combine rye, Domaine de Canton, lime juice, and sweet and sour mix.
Shake thoroughly. Strain over ice in a cocktail glass. Add a sprig of rosemary for garnish.
Manhattan
Ingredients:
Ice
1 oz sweet vermouth
2 dashes bitters
1 Maraschino cherry 
1.5 oz rye whiskey or bourbon
Directions:
The classic way to serve a Manhattan is straight-up. Pour the rye or bourbon, vermouth, and bitters over ice, stir well.
Garnish with a cherry.  
Old Fashioned
Ingredients:
Ice
Orange slice 
Maraschino cherry
2 tsp simple syrup 
2 dashes bitters
1.5 oz bourbon or whiskey of choice
Directions:
Pour the syrup, whiskey, and bitters in a glass or shaker, mixing well. Place ice in a cocktail glass and pour in the whiskey or bourbon. Garnish the glass with an orange slice and Maraschino cherry.