Four Golden Isles' Couples Share Their Stories and How They Keep Their Love Alive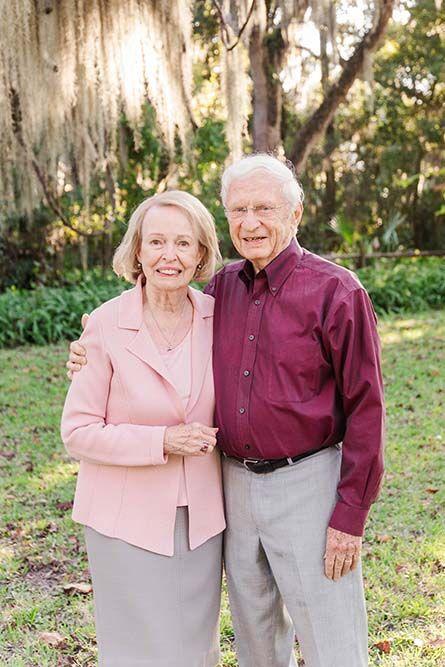 Summer Stock, Near Misses and 66 Years of Wedded Bliss
Margie and Bud Dorsey's love story began like a Hollywood movie. The son of a Wall-Street scion and the daughter of an Iowan farmer meet while touring in a New England summer stock company in 1949.
"They seated us alphabetically at meals. Since his names is Dorsey and my last name was Dennier, we were seated together. I thought he was fun and friendly," Margie says, smiling.
"I can't say I loved her at that point, but I was fond of her and thought she was pretty, and we became friendly," Bud says.
But once the summer was over, they returned to their respective colleges—Wesleyan University in Connecticut for him, and the University of Dubuque in Iowa for her and didn't see each other again for five years. However, they stayed in touch and exchanged yearly Christmas cards.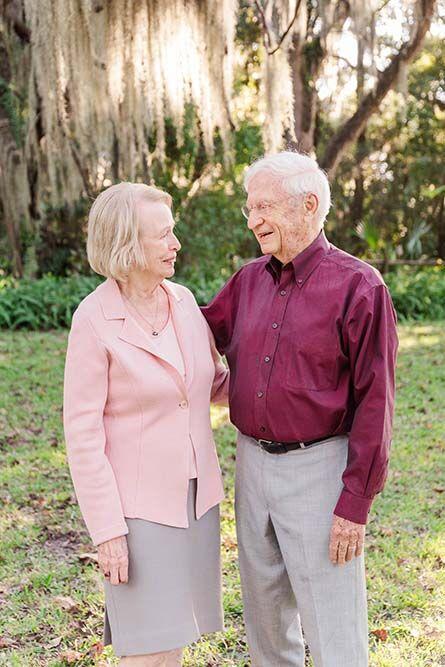 It took some time and for a few stars to align but the two came to realize they were in love.
They were married in a small, intimate wedding on June 6, 1954, in the chapel of Dubuque University. During their first year of marriage, Bud had to return to duty, including serving in the Korean Conflict, before being honorably discharged in 1955.
After spending years living in the New York suburbs, with Bud commuting to the city to work in his family's Wall Street firm, and raising their three children, the couple retired and moved to St. Simons Island 27 years ago. They now live in the Marshes Edge retirement community.
Both say they have leaned on each other throughout the years, including bouts with cancer and other serious illnesses, but say staying active is the key to enjoying life. "We take exercise classes and walk six days a week," she says. "We also love to dance and play bridge." The couple enjoys volunteering, including with Christ Church, were they are members.
"My advice for elders like us is to volunteer if you can," says Bud, who adds that he and Margie are both 91-years-old. "It gets you outside of yourself."
They also emphasize the importance of family ties and are close to their children and nine grandchildren, staying constantly connected online through Zoom, and with FaceTime, phone calls and texts now that they can't visit in person due to the pandemic. One daughter is a clinical psychologist near Boston, while another daughter is retired from the foreign service office. Their son is an investment banker on Wall Street.
"We are so proud of our children and feel fortunate that they all have happy marriages, like we do. I think the most important things to have in a marriage are compassion, understanding, mutual morals, love of family, respect for each other and others and a sense of humor," Bud says. "Every night, I kiss her and tell her I love her," Bud says, smiling. "And I do the same," Margie says. "That's what is really important."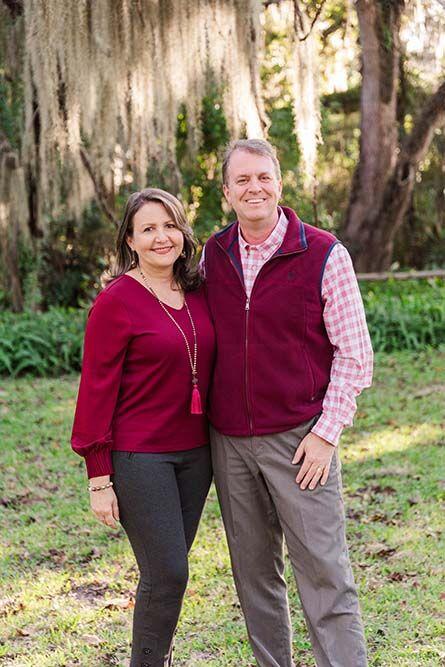 21 Years of Love, Laughter and Minivans
While Jodi and Mason Waters attended McIntosh County Academy together, their love connection didn't begin until several years later over a shared love, of all things, the humble minivan.
"I was living in Nashville and came back home to visit and we ran into each other one night in the Pier Village." says Mason, who had graduated from the University of Georgia with a degree in accounting before moving to Nashville to pursue a music career,. "And the rest, as they say, is history," he adds with a big grin.
"Actually, I gave him a ride back to his car. Now I was 26 at the time and I told him, 'don't laugh at my car,' which was a minivan. Then he pointed to a dark green minivan and said that was his!" Jodi says. "We were the lamest 20 somethings ever!" Mason adds, laughing. "We're still a minivan family."
The two also share a love of music and a sense of humor. After Jodi, now a public health nurse, completed graduate school, Mason popped the question on a trip to Jazz Fest in New Orleans. "We got to New Orleans before our friends and were in the middle of Jackson Square in front of St. Louis Cathedral. It seemed like the appropriate spot," Mason says.
The two were married in his parent's backyard overlooking the Sapelo River on Oct. 9, 1999. Now the parents of two, daughter Georgia, 18, and son Eli, 15, the two say teamwork and their shared sense of humor, are two things that have strengthened their marriage bonds.
"Teamwork, figuring out what each of you are good at is important," he says. "Find a guy with a good sense of humor. I'm serious. Mason thinks he is very funny," Jodi says, grinning. "I'm the serious one and he's more even keeled and uses humor to handle things."
Their marriage was tested when Eli had medical issues shortly after his birth and again three years ago when Jodi was diagnosed with breast cancer.
"When she was first diagnosed, I was thinking, 'what does the future look like?' But you just must take it a week at a time, bite off little chunks instead of trying to tackle everything at once," he says.
"You never know what is around the corner," Jodi says. "You have to be patient and know it's going to eventually work out."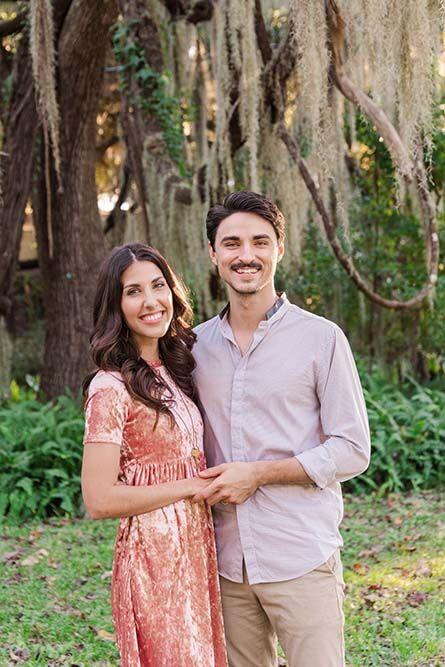 Young Love, Parenthood and a Life-Changing Diagnosis
Evan Beard says he was immediately smitten when he met his now wife, Megan, at church in 2010 when she was 17 and he was only 15.
"We started hanging out as friends, but I got her number, kind of covertly, that first day," Evan says.
The two shared much in common, including their active church involvement and deep faith and their mutual love of music. He plays bass, guitar and drums, while Megan plays piano, guitar and "sings amazingly well," Evan says.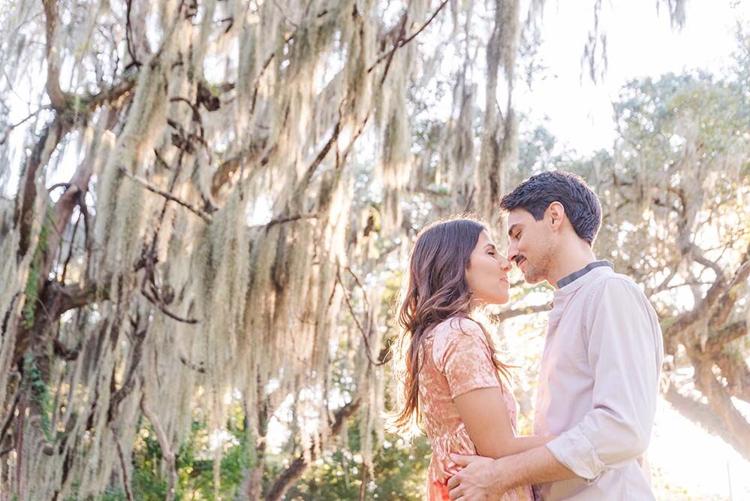 Evan made it his mission to prove himself to not only Megan, but her family, especially her father, who was at that time the youth minister at the church.
The two continued to spend time together with groups of friends and didn't officially begin dating until Evan graduated from Brunswick High. He began working at Wake Up Coffee on St. Simons and set out to save money and to "convince her parents it was a good idea for us to marry."
After saving up money for a ring, Evan proposed on Nov. 2, 2014, the day after Megan's 22nd birthday. Their wedding, held at their church, was a large, jubilant affair.
"We are both from here, so we have so many family members and friends. Many of our friends are also musicians, so they played, and it was just a great time," Megan says.
The two had planned to work as missionaries, but that had to be sidelined when they discovered they were pregnant after three months of marriage. They welcomed their son Benjamin, now four, followed by a second son, Noah, a year later.
Evan had worked his way up to café manager at Wake Up, and Megan was balancing taking care of their sons while also taking classes at the College of Coastal Georgia, hoping to earn a degree in psychology. Life was hectic, but good. Then Evan started having some troubling physical symptoms. After talking to a friend who is a physician's assistant, he was scheduled to have a colonoscopy.
"After the doctor finished, they wheeled us to the 'bad room,' where they take you to give you bad news," Megan says. Although the doctor assured them Evan's case was treatable, he broke the news that at the age of only 23, Evan had Stage 4 colon cancer.
"You could tell, the doctors were having a hard time telling us," Evan says. "It seemed pretty hopeless."
Evan underwent surgery and chemotherapy, which took its toll on him physically. But through it all, he had the love of his wife to pull him through.
"Megan got me through it. I have no idea how she did it. She was taking full-time classes at Coastal. She would have to write papers while nursing our four-month-old. She was like a bat out of hell. She just persevered," he says.
Thankfully, doctors were able to remove all the cancer and on Nov. 8, 2018, he finished his chemo treatments and was able to ring the bell at Mayo to mark that milestone.
Although he had a follow-up surgery in February 2019, the year proved to be a much brighter one. Not only did Meghan graduate with her degree in psychology, the couple found out they were expecting their third child. "It was a miracle it happened after the chemo," Megan says, smiling. Their "miracle girl," Rivi Elizabeth, arrived on Jan. 19, 2020, much to her parents' unbridled joy.
While he's had a few health scares since, including some benign growths, doctors have deemed him cancer free.
Despite the brief setback and adjusting to the pandemic, Evan and Megan feel they can weather whatever comes their way.
"One thing I always write down when I'm signing the book at someone's wedding is 'for better or worse, for richer or poorer, in sickness and health, you will use every single ounce of those vows,'" Megan says.
"My advice is to marry your favorite person in the world, the person who you want to fulfill those vows for," Evan says. "Not just for the fun times, but the times you're tested. Don't take those vows lightly."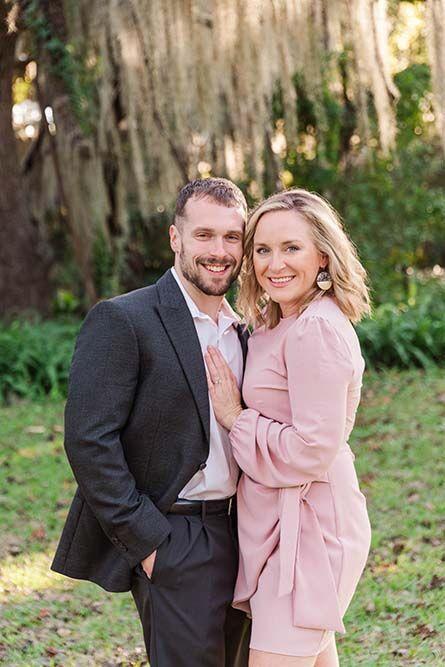 Getting Married During a Pandemic
When newlyweds Lauren Doucet and Michael Brown first met in 2015, it wasn't exactly love at first sight.
"To be honest, I really didn't like her at first," Michael says, both laughing at the memory. "We met at work (the King & Prince Resort). I had worked there since 2012 and I was known at work as the 'funny one.' Then she comes along. I'd say something I thought was funny, then she would follow-up with something funnier. She stole all my laughs!"
But the Baton Rouge, La., native soon grew on the guy from Hinesville, and the two had their first date on September 17 (2019). Less than a year later, on Memorial Day, Michael was looking to propose.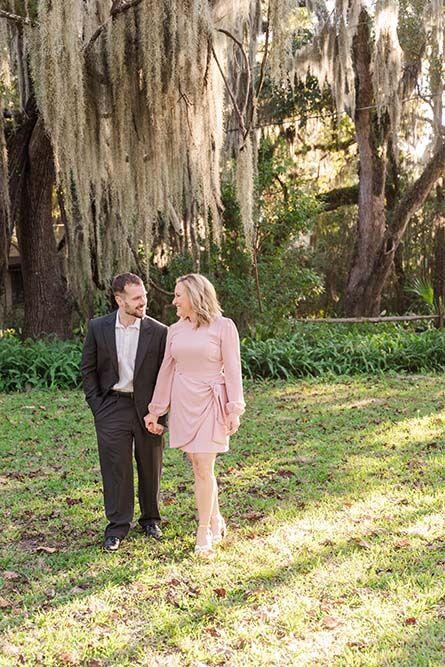 "We were in downtown at Mary Ross Park, watching the sun go down, and he didn't hesitate. I was worried he'd drop the ring in the water!" He didn't drop the ring and she said yes.
Because neither of them was in a rush and she has family that is spread out from Mississippi to Thailand and Malaysia, they didn't initially set a date. Then, 2020 came in, bringing Covid to the states.
While most of their colleagues at the King & Prince were furloughed, the two of them were considered essential. She is the marketing manager and he is the revenue manager, so they remained on the job. "We absorbed so much that we were just too tired to plan for our wedding," Lauren says.
The two soon agreed to their wedding venue — the 71-foot charter yacht, String of Pearls, located at Morningstar Marina on St. Simons.
"It was all pretty simple. We had only 15 people there, including the vendors. We just invited immediate family and each of us also invited one friend each. They were fantastic to work with," Lauren says.
"Our wedding was absolutely magic," Michael says, grinning broadly. "You know you are enjoying your wedding, when you don't want it to stop!" Lauren agrees. "And Georgia Sea Grill did our catering on the boat, and the food was so good. Everybody was happy."
Michael says his bride made things even more special by gifting him a set of cufflinks with their rescue dog, a terrier mix, Patina's face on them, since she couldn't go with them on the boat.
The two have happily settled into married life and want to assure other couples wanting to wed during this uncertain time, that it can be done.
"Focus on each other and what the two of you want and not what other people expect," he says. "It's not about keeping up with the Joneses. You don't need to come up with the biggest or something people have never seen before," she says, adding, "And for the love of everything, choose your battles."
Michael says his one job for the wedding was to come up with the song playlist. "I think I came up with the most magical four-hour playlist," he says. "We still listen to it and it takes us back to the wedding."
The two are looking forward to making more memories in the years to come. "So far, we have survived Covid and an election year," Lauren says. "It's a lot easier when you marry your best friend."