David Lowe gazed at the tools spread out before him — an assortment of winter squash, tiny pumpkins, feathers, and acorns. With practiced hands, he began to pull the pieces into place, bringing his vision to life. 
It's something the owner of Edward on St. Simons in Redfern Village has done for more than 40 years.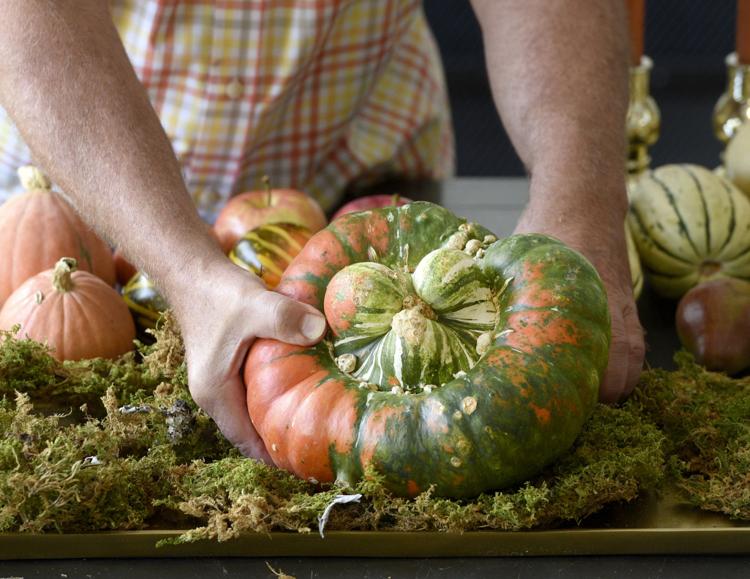 "I did my first wedding when I was 16. It was for a cousin. I cut all the florals — roses and Queen Anne's Lace," he recalls. 
For Lowe, becoming an expert floral designer has taken years of practice. He and his team have built a stellar reputation locally for their unique creations that outfit homes and events. But Lowe truly believes that anyone can craft his or her own arrangements with a little time and patience. 
"What really matters is that it looks good to you … and you have to have confidence in yourself. That is important," he said. 
The holiday season is the perfect time to start to build one's floral skills. Fall, for instance, presents plenty of possibilities and its hallmark fruit — the gourd — offers loads of inspiration. Coming in an array of shapes, sizes, and colors, gourds have long been used in seasonal centerpieces. 
Lowe says that they can be paired with things found around the home and yard to create stunning focal points for one's decor.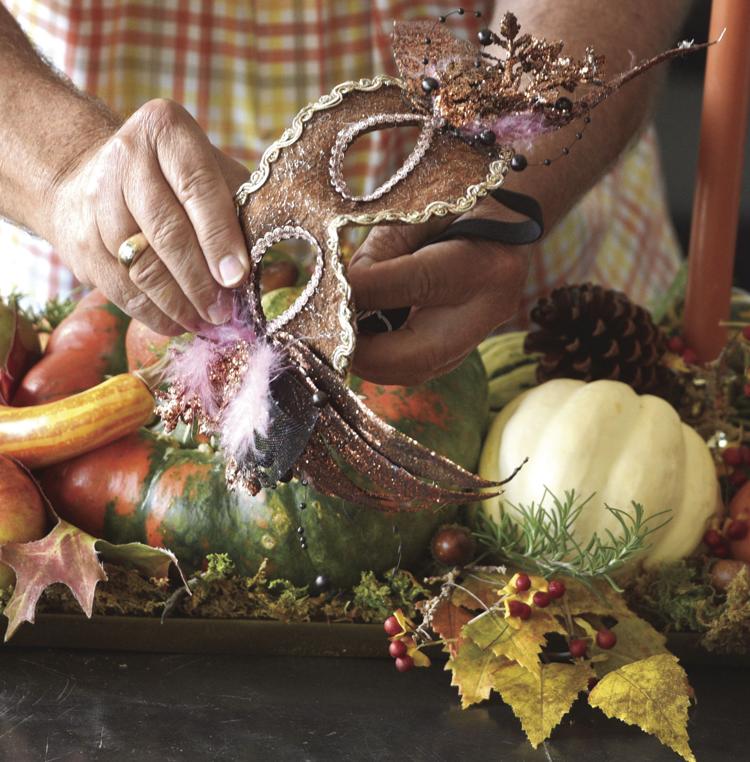 "You can use faux gourds or real ones. And, over time, you can change them. Take one out, cook it, and eat it, then replace it with another. You can do the same with apples or pears. It can evolve through the season," he says. "And you can use things you find around your yard too — acorns, pinecones, and leaves."
The first step, Lowe says, in creating a fall, gourd-centric centerpiece is to consider the colors. 
"Some people like to use whites and greens to match their home's color palette. Some people don't like the orange, but I do."
Once the colors are settled and the materials acquired, Lowe chooses the base. He often opts for pieces that are transportable, like a tray, allowing him to move his creation from one area to another. 
"You can put it on a tray, which is easy to pick up off the table and put it on the sideboard if you like," he said. 
 With the base nailed down, Lowe starts with the foundation. He gently lays down moss, covering the selected tray in vivid green. 
"We have this faux moss at our shop … the same with the faux leaves and gourds," Lowe notes. 
From there, he starts to build. While there is no "wrong" way to make one's own arrangement, he starts by placing the largest items on the tray first. That includes his turban squash in the middle, framed by candlesticks. Smaller gourds are then stationed around this core. 
Then, Lowe starts to fill in space.  
"You fill it in with the smaller gourds, squashes, pumpkins, apples, and pinecones," he said.  
Once most of the space is filled, Lowe gently plugs in quail feathers and acorns. 
"This is something that is really great for mothers to do with children," Lowe says, placing an acorn. "Let everyone have a hand in it."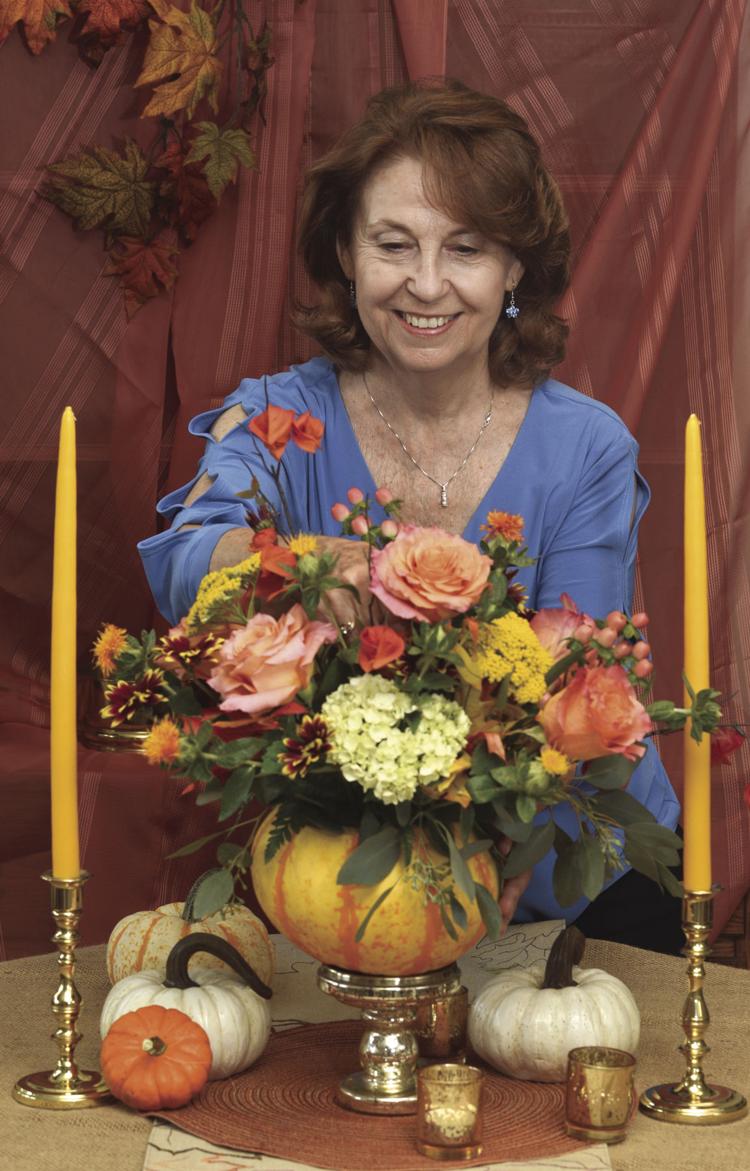 When it is all finished, he suggests accompaniments such as masks or pilgrim figurines for an added touch of holiday flare.     
"For Halloween, you can use masks or even a little plastic spider on top of the gourd," he says. "We have these pilgrim figurines that you can place next to it for Thanksgiving. The possibilities are endless."  
Like Lowe, Linda Stewart is also a big believer in exploring the options when it comes to fall arrangements. The owner of the Flower Basket in Brunswick feels that gourds can provide a fantastic base for an arrangement, even serving as a vase. 
"First, you have to think about what you want to create," Stewart says, gesturing at her arrangement. "Then, you consider the components that make it up. It does take a little bit of thought when you want to create something." 
With vision clearly in her mind, Stewart beeped by the grocery store, and purchased a medium-sized orange gourd, which would serve as her vessel. 
"I sliced off the top of it, and scooped out the insides. I put a plastic liner in because sometimes flowers do not do well with products that may have acidity, for instance. That damages your flowers," she said. "You can use a butter container or Tupperware. Then, you put your wet oasis (a foam block) in there." 
Stewart starts with a basic greenery grid to provide cover. She then starts to place her selected florals in the gourd. Stewart chose Camphor berries, Free Spirit roses, Sapphire, Yarrow, Yellow Solidago, and hydrangeas.  
"You put your focal ones in first. My roses were my focal pieces, then you do your secondary, that was my hydrangeas. Last, you do your filler flowers — your berries, your yarrow, your little cushion mums," she said. "I also used silk Japanese lanterns, and preserved maple leaves. You can get those from the store. We put them on little picks and stick them in. But, you could use leaves from your yard too."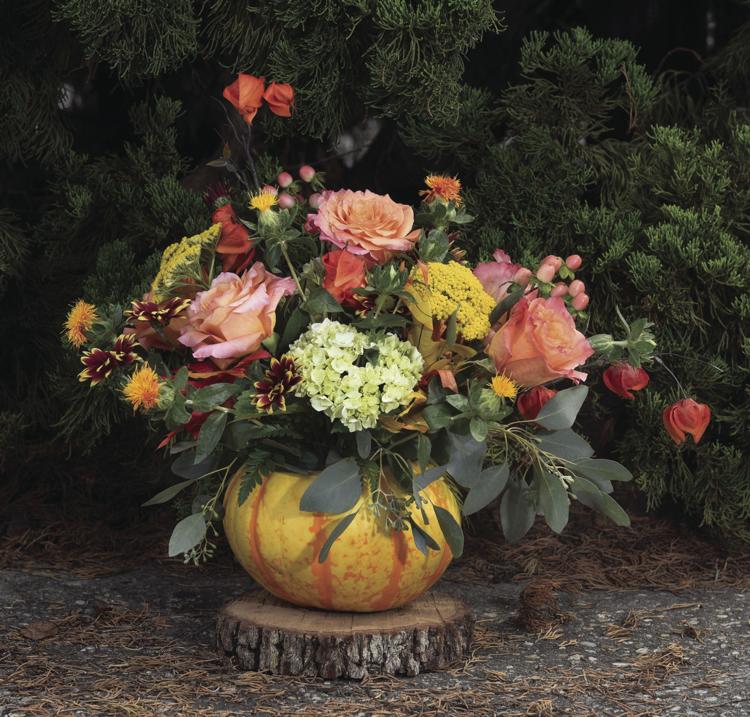 Stewart also likes the idea of creating a full fall tablescape around the centerpiece. She incorporates textures like burlap or cut pine trees to serve as a base. 
"You can put candles around it or put it up on a pillar. I like to use grape vine leaves, too, to twist and drape around it," Stewart says.  
While bright oranges, yellows, and reds are fall staples that can lend themselves to stunning arrangements, it is also acceptable to think outside the box. That's something Gay Varnadoe, owner of Cottage Flowers on St. Simons Island, always strives to do. 
"You know, we're at the beach. I just wanted the colors to be light, but to still have that fall feel to it," she says, standing in her 1930s-era cottage that serves as her storefront. "I used Kale, millet, Hellebore, white and green pumpkins, and hydrangeas." 
For her base, Varnadoe chose a driftwood basket to further the coastal vibe. Then, she started building up, starting by laying the largest green pumpkin in the center. Next, she positioned large hydragenas at four points around it.  
"I started to put in the kale and white pumpkins and I filled it in with the millet," she says. 
With a little practice, Varnadoe feels that anyone can create something similar. But, her biggest piece of advice is to have fun while you're doing it.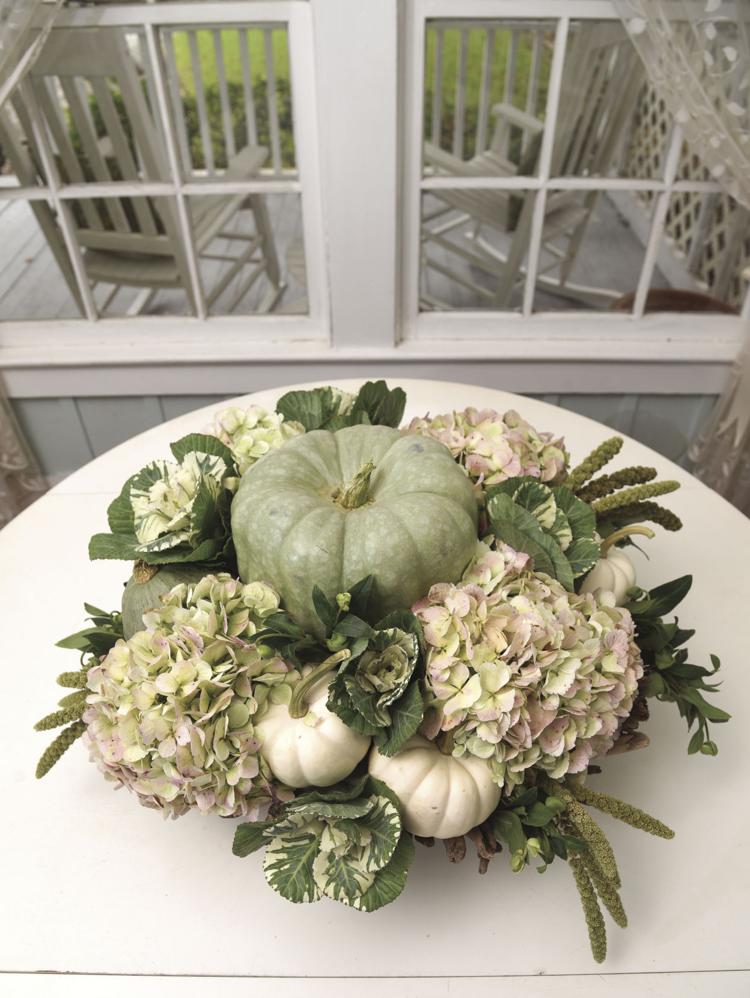 "I've been a florist for over 30 years and you just learn to play around with it. In fact, I call this shop my 'playhouse,' because that's what I do," she says with a grin.