There's nothing more breathtaking than seeing the beauty of the Golden Isles from the water. Cruising around the shores with a group of friends is one of the perfect ways to celebrate the new year.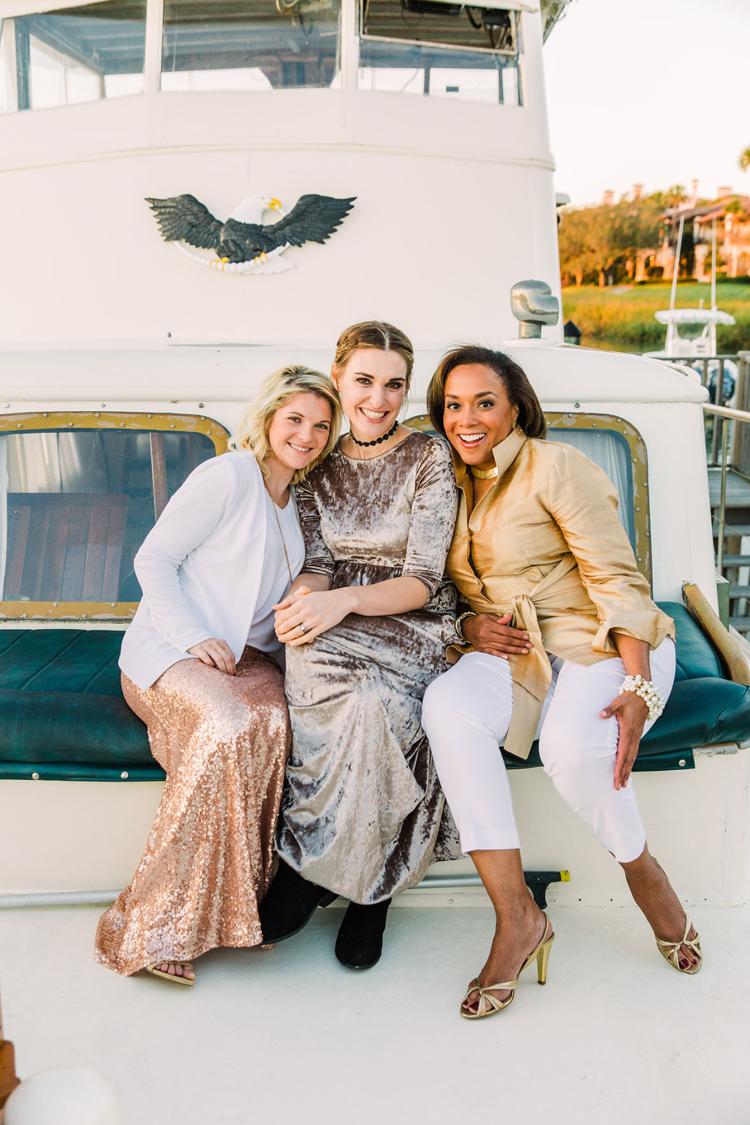 For our cover photo shoot, we invited some friends on board the gorgeous, 71-foot Cloister Belle as the yacht begins its newest venture — a selection of tours and charter opportunities launching from the boat's new home at Morningstar Marina this January.
Golden sunlight entranced the party as Captain Brian Quin navigated the yacht across the marsh-lined waterways.
As the ladies gathered together this wintery afternoon, healthy appetizers — conceived by Dr. Sage Campione and Donna MacPherson with Golden Isles Olive Oil — were passed around for the women to enjoy.
Cheers for celebrating friends and new adventures in 2018!
Cloister Belle's Beginnings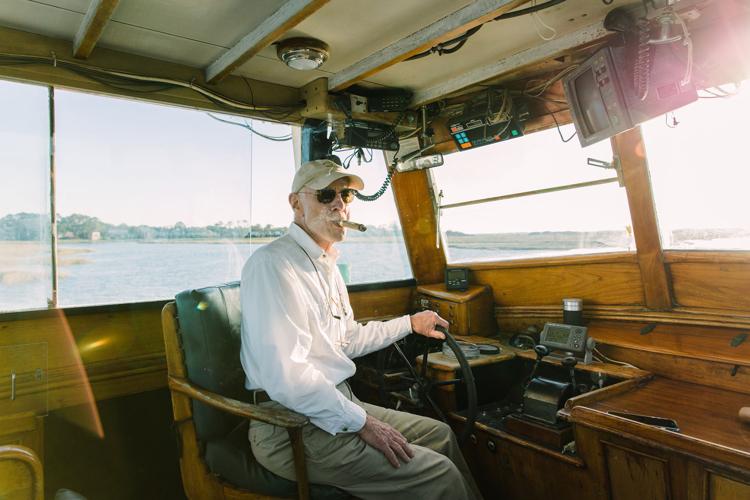 The 71-foot mahogany and teak Cloister Belle has been sailing the waters of the Atlantic Ocean since 1957, after it was designed by Geerd Hendel and constructed by Malcolm Brewer in Camden, Maine.
Originally named Pearl Necklace — a nod by the original owner to his wife, who requested of a simple strand of pearls for her birthday — the boat was equipped with four engines and built for speed. In fact, the Pearl Necklace often raced John Kennedy's 52-foot sport fisherman, Marlin, since the president was a Hyannis Port neighbor of the original owner.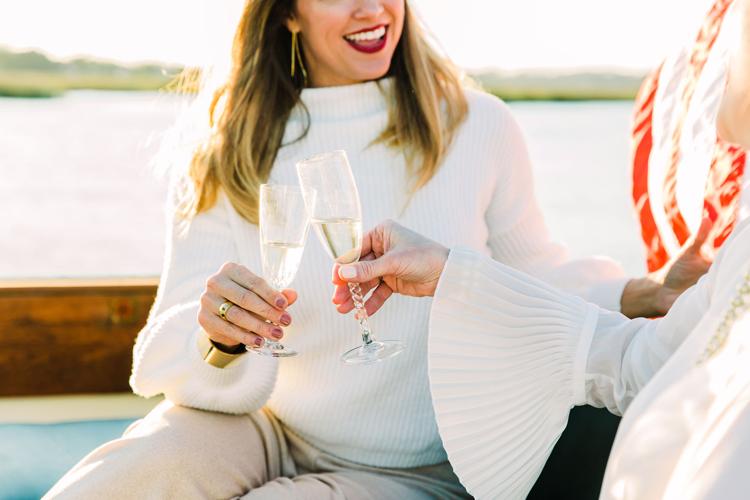 In 1985, Capt. Brian Quin bought the Pearl Necklace. The boat has been a 33-year-long restoration project — the last in a long line of boats for Quin, who started with a mahogany kayak in his father's basement in 1957, the same year the Pearl Necklace was launched.
The boat continued cruising through the waters of New England for more than two decades under Quin's steady hands. Guests aboard have included Brad Pitt, Pierce Brosnan, Harrison Ford, Anne Bancroft, and Mel Brooks. Even "The Boss" Bruce Springsteen took his family aboard the yacht to watch July Fourth festivities in New York Harbor.
In 2004, the yacht was invited to be the exclusive charter for The Cloister, where it has been stationed for the past 14 years until the move this month to Morningstar Marina, where it will begin offering daily tours and private charters.
Cloister Belle Experience at Morningstar Marina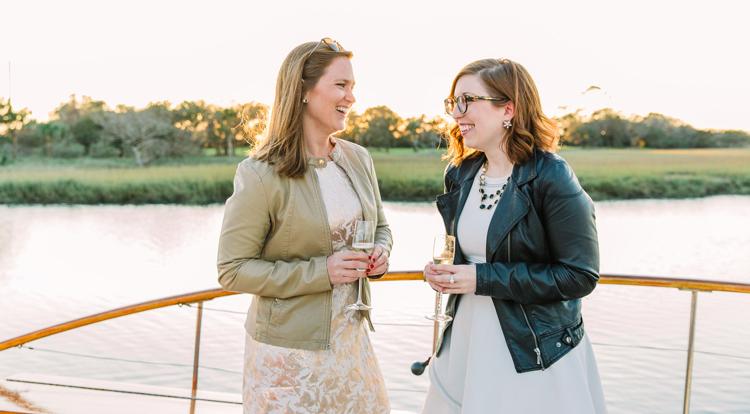 Berthing now at Morningstar Marina, the 71-foot classic yacht offers a variety of ways to enjoy the serene landscape of the Golden Isles.
Themed cruises for enjoying wine, sunsets, or brunch are now offered as the Belle escorts guests across the waterways and offers a slice of life at sea. In addition to daily cruises, the watercraft will also charter private events, such as wedding events, corporate parties, or a gathering of friends private charters as well. For more information, go to cloisterbelle.com.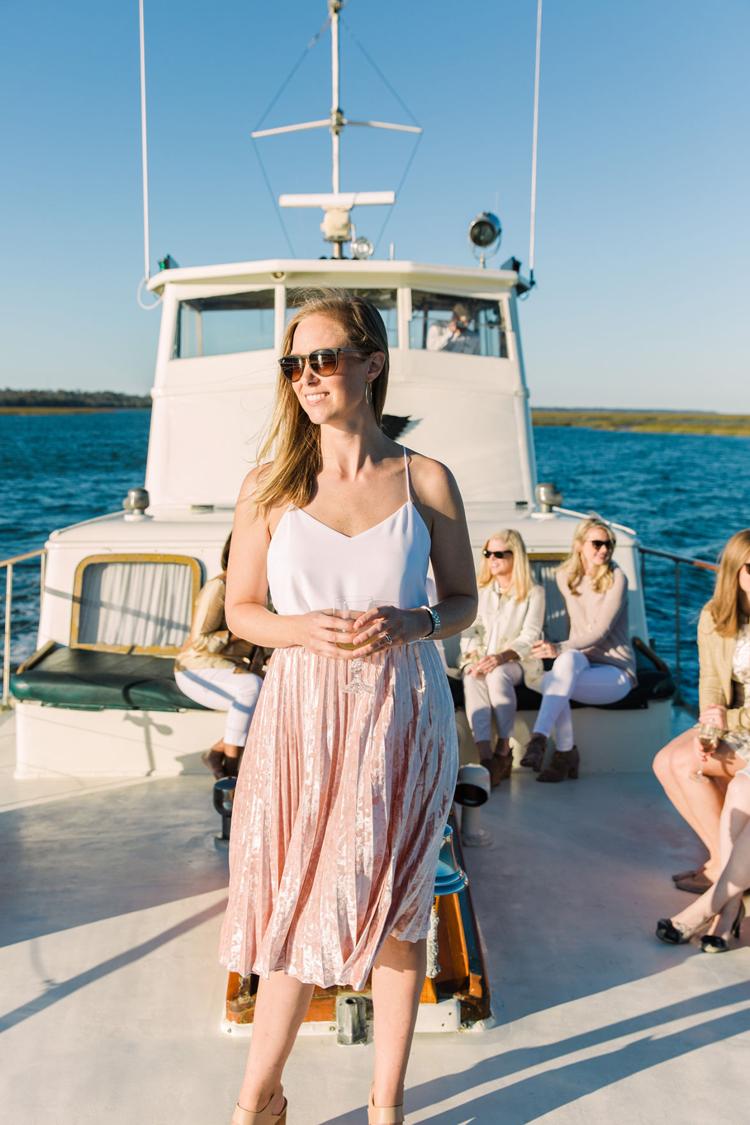 Private Charters
The yacht offers a unique venue for wedding weekend activities, corporate events, and private parties, accommodating up to 35 guests aboard the vessel for private charters lasting two, three, or four hours. Guests will view the St. Simons Sound, the Sidney Lanier Bridge, and more. Prices vary.
Wine Cruise
Sip on glasses of wine or pints of beer and enjoy light hors d'oeuvres during an leisurely cruise across the Golden Isles. The 90-minute tour leaves daily at 5 p.m. from Morningstar Marina starting in January. Reservations are required and the tour costs $75 per person.
Brunch Cruise
Spend a leisurely weekend morning with mimosas, coffee and a light brunch aboard. Bottlenose Dolphins, the American Brown Pelican, and Woodstorks may even make an appearance during the midday tour. The brunch cruise is offered Saturday and Sunday, from 11 a.m. to 12:30 p.m starting in January. Reservations are required and the tour costs $75 per person.
Sunset Cruise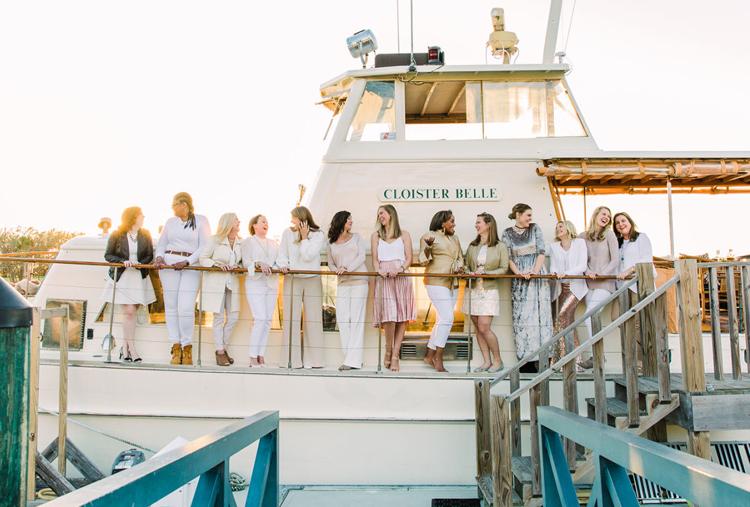 Starting in Spring, guests can enjoy watching the sunset with breathtaking views of the Sidney Lanier Bridge aboard the classic yacht. The sunset cruise also offers complimentary beer and wine. Cruises will take place daily from 7:30 to 9 p.m. from Morningstar Marina beginning in March. Reservations are required and the tour costs $75 per person.
The Ultimate Home Made Green Olive Tapenade
Ingredients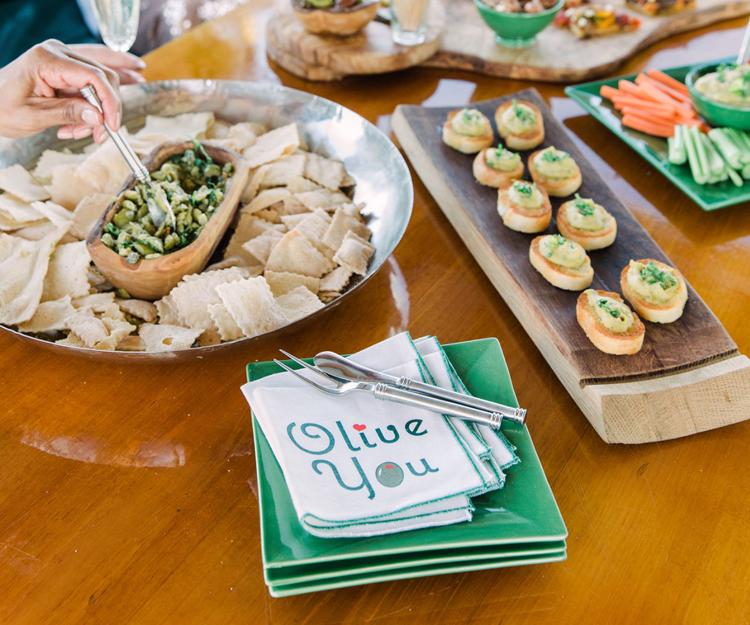 1⁄2 pound quality green olives, pitted and diced
3 tablespoons capers, drained
8 anchovy filets
1 garlic clove, minced
1/2 cup Golden Isles Olive Oil Garlic Infused Olive Oil
1 tablespoon fresh lemon juice
1 tablespoon chopped fresh parsley
Directions
Combine the olives, capers, anchovies, and garlic in a food processor fitted with a steel blade, and pulse 3 times. Add the olive oil, lemon juice, and parsley.
Process until chunky.
Can be served on crackers, as a bruschetta, added to salads or sauces. Delish and healthy!
Herbed Chickpea Bruschetta
Ingredients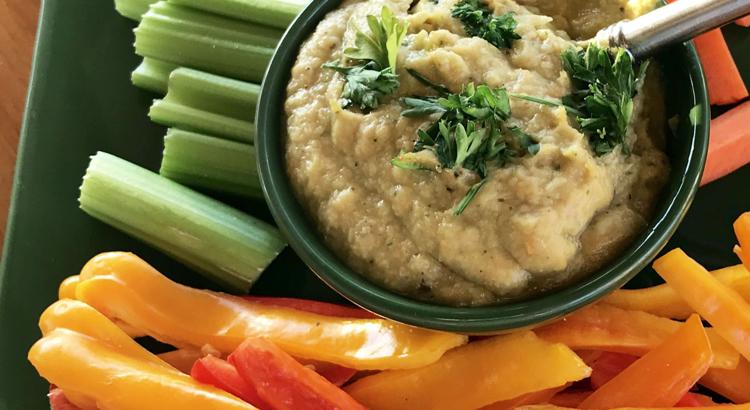 1 12-oz. jar Ready to Eat Chickpea Appetizer with sage and olive oil
5 garlic cloves, minced
1 oz. pancetta or prosciutto, diced
1/2 medium onion, halved
1/2 carrot
1/2 stalk celery
1 small rosemary sprig, finely chopped
1/2 teaspoon minced thyme
3/4 cup high-quality extra virgin olive oil
Flaky Sea Salt for garnish
Directions
Mix all ingredients and 1/4 cup olive oil. Transfer to a blender, and puree until smooth.
Lightly brush baguette slices with Garlic Infused Olive Oil and bake until lightly toasted.
When finished toasting, coat baguette slices with chickpea puree and drizzle with olive oil. Lightly salt and serve.
Roasted Vegetables on Flatbread with Pine Nuts
It's a perfect appetizer served with a crisp white wine.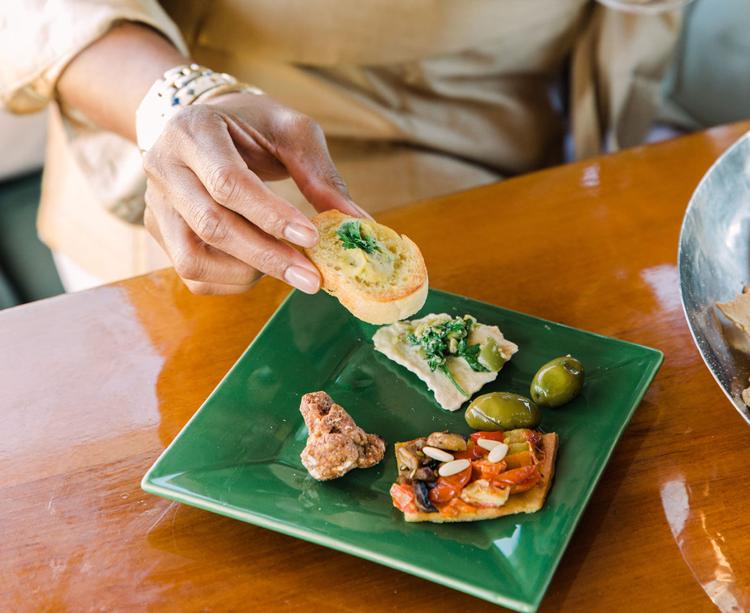 Ingredients
1/4 cup cherry tomatoes, halved
2 small or 1 large zucchini, coarsely grated
1/4 cup mushrooms, sliced
1/4 cup mixed bell sweet peppers, diced
1/2 bunch parsley, chopped
1/4 cup olive oil
1/2 cup grated Parmigiano-Reggiano or Pecorino Romano cheese
1/2 teaspoon kosher salt, or decrease to taste
Freshly ground black pepper to taste
2 to 4 tablespoons whole raw pine nuts
Directions
Mix the cherry tomatoes, zucchini, mushrooms, and bell peppers in olive oil. Spread out on a baking sheet. Salt and pepper to taste.
Broil for five to 10 minutes, until just beginning to blacken in places and set aside.  
Top your flatbread or pizza crust with roasted mixture. Cook at 400 degrees for 10 minutes, or as per you dough instructions. Remove from heat. Add a dash of parmesan and sprinkle with pine nuts before serving.
---
A Very Special Thanks
Our guests Amy Broderick, Kate Buckley, Dr. Sage Campione, Allison Culbertson, Kate Dart, Elaine Griffin, Stephanie Jacobs, Donna MacPherson, Ada Owens, Denise Taylor
Cloister Belle team Captain Brian Quin and Lindsay Earl
Photographer Brooke Roberts
Food team Donna MacPherson of Golden Isles Olive Oil and Dr. Sage Campione