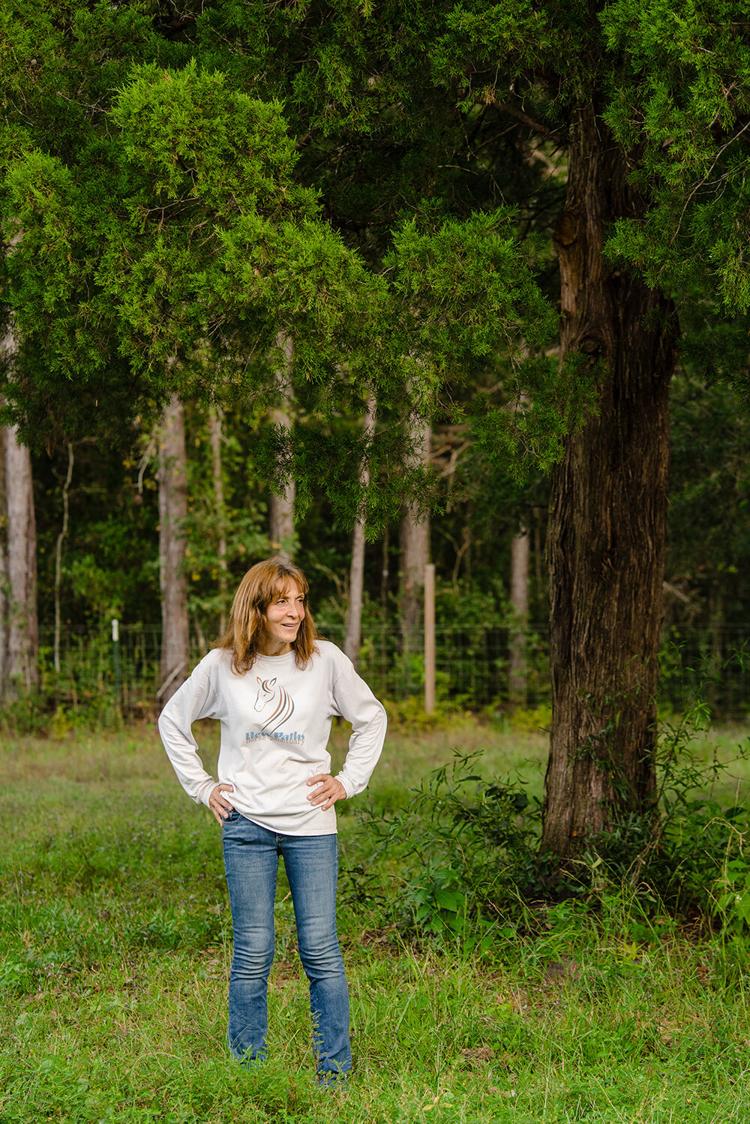 The milky white horse, stamped her hoof in the dirt. With a hearty snort, she tousles her thick mane.
Darlene DeMayo watches nearby, as a grin spreads across her face.
"This is Lacey," she says, reaching a gentle hand to stroke her head. "She was being used as a broodmare, she had a foal before she was even mature herself."
When DeMayo first came across Lacey, the little horse was in rough shape. After being used to produce more mini horses, she had a significant (and understandable) distrust of humans and had an oversized sagging belly from the forced procreation.
DeMayo felt Lacey belonged with her and her pack of recovering animals, so she brought Lacey home to the sanctuary she created — New Paths.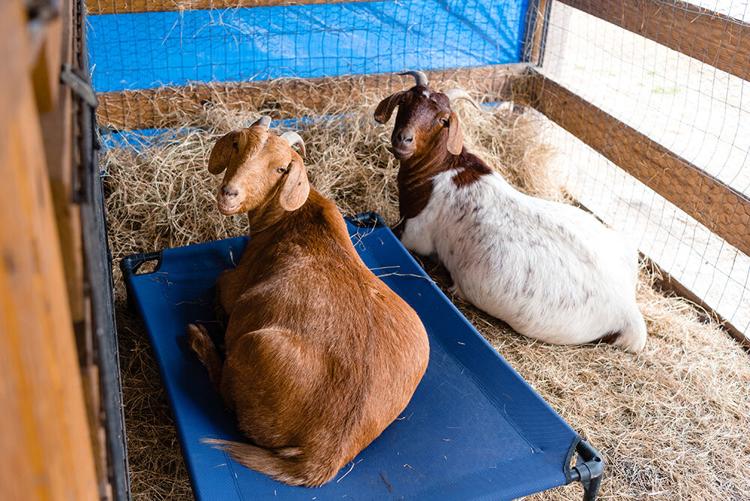 Situated off Highway 82 in western Glynn County, the non-profit boasts acres of open space for mini horses, like Lacey, full sized horses, goats, and a pack of good-natured donkeys. Forming a 501c3 was not something that DeMayo had ever envisioned. In fact, it all began as a quest to help heal herself rather than assembling an army of hooves.
"I was a dancer and I had a dance school up North, in Philadelphia. I taught dancing for a long time. I originally started dancing when I was little because my feet turned in," she says, pointing her toes toward one another. "They thought it would help. So I danced for a long time and wouldn't you know it ... then I had to have hip replacements."
This led her to first explore the world of horses. DeMayo had heard that riding might help her condition and was eager to get started.
"The first one I rode, Doc, did a lot of little bunny hops and it almost felt like he was trying to throw me off," she says with a giggle. "I told my husband ... I don't know about this."
But he encouraged her to try again. Eventually, she ended up buying a horse named Kitty (and later a second horse for her husband). DeMayo figured it might be easier to ride with one horse bonded to her exclusively. During the training program, however, she started to notice that Kitty wasn't excited about the process.
"I would watch her and I would feel really bad. It all seemed so intrusive for her. I just didn't like it. I remember asking the trainer ... 'how do you know that they want us to ride them?,'" she says. "Then, I remember watching her one day after (training) and she urinated blood ... and I thought OK no this is not right."
It turned out that Kitty suffered from a urinary condition that, while treatable, made riding her an impossibility. But that left DeMayo with a dilemma — what to do with the unrideable horse.
"There was really no where for her to go. I kept going to visit her at the place she was being boarded. And I got to know her really well. I got to know the other horses too," she says.
As she developed a better understanding of the issue of unwanted horses and other farm animals, DeMayo decided that she would step up to offer them the home they deserved.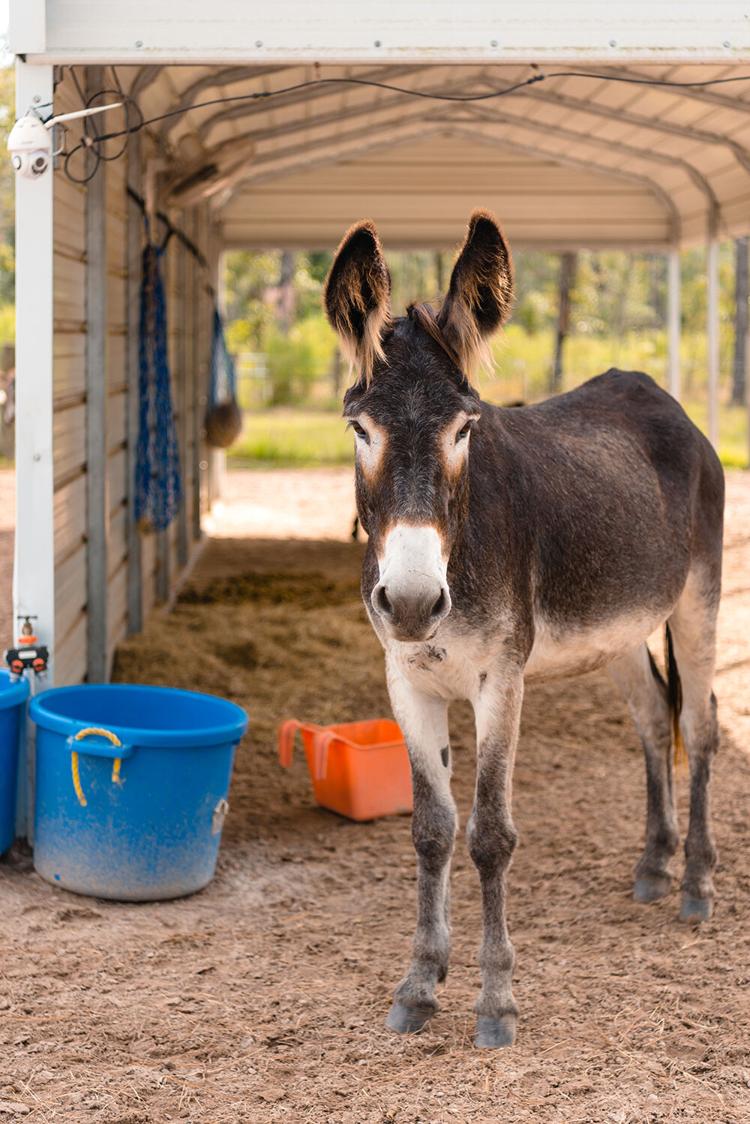 "It started out with Kitty and then another horse, Bebe, who had a hard life too. We decided to form the 501c3 and to give them a home where they can just be themselves. They won't be ridden ... they can just enjoy it," DeMayo says. 
She and her husband purchased property for the sanctuary in 2016 and started the long process toward being certified as a non-profit.
Over time, the four-legged family continued to grow. DeMayo is frequently contacted by people who come across various animals in need of rescue. Today, New Paths is home to eight horses; two mini horses; one donkey-horse mix; six donkeys; and six goats. 
Many of the New Path residents were understandably skittish at first, but after being met with kindness, patience, and a lot of love, most of the animals eager to welcome volunteers and guests.
"Most of them love people. They're very friendly. We have children come out on the weekends and they just have the best time," DeMayo says.
Of course, the mission is always in need of animal lovers willing to lend a hand. Taking care of the menagerie is hard but incredibly rewarding work.
"I don't think it would have been something we would have done if our hand wasn't forced a bit. But it's wonderful to spend time with them. They're really like service animals," she says. 
And DeMayo is hopeful that the new year will bring more volunteers and donations to their doorstep. They are in the process of securing grants to keep the mission going.  
"It makes you feel great. And the animals, you can tell they appreciate it," she says. "They know they're loved and are finally living the lives they deserve and it's helping our community as well."