Jim Wilkinson situated himself in the swing on his front porch and gazed down the stretch of Union Street. As he sits, framed by the lush green backdrop of his lawn, it is clear that he is entirely in his element.
"I have loved palm and citrus trees since I was a kid, anything that looks like South Florida," he says with a chuckle. "So I always wanted a yard where you could walk around on a pleasant day — even in the middle of winter — and it would make you feel like you were in Florida."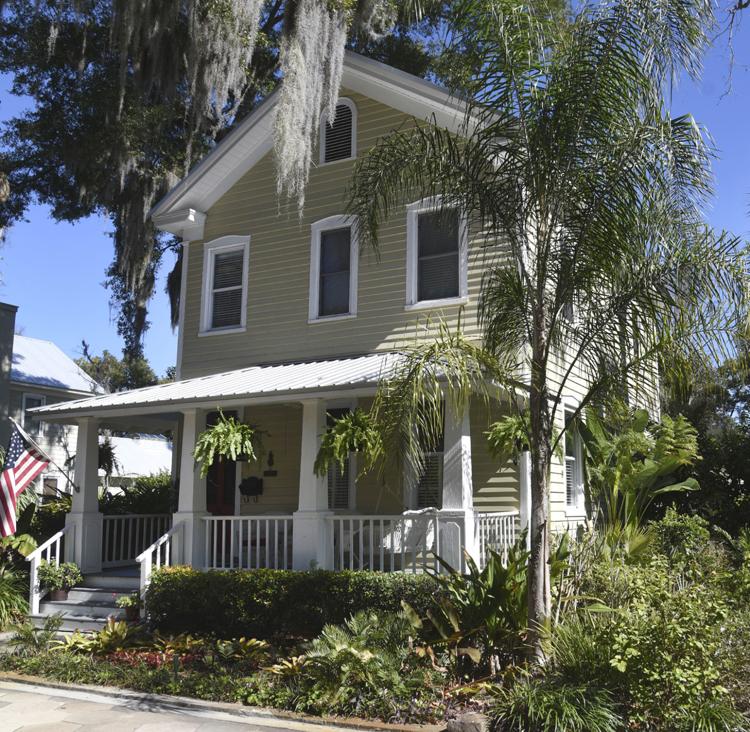 Of course, creating that oasis-style atmosphere was a little difficult in the suburbs of Atlanta, where Wilkinson lived for nearly 20 years. But when he had the opportunity to relocate to the coast, he knew that he may finally be able to realize that dream.
"I grew up in Glennville, actually, about an hour north of here, so I was familiar with Brunswick and St. Simons. I came to the beaches growing up, but I lived in Atlanta for 17 years. I got a transferred to Brunswick five years ago for work," he says, gently rocking the swing.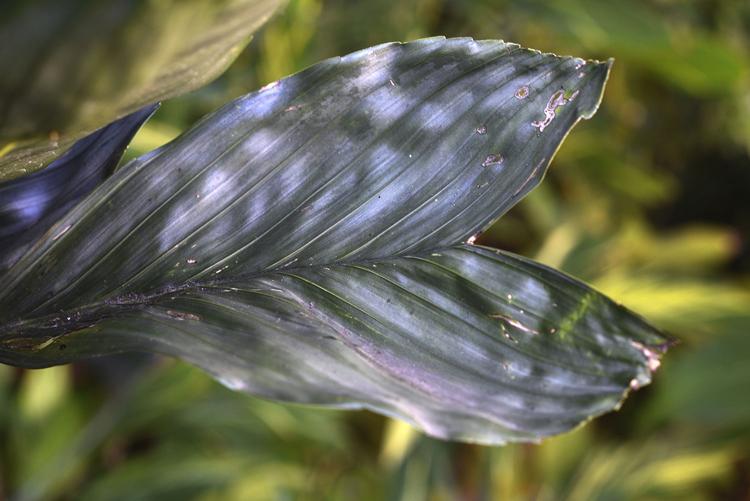 "I work in customs and border protection, but not at FLETC (the Federal Law Enforcement Training Center). Everyone thinks I work there, but I work at a really small port right down the street," he says.
When he got the marching orders to move, Wilkinson immediately started scouting homes. He had one non-negotiable item on his checklist — a substantial yard.
"I love gardening, so when I came down here from Atlanta, I started looking for homes with a big yard so I could have a garden. And I also didn't want to drive my car. I really wanted to be able to walk to work," he says.
With those factors in mind, Wilkinson was quickly drawn to picturesque Union Street within the bustling historic district. The home he chose dates to 1875 and was well-maintained by the previous homeowners.
But what really sealed the deal for Wilkinson was the size of the lot. He immediately began brainstorming ways to transform that yard into the garden of his dreams.
"When I got the transfer, I started looking for houses downtown and I found this house which was perfect for me. It's a big city lot, almost a half-acre. There's lots of room and the walkability of downtown is great," he says.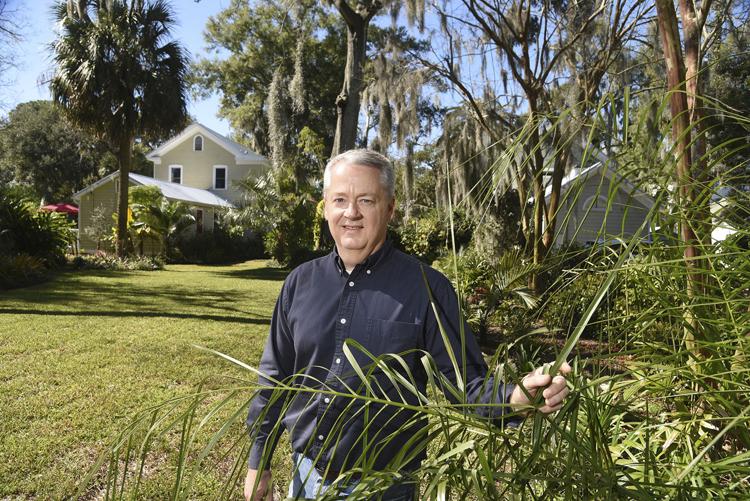 As soon as the sale was final, Wilkinson brought in a ton of new plants to put his own stamp on the property. The result was a tropical hideaway all his own.
Front and center within the design — Wilkinson's beloved palms.
"I've got 39 varieties of palms. I have specific ones that are really unique because they are hybridized. I have many that have been bred with two and one with three plants, so they're unusual. Most of them are kind of small because I've only been here a few years, but they will get bigger as time goes on," he says with pride.
"I have 16 varieties of citrus. Eight varieties of cichlids, they're like Sago Palms, and I have several gingers and bromeliads to round it out."
The vivid greens are juxtaposed with pops of color from various blooms that peep from their positions in the yard. Wilkinson's palms though, are clearly the showpieces. And he's spent years researching which type of plants would work best in Georgia's wishy-washy climate.
"I've literally spent my entire lifetime researching plants that would take the cold, but yet look tropical. The palms that I planted are all safe for this climate zone. Cold weather may knock them back a little bit, but they will survive. They give off a jungly look, which I find fascinating," he says.
To ensure the plants grow and thrive, Wilkinson has committed himself to nurturing each one. It begins with selecting a plant that is conducive to the elements — not only the climate, but also the soil.
"Some palms do not do well here because of (the soil). Generally, most do. It's really not that hard to grow palms ... If you give them fertilizer and water, they usually do well," he says. "Then there are some like the coconut palm that wouldn't do well because of the cold we occasionally get."
Wilkinson notes that it's always a good idea to gravitate toward plants that naturally grow in the environment. That means they are able to thrive with both the soil and occasional freeze.
"Something I would recommend, definitely, is using native palms. One that I would suggest is the Sabal Palmetto. Two other native palms that you see in the woods are Serenoa and Repens. Those are not front-and-center palms, they don't want all of the attention, but they're good for the background. That's how they grow in nature," he says.
Size and a plant's spatial needs are also key. Wilkinson says that, naturally, the larger the palm, the bigger the price tag, but there's an opportunity to go as big or as small as necessary.
"If you have a lot of size and a lot of money, then you can do a Phoenix Canariensis or Canary Island Date Palm from Africa. This is one of the prettiest in Brunswick. It's actually just inside my neighbor's yard, but I claim it," he says, pointing to a gargantuan tree. "There are two of them at the old courthouse, too, and they're the tallest I've ever seen in Georgia."
They — like many of the abundant palms downtown — are just another reason Wilkinson is grateful that he was able to relocate to Brunswick. And he's thrilled to be doing his part to help enhance the hopping historic district.
"There is just so much going on downtown. There is the brewery and the restaurants. PorchFest has been amazing. I love it here," he says. "I am so excited."