The difference between a guy who likes to fish and a true fisherman is roughly 22 feet.
Or at least it is on this spring day inside the marshes of Glynn. That is what separates me standing at the bow of the boat from Billy Bice, who fishes from the stern.
I am the former, instilled at an early age in the ponds and creeks and lakes of my northwest Louisiana boyhood home with a desire to fish that has perpetually overreached my ability to catch. In truth, I can hardly even talk a good game. I have caught my share of nice-sized fish over the years, from freshwater bass to saltwater trout. But my fishing dreams are often clouded with fitful, fleeting images of the ones that got away.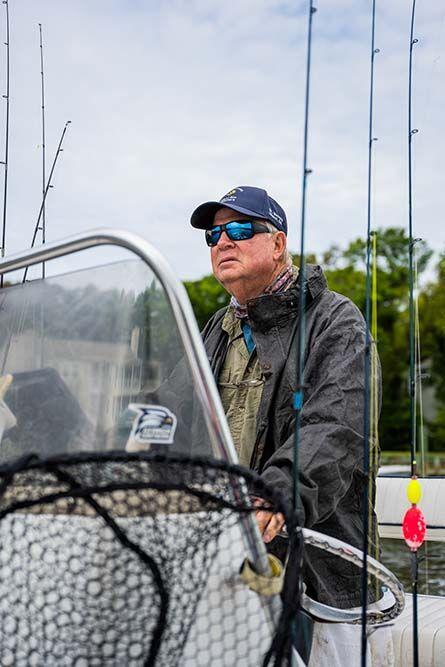 The fishing bug hooked Billy early on in the freshwater ponds, creeks, and lakes around his childhood Statesboro home. Billy is the true angler on this 22-foot-long Pathfinder. This is his boat, the Billy Bee. Billy Bee's Family Charters is his retirement dream job. A career educator who never stops learning, Billy has spent a lifetime honing his love of fishing into a finely-tuned craft. The 74-year-old former county schools superintendent is now a Coast Guard-licensed charter boat captain and kids' fishing guide, spending the proceeds on trips abroad to Europe and elsewhere for himself and his wife Florence Ann.
Billy and I have teamed up to try and narrow that gap between his fishing dreams and mine. But on this day, Mother Nature and the fishing fates are conspiring to expand the gulf between us rather than narrow it.
We hit some time-tested hotspots within the inland waters that make St. Simons an island, angling for trout and redfish — a pair savored by pescatarians and sport fishermen alike. We will finish up the trip along scenic island seawalls fishing for sheepshead.
"The thing with sheepshead is you've got to set the hook before they bite it," Billy says.
Um, OK. Real fishermen like Billy say things like this with a straight face. I have never fished these waters for sheepshead, but I know that the uniformly black-and-white-striped fish have eerily humanlike teeth.
"A dentist could probably tell you why," Billy adds, standing at the Billy Bee's center console and steering us into the Back River from the Frederica River.
Sheepshead use these incisors to crack open crustaceans such as fiddler crabs, which is what we will use for bait.
Porpoises appear on the rippled surface in front and behind us as Billy merges into the Back River, where our attention is diverted to a noble great blue heron in regal repose on a marsh island. With rapt attention, I learn how archaeologists poked around that island's middens and shell rings to learn about its early native inhabitants.
As the name implies, Billy's charter service focuses on kids who love fishing and the families who love those kids. Billy loves to create that smile that no adult can duplicate, putting happy boys and girls on whiting, croaker, sting rays, and all-too-common bonnet sharks. On Billy's charter trips, everybody catches fish. Active in the Coastal Georgia Genealogical Society, his fishing trips include lessons on native inhabitants 6,000 years ago and running monologues on the natural beauty that surrounds us. Billy's fishing charters have been lauded from Southern Living to Sport Fishing.
"I just love fishing with kids," explains the former public school teacher and principal. "With kids, they do not care as long as something is pulling on the other end of the line. Kids think sting rays are cool. Croaker and whiting are fun. You make lasting memories when you take kids fishing."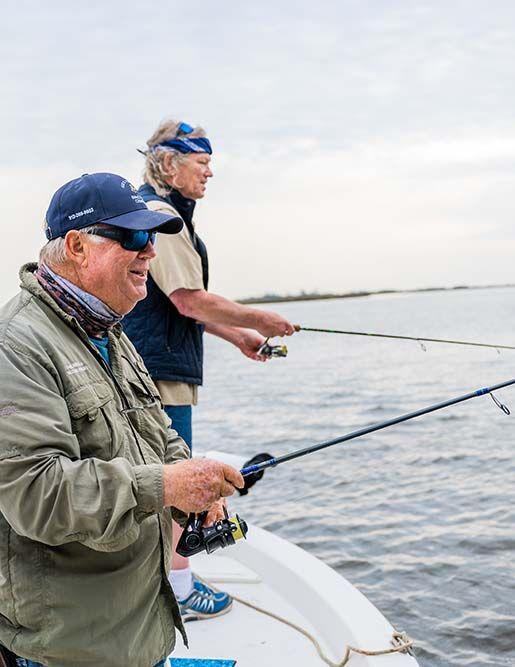 But today's theme is grownup fishing, the kind of fishing an expert like Billy does on his day off from kids' charter trips. We booked this excursion for GIM weeks in advance. Honestly, Billy might have just stayed home on a day like today.
The weather is unseasonably chilly for mid-April. Not balmy or temperate or anything else that would warrant a voluntary outing on the water. The sky is gray. Dreary. Less than ideal conditions to frame a picture-perfect magazine article for a readership focused on Coastal Georgia's premier resort community.
Also, the chill is enhanced by the wind, which is steady out of the northeast. Such a wind throws lots of obstacles at a good day of fishing, everything from a drop in barometer that apparently dulls a fish's appetite to leaving a long slack in the line that affects the ability to set a hook once said fish does strike.
Sometimes the fish are just not biting. First cliché of the day: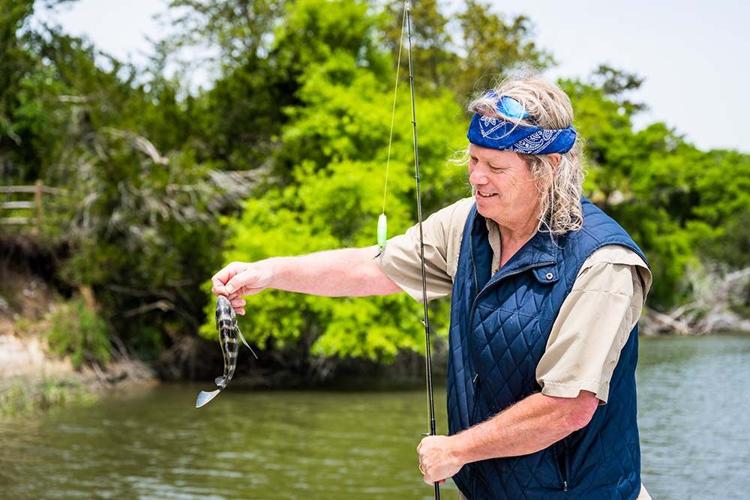 "That's why they call it fishing instead of catching," I say.
Billy nods. My eyes focus on the bobber floating beside the seawall of a stately St. Simons plantation home, the expansive marsh to my back.
We have already cast another well-worn cliché:
"A bad day fishing is better than a good day in the office," Billy said earlier. I nodded.
Night heron, pelicans, snowy egrets, and even a majestic bald eagle fly into my field of vision, reminding me why this is so.
Meanwhile, we stare at the bobbers as if sheer unswerving attention can will a fish to bite.
"Here fishy-fishy-fishy," Billy says, his best imitation of Bert and Ernie from Sesame Street. I should mention here that Billy is a character. He is a hoot, his penchant for cornball humor and over-the-top puns keeping me in stitches.
On the way out, from his berth at Morningstar Marina on St. Simons Island: "Can you speak pelican? Like 'pel-I-can.'"
Billy could go on and an on like that. And he does. In between bada-binging me with witty one-liners, Billy improvised with a bait combo of live shrimp and an artificial jig to land a decent 20-inch trout in a creek near Little St. Simons Island.
We have caught that and two smallish catfish, which are a nuisance on the end of a saltwater angler's hook. We are not alone.
Billy idles the boat alongside friend and fellow fishing guide Brooks Goode, just as one of his charges is reeling in a …
"Catfish," the guy says dejectedly. Their luck is about the same as ours.
"We caught two catfish already," I brag. Actually, Billy caught those two catfish. Despite a handful of solid bites, these wily sheepsheads have so far eluded me.
Back to our bobbers we stare. Still nothing.
That all changes, quite literally in the blink of an eye. My bobber disappears beneath the surface, but fast — its red top leaving a fleeting streak vanishing in the nutrient-rich marsh waters like a shooting star against a dark night sky. I tug on the rod. The other end tugs back, decisively — tunka! tunka! tunka! The rod bends into a deep arch, twitching and heaving at the tip. Thump! thump! thump! That is my heart rate, not the fishing gear. Adrenaline surges topsy-turvy, like quicksilver.
It is a lively one, this fish. Big too, from the strain of it. I am reeling all the while, anxious to bring this lunker within eyesight just below the surface. Really big sheepshead can weigh more than 10 pounds and stretch to a husky foot and a half. This is a really big sheepshead, I decide. Even Billy is excited and Billy has seen it all. "Woo-hoo! That's a nice one, son!"
The nothingness that follows is sudden, jarring to my senses. It always is when you lose a big fish. The reel handle spins wildly, like bicycle pedals when the chain comes off. The line goes limp. The rod returns to its upright position, as inanimate as it once was in the display rack at some sporting goods store.
Billy looks at me with raised eyebrows in a silent question to the obvious. "Lost him," I said.
He genuinely feels my pain. Billy can lead me to fish, but he cannot make me catch them. Only stray fishing line comes back when I reel it in. I could have missed a loop or something in the knot on the hook. But it looks like the big fish just broke the line, Billy says, noticing the end is straight and not squiggly.
We keep fishing. Moments later, I hook a decent sheepshead that gives me a thrill of satisfaction reeling it onboard. It just meets the 10-inch legal definition of a keeper for its species. Not bad.
But wow. Just, wow. It is already clear which fish will cloud my fitful sleep this night. And I find myself surprisingly OK with that. Upbeat even. On the way back to Morningstar, Billy and I will retell the story over and over — the bending rod, the tight line, the struggle. The possibilities. And the inevitable.
That big ol' sheepshead? It is part of the reason I keep coming back. After all, the stories we tell ourselves about the ones that got away are at least as important as our crowing braggadocio about the ones that did not. Not just in fishing, but in life too when you really stop and think about it. The big ones we catch make great memories, for a little while. Then our attention moves on to the next big fish.
But the big ones that got away? Well, they can acquire mythic proportions, the stuff of legends. And, actually, the fish are starting to bite right about now. But photographer John Krivec has a binding appointment to see a woman about a house. And I have onshore work to do. The real world calls us. But for Billy, this moment right now is that real world.
"Ten more minutes," Billy says.
He is not kidding.
"You could fish here 100 years and not fish the same spot twice," Billy says, making his case.
"There is just so much water."
He is at the Billy Bee's stern, looking across at me as I stand at the bow. We laugh. Yeah. About 22 feet. That is the difference on this day.