As a child and through my late teens, attending the annual circus in my hometown was always a necessity. The clowns, souvenirs, and elephants that could do tricks provided a few hours of entertainment with family and friends. Seeing the majestic animals sit down on command, balance on two or three legs, and bow down to let a trainer climb on its neck for a ride was always exciting.
Now that the circuses have ended, Ringling Brothers and Barnum & Bailey officially retired their elephants in 2016, turning them loose into their 200-acre center for elephant conservation. That same year, reports concerning the state of living conditions within that enclosure surfaced. It was reported that, as a method to stop the elephants from stealing food from each other, they were each shackled at night.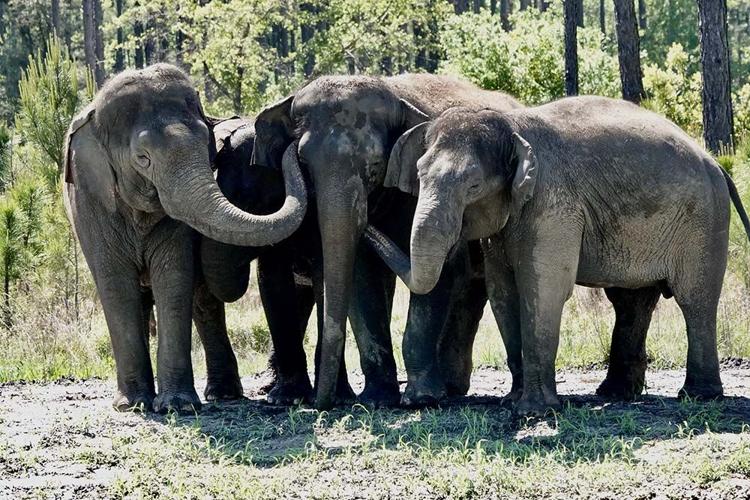 White Oak Conservation — just over the state line in Yulee, Florida — has truly stepped up for these retired elephants. Thirty Asian elephants (19 born in the United States) will live out the rest of their days chain-free in grassy meadows, woods, and wetlands. Currently, 12 of the 30 elephants have arrived and are adjusting to their new home. The rest will be delivered once the remaining enclosures are built.
White Oak spent months building a 2,500-acre habitat that will feature plenty of space for the elephants to meander as they please, to forage, run, and play. Eleven waterholes have been placed throughout the massive enclosure, allowing the elephants to splash and bathe at will. Three barns have also been built, which will be easily accessible for the elephants and will also house high-tech veterinary equipment.
Along with the physical surroundings provided, White Oak also focused on the social side of elephant life. These animals are quite social and family-oriented, which is why it is the philosophy of White Oak to accommodate natural behaviors and social bonds to the best of their ability. Family groups will remain intact, allowing mothers, calves, and siblings to remain together, along with grandmothers if possible. The magnificent 12 are all females that have been socialized together for the past several months. There are two sets of full sisters and many half-sisters, with ages ranging from 8 to 38.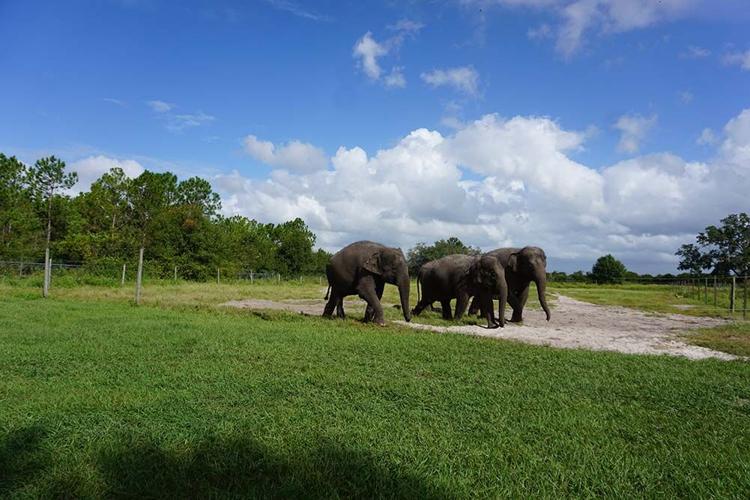 "We are thrilled to give these elephants a place to wander and explore," Mark and Kimbra Walter, owners of White Oak, shared via a news release. "We are working to protect wild animals in their native habitats. But for these elephants that can't be released, we are pleased to give them a place where they can live comfortably for the rest of their lives."
While White Oak already features a staff of many, an expert team has been put in place to provide care for the elephants. Leading the team is Nick Newby, a manager of elephants since 2003. A member of the Association of Zoos and Aquariums (AZA), Newby is also an instructor within the AZA's Principles of Elephant Management program.
Dedicated to helping all wild animals, White Oak consists of 17,000 acres, giving safety and health to a multitude of creatures in natural surroundings. Florida panthers, state-native grasshopper sparrows, and whopping cranes are a few of the endangered animals residing at White Oak Conservation.
The animal sanctuary also shared some good news last December, announcing the birth of a black rhino calf. The black rhino baby, named Rocky, is one of the newest arrivals within a critically endangered species. Rocky weighed 70 pounds at his birth in August of 2020, and at his four-month checkup, he showed an impressive weight of 250 pounds.
White Oak first introduced black rhinos into their sanctuary in 1985 after the animals were brought from Zimbabwe in 1933. A breeding program was started at that time in case the endangered population within the wild was lost.
Another side of White Oak Conservation is the offering of education and training. During 2019, White Oak had more than 1,600 students participate in their education programming while visiting the sanctuary.
Prior to the pandemic, the sanctuary offered public events that included Sunset Safaris, Saturday morning safaris, as well as Crafts and Giraffes. Currently, private tours are available by reservation. To view the 30-plus species by way of open-air vans or trolley, reservations can be made by calling 904-225-3396 or by emailing info@white-oak.org.
For more information about activities and White Oak's mission, visit www.WhiteOakWildlife.org