When facing the task of renovating their home, the Turners found themselves squaring off against a dilemma many other families face — they wanted to create a stylish home, but they also had to ensure that it remained kid-friendly.
Becca Turner says that certainly presented a challenge.
"We have three kids and definitely try to make our home as kid-proof as possible," she says with a laugh.
After brainstorming ways to marry style and function, they settled on exploring tile. Turner started doing some research and creating some Pinterest inspiration boards for ideas.
"We thought of tile because it's the sturdiest thing ever, plus it's a great way to add color and style into spaces," she says.
When they were looking for service providers who offered tile, one local company sprang to the top of the list — Duke's Coastal Flooring in Brunswick.
Located at 223 Rose Drive in Brunswick, the company offers a multitude of hardwood, luxury vinyl, laminate, carpet, and tile. And the latter proved the perfect way to breathe new life into the Turners' home.
"We did our girls' bathroom with a fun leopard print wallpaper with the tile accent around the tub," she says.
"I really could not have done it without Duke's. They were great for the color matching and just working with our textures."
The Turners also enlisted the help of local interior designer Heather Jowers to help bring their vision to life.
"Heather is super great ... she and Duke's made it so much easier. It would have been really overwhelming otherwise," she says.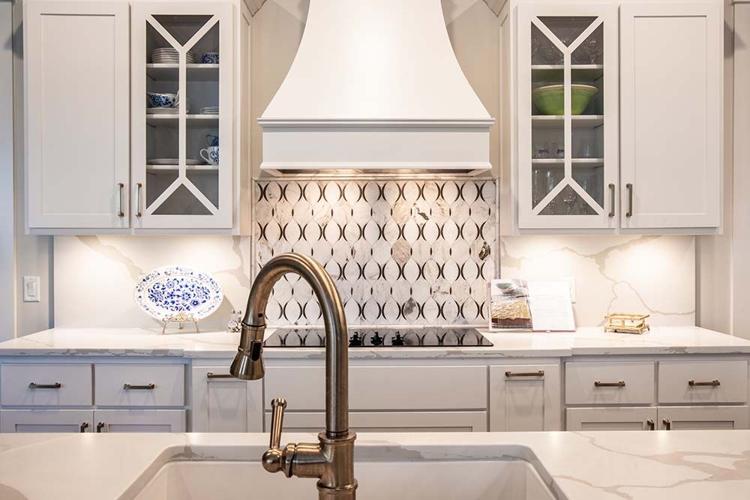 For Duke's sales associate Brenda Marshall, it's all in a day's work. And there have been plenty of busy days over the past year as more and more people have sought to spruce up their homes during the pandemic.
"It slowed down for the first few weeks, but after that, there's been no slowing down," Marshal says with a laugh. "I think people decided that if they had to be in their homes, they were going to make it look extra nice. And, since people haven't been traveling, they've decided to spend the extra money on their homes."
While the demand has been stellar, receiving their unique glass and tile, often from overseas locations like Italy, has been a bit of a challenge.
"There's been a lot of extra safety procedures, of course, so it's taken longer to get some things in, but that's improving now," she says.
One of the trends Marshall has noticed is customers choosing to add backsplash as well pops of color to various areas of their homes.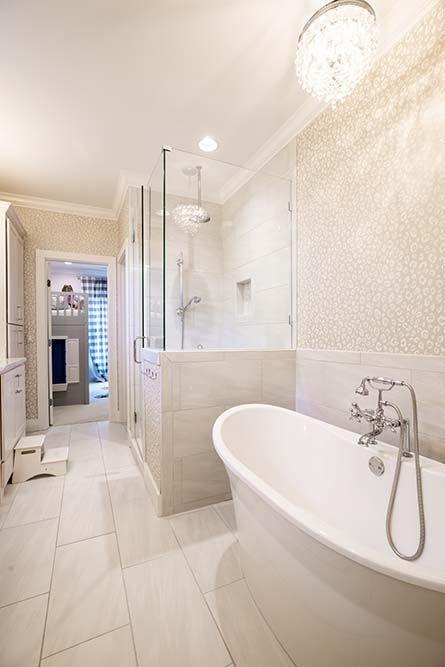 "Backsplash is always very popular … also a full shower or a wall as an accent," Marshall says. "We've seen a lot of clients doing blues, even cobalt blue. Greys are still popular and greens too. There's also been some decorating with neutrals but not in the traditional way."
Like the Marshall, Heather Jowers is a pro at helping clients navigate these ever-changing trends. She works as a designer with the locally-based firm Rae Lane Interiors and is always happy to share her expertise.
"I have been in the design industry throughout the last 15 years," Jowers says.
"I especially love using marble accents, different patterns, and tiles with pops of color. A picture frame mosaic, accent tile in niches, patterns on powder bath floors, or a waterfall look are some of my personal favorites that I have designed."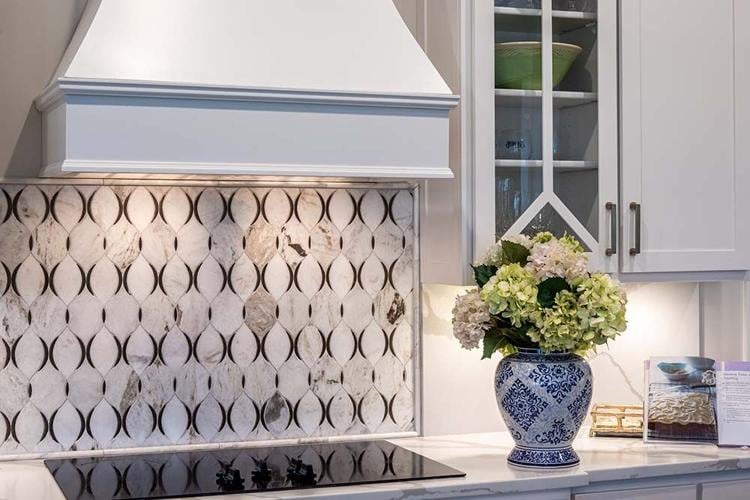 When it comes to creating accent walls, Jowers says there are a few things to take into consideration before committing to a look.
"When designing an accent wall, one should consider the texture, pattern, color, and size of the room. It's important to think about the effect the tile color will have on the size of your space. The colors are the most important thing to consider," she says.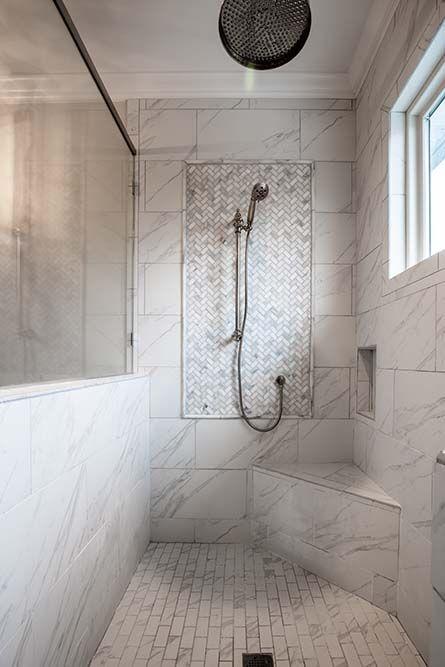 "Warm, darker tones can make a room appear smaller while bright and light colors can open up a small space and make a statement. I personally use the mosaic tile to create depth where needed and to soften large spaces."
In addition to creating depth, Jowers notes that these choices can also say a lot about the people who live in the home.
"With the use of different textures, patterns, and colors you bring so much personality to any room. I believe that the use of mosaic tile is a recurring trend that brings true character and a personal touch to any design," she says.