Referred to as "The Old Tabby," the historic educational and cultural center Ashantilly was built just outside of Darien by Georgia planter, legislator, and one-time owner of Sapelo Island Thomas Spaulding in 1820 as his mainland home. While the original building burned down in 1937, environmentalist, artist, and all-around Renaissance man, William "Bill" Haynes, rebuilt the home and, perhaps more importantly for the local art scene, established the Ashantilly Press in 1956.
"Bill Haynes was an artist," says Harriett Langford, president of the non-profit's board of directors. "While the letterpress was once a means of production, it is now an art form." This form of relief printing was invented in the 15th century by Johann Gutenberg with the goal of making books, including the Bible, available to everyday people. Prior to its invention, books had to be painstakingly produced by hand and were too expensive for most.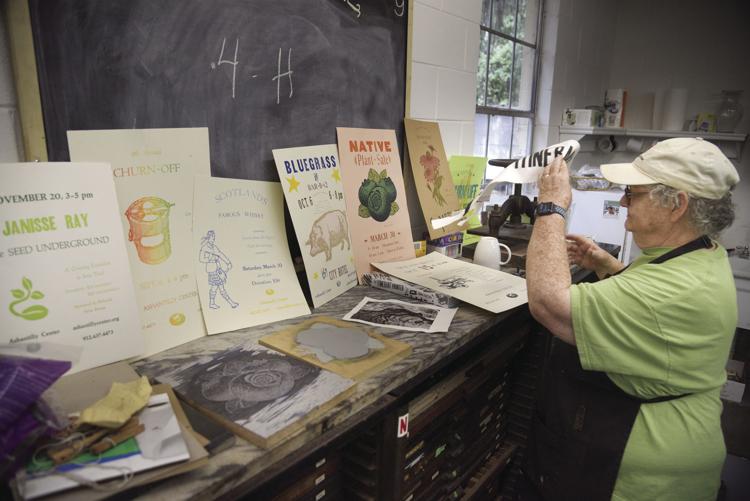 Over time, letterpress evolved into an art form that almost disappeared with advances in modern technology. However, in the 1990s, artists and influencers, including lifestyle maven Martha Stewart, called for its revival by praising the handcrafted look and feel of letterpress work. Now small letterpresses can be found all over the world, including the shop at Ashantilly, where practitioners of the art form produce unique posters, invitations, cards, books, and more.
According to Langford, Haynes' first print was a map of historic Fort King George. He would go on to print 31 books, as well as cards and posters. "Many of the books Mr. Haynes designed and printed won awards," Langford says. "In the Southern Books Competition, he won in his category 15 times." Before his death in 2001, Haynes decided to leave Ashantilly to the public and the non-profit Ashantilly Center was born.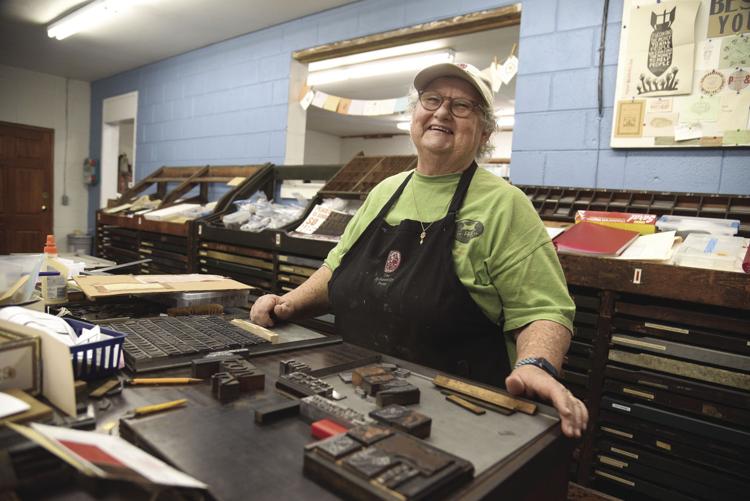 The Center re-opened the printshop about 10 years ago after about three years of hard work. "Nicholas Silberg (department chair of fine arts, humanities and wellness at Savannah State University) was instrumental in getting it (press) back up and running," says Sara Blocker, board vice–president and de facto director of the press. He also shared his long-time working knowledge of printing with Blocker.
"I finally got ink in my blood," Blocker says, with a laugh. She has since gone on to study printmaking, attending numerous classes and workshops to hone her craft, including the Penland School of Craft, an internationally-recognized craft education center in the Blue Ridge Mountains of North Carolina. "We've found that printers are amazing in how they work together and are generous in sharing their knowledge and resources," Langford adds.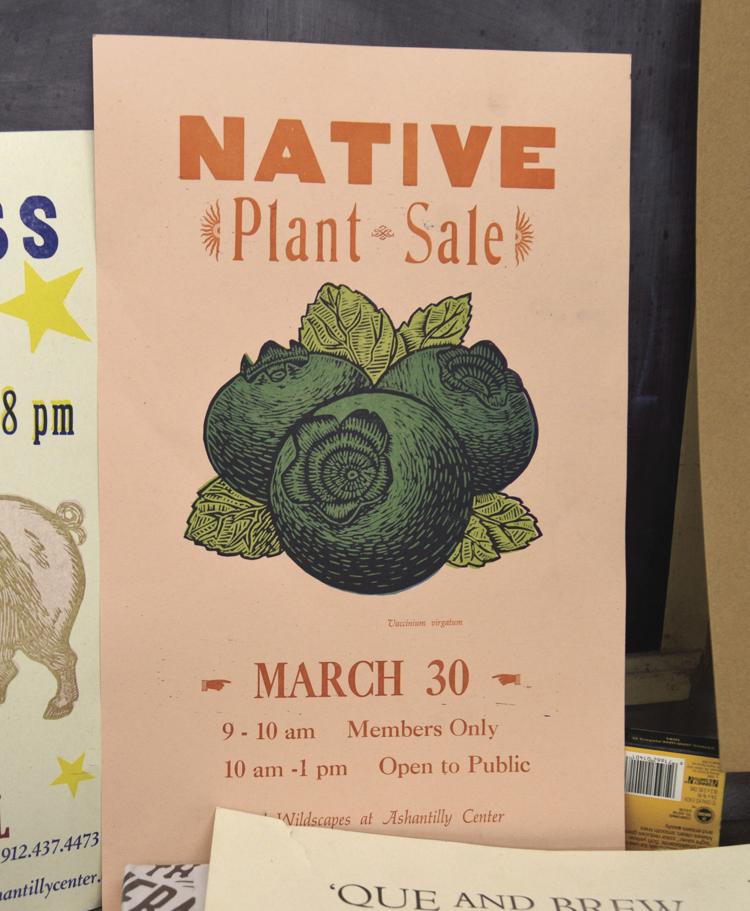 The help they received from what Blocker calls "a brotherhood of printers," enabled the Center to not only refurbish Haynes' original press, but the non-profit expanded the printshop and added more equipment. Another expansion is planned to add a bathroom and space to house their board shear, a large hand-operated book cutter.
Along with Haynes' original Chandler & Price platen press and a second press he owned, two tabletop presses and a small press, along with numerous type cases (compartmentalized wooden boxes of moveable type) have been donated to Ashantilly.
"For a small press, we have a large selection of type cases," Blocker says. "Mr. Haynes left a lot of them and we've had many donated."
"When other printers visit, they see the number of type cases we have, they all say, 'wow!'" Langford adds, laughing.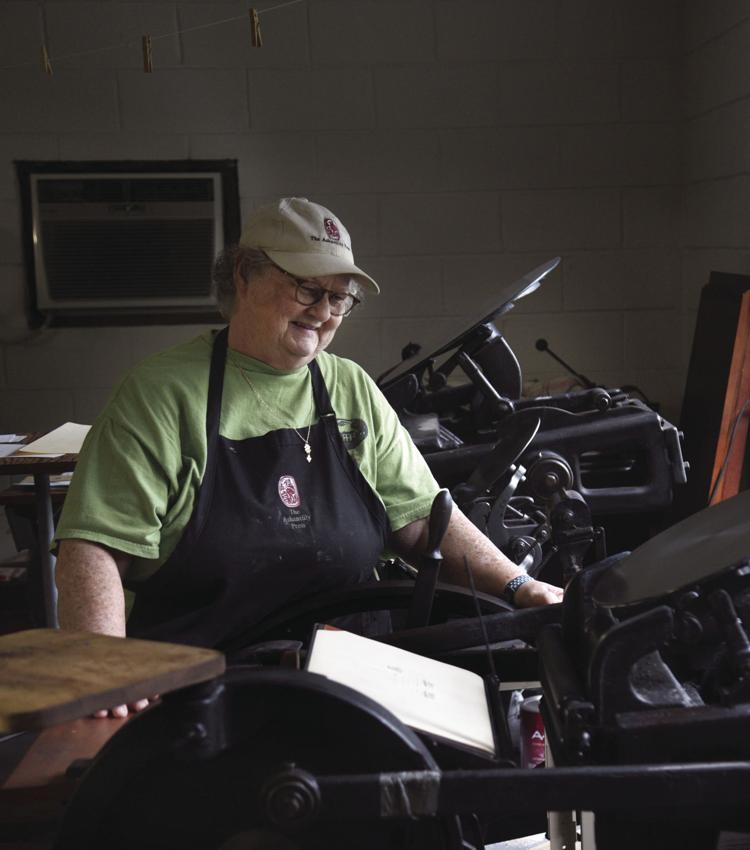 Artist-in-residence Program
This year's artist hails from the great white north.
"Katherine Taylor of Halifax, Novia Scotia, is a very talented artist with a wide variety of experience in the re-birth of the letter press," says Blocker, adding that she is one of many women who have been instrumental in the revival of the art form. "They are called the 'ladies of the letterpress.' Of the seven resident artists we've had, only one was male."
Taylor has a BA in fine arts from Nova Scotia College of Art and Design and organized the Nova Scotia Chapter of the Canadian Bookbinders and Book Artists' Guild. On her Instagram page, @kvtprints, Taylor refers to herself as a "bookbinder, printer, teacher, wannabe press mechanic."
The Ashantilly residency seemed like the perfect fit for the artist. "I originally learned about the residency from my friend and mentor Paul Moxon," she says. "Paul is known in the letterpress community for being the authority on Vandercook press maintenance
Taylor says the program piqued her interest for several reasons. "In my hometown of Halifax, I'm a teacher and do most of my work out of a community printshop which means sometimes it's hard to find the time and space to dedicate to my own work. While I love my job, I am excited to spend some uninterrupted time at Ashantilly working on my own art. I'm also excited to spend time in such a beautiful part of the U.S."
Blocker says Taylor will be at Ashantilly for three weeks.
"We will have a reception on Sept. 8 (3 p.m.) to show the works she's done here." Langford adds they will also screen what she calls a "fascinating movie" about letterpress, "Pressing On," during the meet and greet. "We'll also have popcorn," she adds.
Taylor says she is looking forward to the residency at the Ashantilly Press, which was recognized in the 2018 coffee table book, The Itinerate Printer, by Chis Fritton, who visited more than 160 presses throughout the U.S. and Canada for his work.
"Currently, I have a number of smaller projects in mind for my residency. It's my hope to produce a number of smaller printing projects while I'm there and challenging myself to improve my technical printing skills," Taylor says.
"I also want to come to Ashantilly with an open mind and do some work inspired by the location and what they have in their type collection."
In addition to the stipend they offer each artist-in-residence, Langford says someone generously donated a vintage aluminum bodied Spartan trailer that the Center is refurbishing to serve as an on-site housing for future artists, as well as visiting speakers while they are at Ashantilly.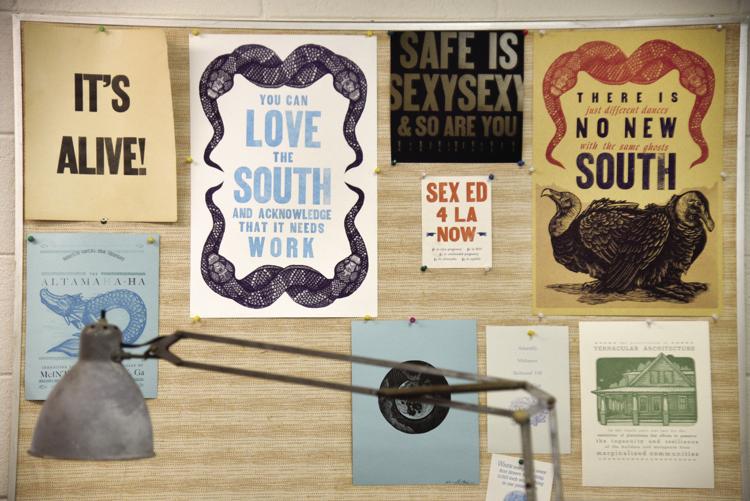 "We have the Executive Villa from 1960 and it's 10' x 50'!" Langford says. "We want it to be comfortable and it will be a great place to house our visiting artists and others."
Although the trailer was not ready in time for Taylor, Langford said a member and volunteer donated the use of their vacation getaway. "It's right here on the marsh next to Ashantilly," she adds.
Teaching the Art of Letterpress and More
Classes and demonstrations, primarily centered on the press and book-related arts, are offered year-round at Ashantilly.
"We have an introduction to the press class, which is a two-and-a-half to three-day class. We also have one-day card workshops for Christmas and Valentine's that are always popular," Blocker says. "We've also had a book-binding intensive." Another popular class they plan on offering is a recycled paper making class that was previously taught by former Artist-in-Residence Jerushia Graham and sponsored by Keep McIntosh Beautiful to celebrate Earth Day Week.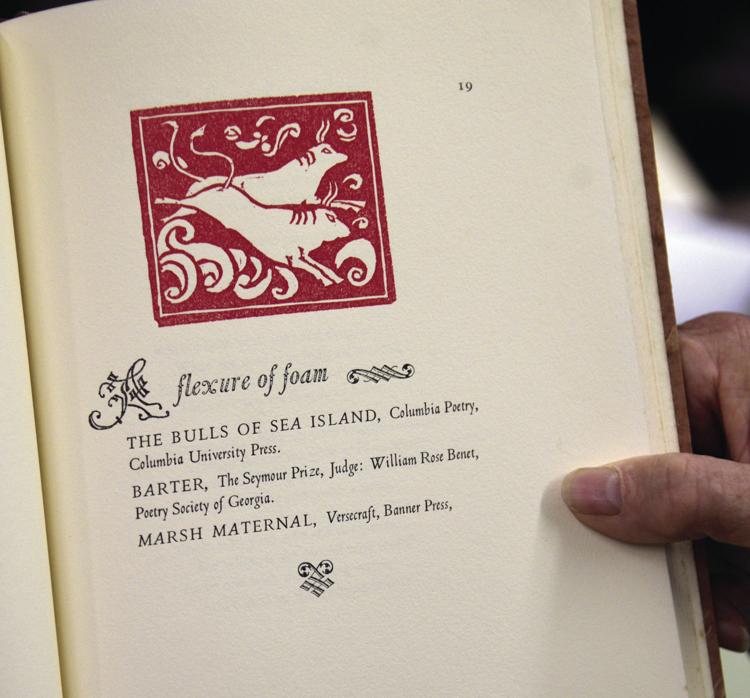 Other classes they have conducted and plan on repeating include indigo dying, as well as a workshop on how to make "boondoggles" — a piece of artwork woven from palm fronds that is said to protect the home.
Because Ashantilly has one press that is small and easy to transport, they are not only able to teach the art to children, but they can also take classes and demonstrations on the road.
"We call our small one the 'baby press,'" Blocker says, laughing. "It is little enough for kids to operate it easily. We have kids come here all the time — a group of 4-Hers just came out. We've also taken it to events, and we've taken in to the Old Jail Arts Center (the former jail that is now home to the McIntosh Art Association).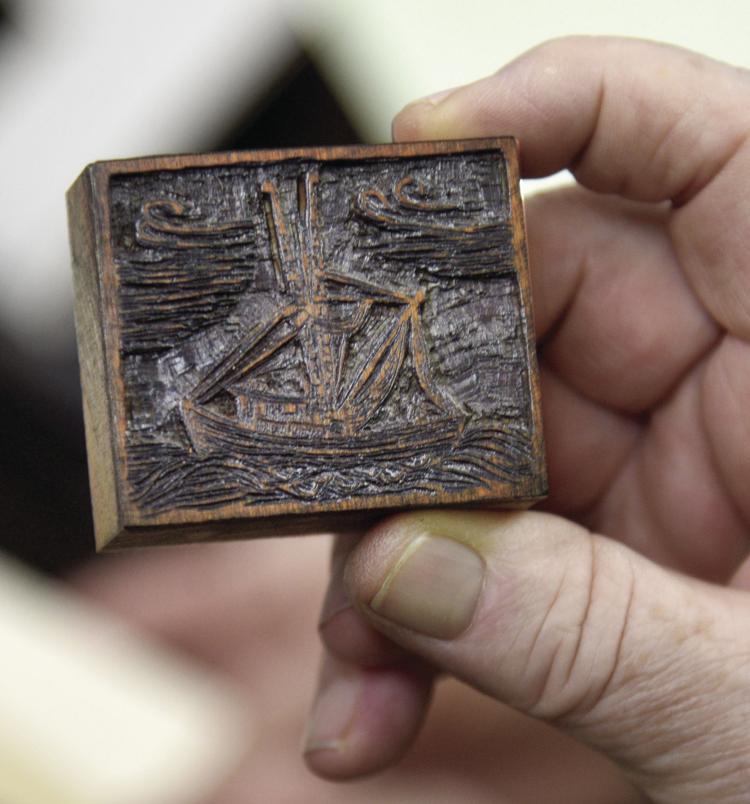 Having the "baby press" also allows Blocker to demonstrate letterpress printing at local schools. "We offer a class at Needwood every year and the Career Center brings their graphic art class here every year," Blocker says.
In addition to classes, Ashantilly offers lectures and events on-site, as well as in local schools and at festivals, such as Darien's Fall Fest each November and the Art in the Park during the annual Darien Blessing of the Fleet
While the letterpress is front and center for most classes and demonstrations offered by the Center, other offerings center on conservation and history.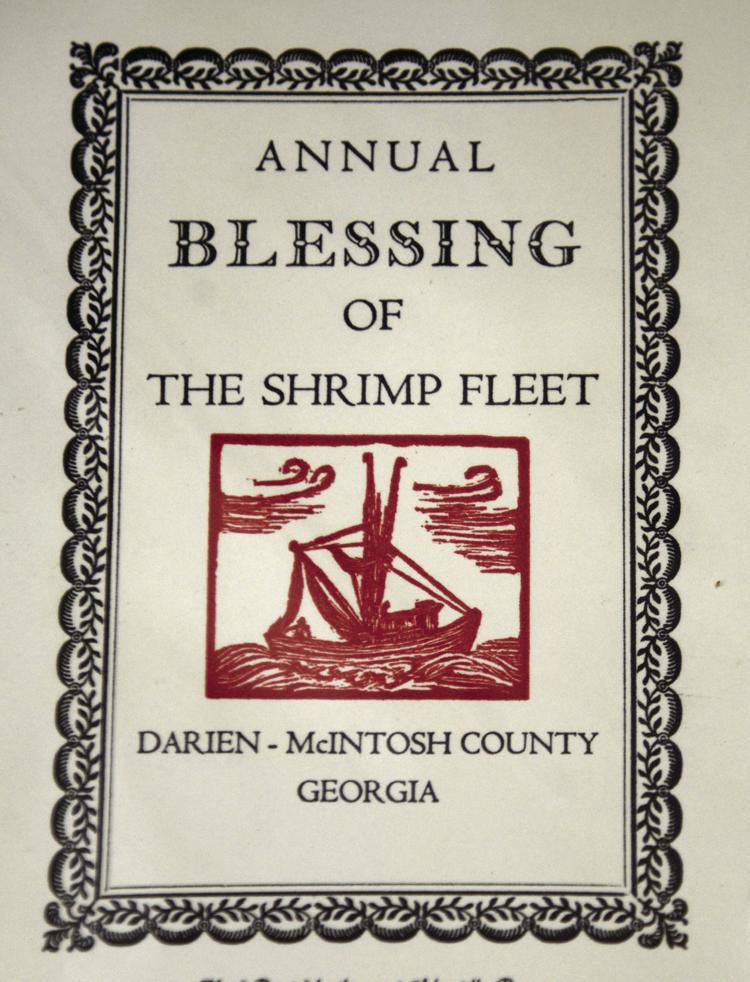 "We hope to bring in a tabby specialist in November and Trailblazing Geechee Women lectures in February or March," Langford says. "We'll also have a collaborative event with the Nature Conservatory about our fragile coast in the spring."
In addition to her popular card classes in November for Christmas cards, and the end of January for Valentine's cards, Blocker will also offer a two-day Introduction to Letterpress workshop in April.
While paid memberships, grants, donations, and fees for some events and classes help fund the non-profit, Langford says they depend on fundraisers to not only offer programs, but to maintain the Old Tabby and press.
"Our single malt Scotch tasting (held every spring in conjunction with Scottish Heritage Month) is always at full capacity and our annual Valentine's Tea always sells out." Another well-attended event is Ashantilly's annual Churn Off, held from 4 to 6 p.m. September 1.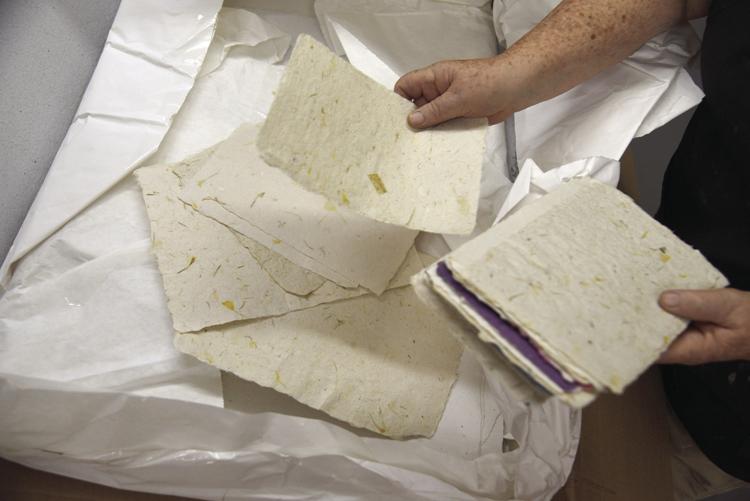 "This will be our 12th Churn Off," Langford said.
The event is a competition to see who can make the best ice cream. There are categories for individuals, as well as businesses/organizations. There are prizes for the winners, live music and free popcorn and lemonade.
The Center's annual spring and fall Native Plants Sales bring crowds to Ashantilly as well, Langford says. The next sale is set for Sept. 21, but the non-profits big yearly fundraiser is set for October — Bluegrass & BBQ. "This year we will have the Evan Rose Band perform," she says. "He is an incredible young musician."
In addition to the fundraising events, Ashantilly sells cards, coasters, gift tags, and posters Blocker makes at the Center and Turnip Greens in Darien. "I always try to make extra posters (for their events) because people like to buy them," Blocker says.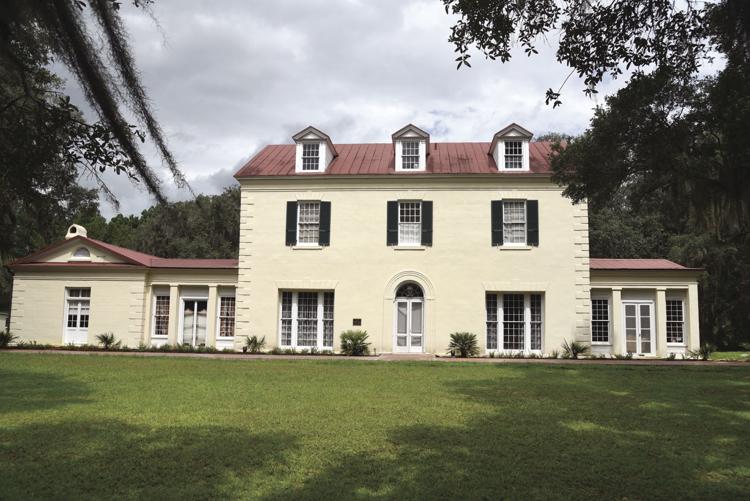 While the year-round fundraising and work to maintain and run the Center and Ashantilly Press takes the all-volunteer members a lot of time and effort, Langford and Blocker feel it's all worth it to preserve and pass along the Center's rich heritage for future generations.
"Bill Haynes is the originator of the art thread at Ashantilly. After he returned from World War II, he helped print the famous Frick Art Catalog (for the internationally-recognized art museum and research center)," Langford says. "Art at Ashantilly really does flow from Bill Haynes. We've been referred to as a 'small southern press, big heritage.' We are proud to continue that legacy with our art programs."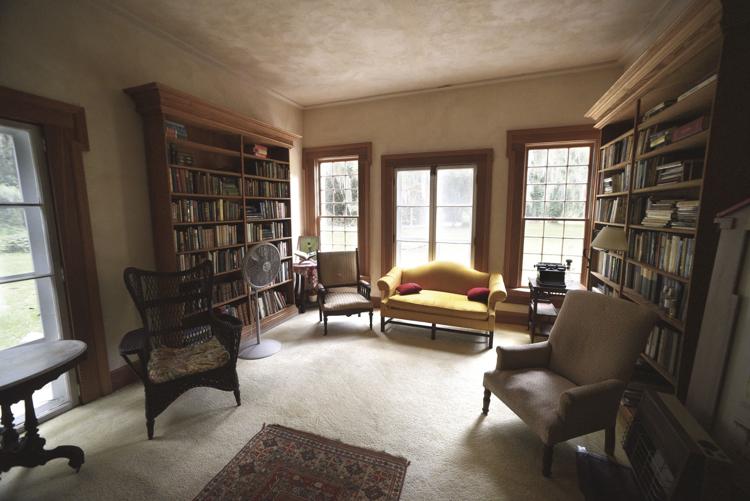 To find out more about Ashantilly and the Center's upcoming classes and events, visit
ashantillycenter.org
.