Tammy Fluech turned the pages of her sketch book, skimming through her creations outlined neatly in dark ink. 
"I tried to draw a swan here, but that didn't really work out," she said bubbling into giggles. "I should draw in pencil first but I just can't make myself do it."
Like all artists, Fluech has her own method and no deviations are allowed. It's just part of the way she crafts her concepts for her business, Typebird Creative.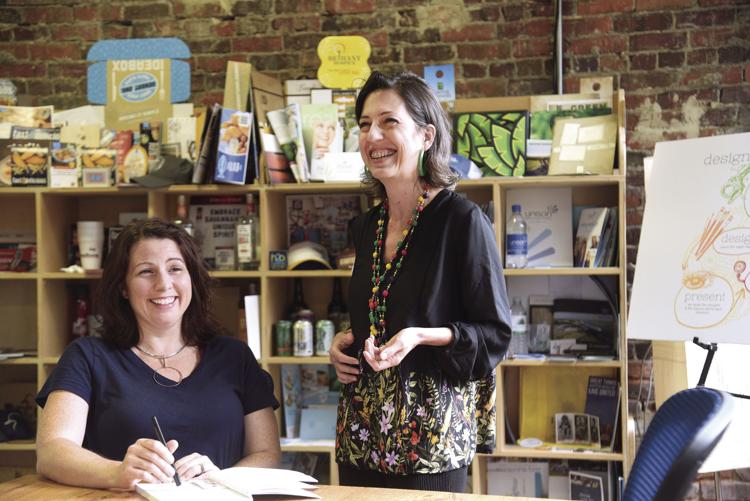 Seated in her brightly lit Newcastle Street office, she is surrounded by reminders of how that process can pay off. Frames dot the walls featuring her various clients' logos and marketing material, a nod to the many people Fluech has helped to pin down their own distinctive personality. 
"With Typebird Creative, I do branding, that's the main thing that I do, but I also do some graphic design and illustration," she said. "But I'm not the person who's going to give you a logo in two days. I want to sit down with you and really learn about who you are as a business. Then, I do a lot of research. I don't think people realize how much research goes into it." 
She also has her clients create a mood board. It brings together all of the themes that they feel best represent their vision. Fluech then takes all of it, sprinkles her own creative magic into the mix, and offers up logos and other art-centric items to be used in the promotion of a business.
But it's not as cut-and-dried as that might seem. 
"The main goal, for me, is to find out what style of brand they're looking for ... are they looking for simple, clean, and fresh? Are they more of a typography-based style logo? Those are the things we do through our creativity – based creative consultation, which I like to do in person if at all possible," she said. 
"Sometimes we have to do it over the phone or through FaceTime, which is fine. But you'd be surprised how helpful it is to see someone's facial expressions in this job." 
While Fluech's creative juices flow every day for clients, she also has some left over for herself. She has another business, Peppermint Land, where she offers creative goods and surface patterns for sale via an Etsy store. There, she creates children's cards with hand drawn animals, and patterns for fabrics among other items. 
"Peppermint Land is just for me. It's my outlet for my art ... it's for me and no one else," she said. "I just think that art has a lot of value. I really hope that it can help inspire kids to do more art. A lot of them have bad situations at home and can use art as a way to get through it." 
Understanding the real world applications art can offer is key to building a business like Fluech's. Whether that is assisting clients with logos or inspiring kids to pick up colored pencils, it's something that can truly make a difference in lives.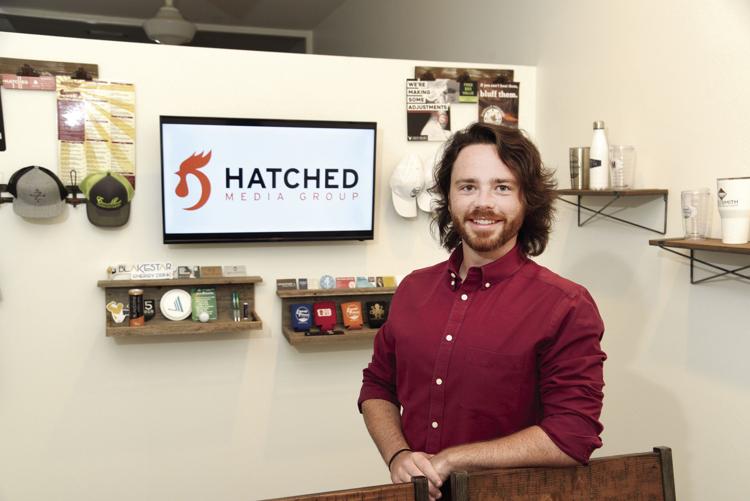 Down the street from Typebird Creative, h2o Creative Group also understands that concept. Their team of designers, photographers, and marketing gurus help to direct businesses in dozens of areas including branding, logos and the like. 
It's something that Anne Goodstein, h2o partner, started doing years back in her native France. After working with large advertising agencies in Paris, she moved to Brunswick 15 years ago, eventually falling into the creative concept field with the downtown company.
Each day, she continues to be inspired by the power that art has when helping businesses define their futures. 
"Art and design are everywhere. A logo is a piece of art. But the difference between art and design is ... art is something unique. It's self-expression, but it's unique," Goodstein said.
"A logo is self expression, but it has to be applied consistently so that there is the exact same voice on all applications. That is where art and design meet."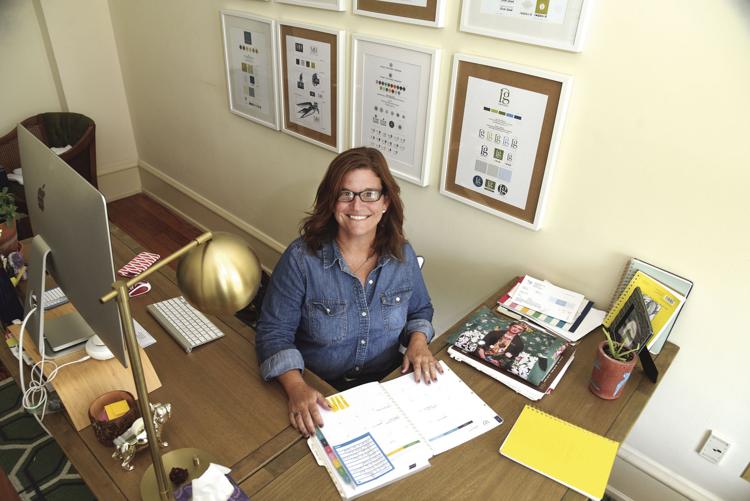 The creators at h2o utilize art to tell stories about a company or product. It helps the public connect to the heart and soul of a brand. Goodstein notes that their goal is to prompt those viewing the art — via logos or marketing material — to interact with the product. 
"When it's art, you're passive, you look at it and are emotionally moved, but it's passive. When I'm designing something, I expect people to act. To buy this product or try this drink. We add this layer of storytelling that connects with people," she said. 
"Art and graphic design packages this in a way that people can understand in one glance." 
Like Fluech and Goodstein navigating the world of logos and marketing really comes down to telling a story in an instant. It's something that Hogan Dyer works to do daily at his marketing firm, Hatched Media Group, also situated on Newcastle St., in downtown Brunswick.
While the business began with generating logos, it grew to include ways companies can share their stories and identities with potential customers.  
"Hatched Media Group functions as a full service advertising and marketing agency. We were founded on logo design when we were first getting out, but that quickly expanded into brand development and brand identity," Dyer said. 
"An identity is so much more than a pretty logo or a re-made website. Everything has to work together and be as cohesive as possible." 
The goal of this seamless representation remains the same — to share the brand and to connect with the public. Dyer notes that is why presenting the same vibe throughout materials is so important.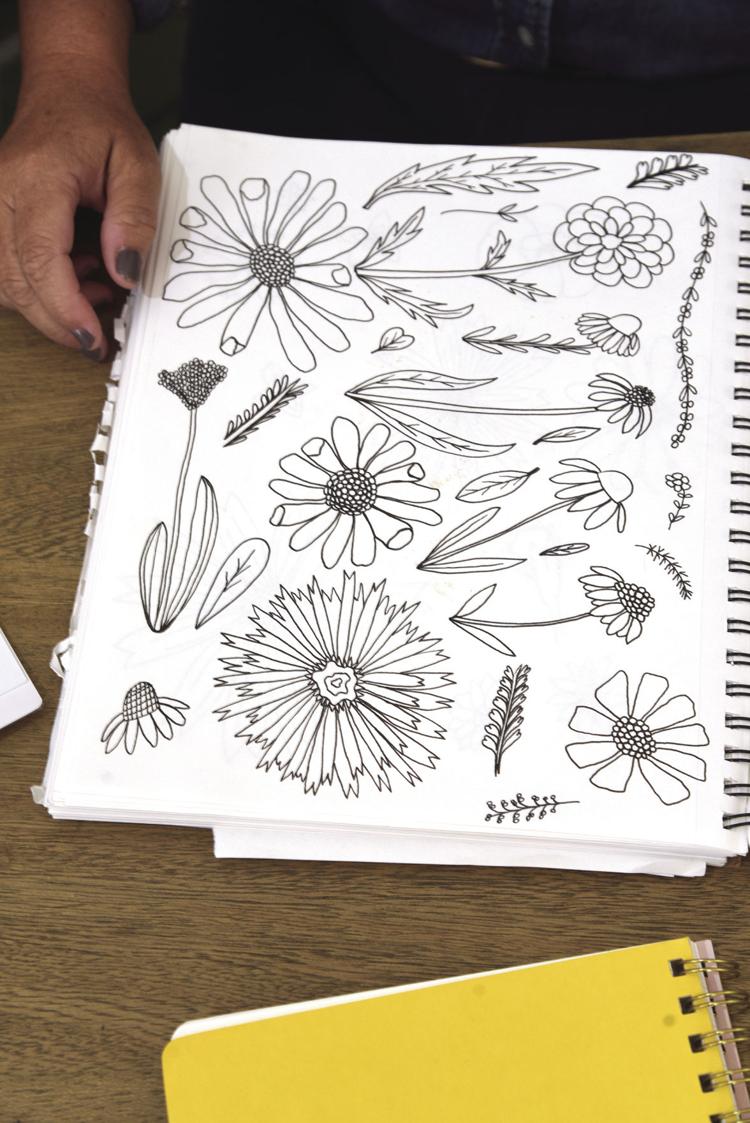 "Your logo is arguably your most important employee. They don't know the sales pitch to give to people, so it has to be something that people can see, and within roughly four seconds, can explain what the company does and its vibe or tone," he said. "it's really trying to figure out what your company is and what that looks like."  
In that very short window of exposure, these logos and artistic marketing images serve as a brand ambassador. Dyer says that only by using art to connect with the public can one secure future clients. 
"I see what we do as a chance to help elevate a company or individual. If someone is walking by and sees their logo, you want it to reach out and make a statement," he said. 
"That way, there's a chance. You just have to make sure it connects with people in a very quick way."