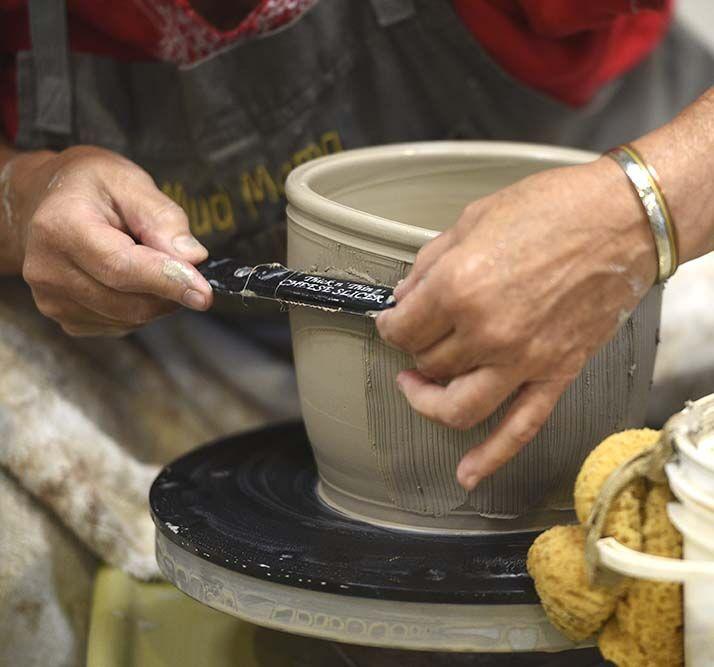 Debbie Craig spread the black and white photos across the table. The clothes and furnishings pointed to another time — the 1970s — but the girl in the image, she was easily recognizable.
"That's when we were in Asheboro, North Carolina, where I set up my first pottery studio, 'Paradise and Lunch' in a 150-year-old farmhouse," Craig says nostalgically, shifting through the photographs.
The younger Debbie Craig in the pictures was different, certainly, but there were many things about her that haven't changed. She is still married to her husband and fellow artist, Terry. She's also still passionate about cultivating creativity through her chosen medium — pottery. Her path to becoming a master artisan began in the Classic City — Athens.
That's where Craig first stepped into a pottery studio, and unbeknownst to her at the time, set the course for her future.
"I started taking a pottery class one night a week at a local studio while I was at UGA," she says.
Being able to mold and shape something meaningful from a formless bit of clay resonated with Craig in a way that no other artistic pursuit had before or since.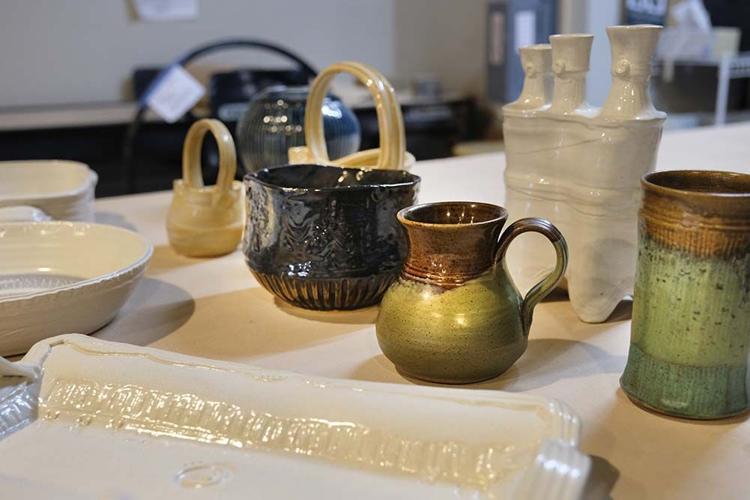 "I was hooked. I had done a lot of creative stuff before that, like tie-dye and making candles — I'm a hippie, but clay was the one thing that I really stuck with," she says, sitting in the pottery studio of Glynn Visual Arts on St. Simons.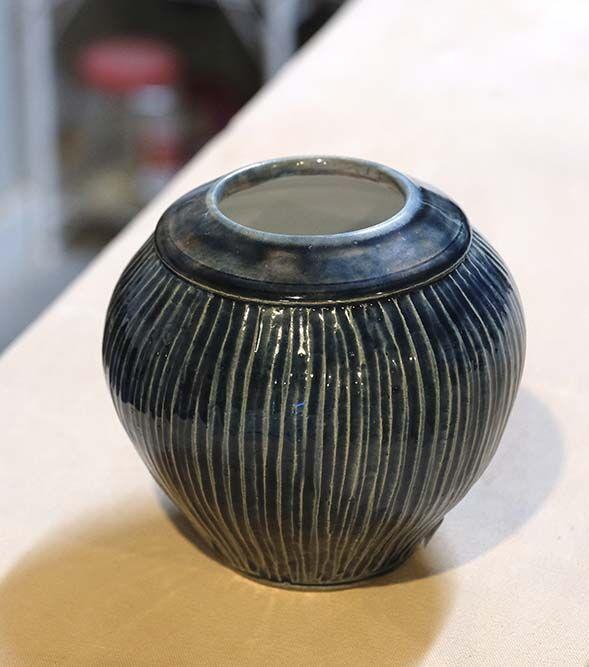 "I'm a Navy veteran so I had the G.I. Bill. When I learned you could go to college to work in clay I was like, 'you're kidding me!"
Craig studied under Ron Myers at UGA and he imparted many important lessons to the budding artist. Much like the clay itself, Myers shaped Craig's artistic methods and teaching skills.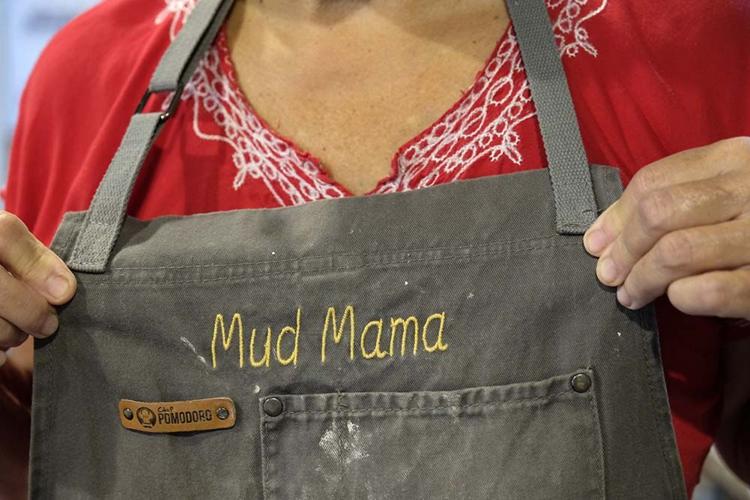 "He's my 'mud daddy.' He's in his 80s now, but I still visit him," she says with a smile.
Craig has continued to share many of the lessons Myers taught her. She first began teaching classes locally at Glynn Visual Arts, and more recently at the College of Coastal Georgia in Brunswick.
"It's crazy now after all of those years in the late 70s, I'm teaching the adult class once a week here. It's sort of cool that it's come full circle," she said.
Of course, both her technique as a potter and abilities as a teacher took time to develop. When she was first starting out, Craig found herself a bit impatient with that aspect of the process, noting that her early work led to a few tears. "I remember that I used to cry because I wanted my pots to look like I'd been making pots for 30 years, but you know, I was a beginner," she says, shaking her head.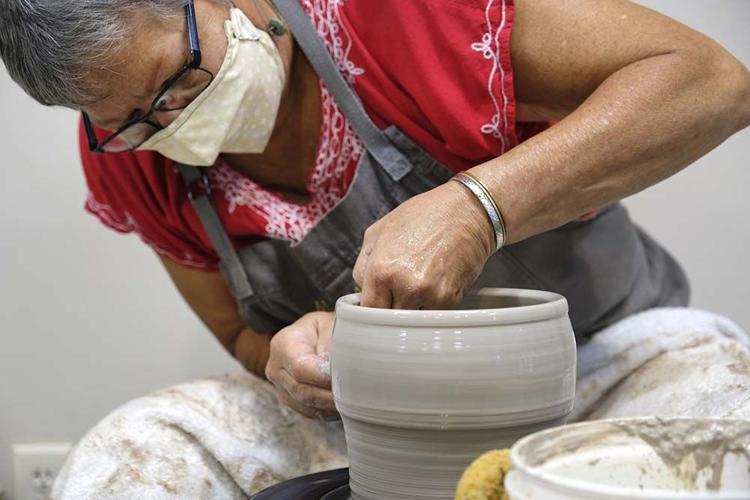 "Now here, 30-something years later, it's nice to hang in there to see that growth and change."
In fact, Craig — who is known affectionately as "Mud Mama" to her students — can count generations of students that she's led and inspired.
"I've been teaching here at Glynn Visual Arts for almost 30 years. It's gotten to the point where the little kids I used to teach when they were in fifth grade are coming to my classes as adults. So, that's crazy. That's happened a few times in the last couple of years," she says.
Her students and the staff of GVA decided to show Craig just how much she means to their community. In recent months, the facility named the kiln house, where students fire their pottery, after her — Craig's House of Fire.
"They made me cry the other day. They made this," she says, stepping out to the kiln house. Craig stopped outside and ran her hand over a clay plaque affixed to the exterior.
The neatly designed piece featured the name, Craig's House of Fire, along with a copy of her signature.
"That's the way I sign my work," she says.
It also included a personal touch from her students.
"They put their fingerprints here," she says, pointing to the imprints along the roofline in the design.
While she has created unbreakable bonds with her students, she's also shared her artistic passions within her own home. Craig and her husband are both working artists. Her children, too, have always gravitated toward artistic endeavors. In fact, the group has formed their own collaborative — Craig's House of Art — with one of her sons and daughter-in-law, Liana.
"My husband has a master's in sculpture, but he's done photo collage for the last few years. My oldest son graduated from Berry College with a degree in art ... in painting," she says.
"My younger son is out in San Fransisco and he loves to cook. He also approaches things creatively. It's an ability to define a problem and solve it. It's also being able to try new things, while being unafraid to fail. It's just doing something with a willingness to try."
The willingness to experiment is all she asks of other artists — be they in her family or in her classroom. That element, she feels, is essential to anyone who wants to express themselves creatively.
"The main thing, for me, is being able to define creativity in a different way. So if my students get that, then the rest is just play," she says.
"I know that, for my family, every time we get together there's a need to play. If you have an attitude of play when you're being creative, I think you're going to be way more successful than if you're really serious and stressed out."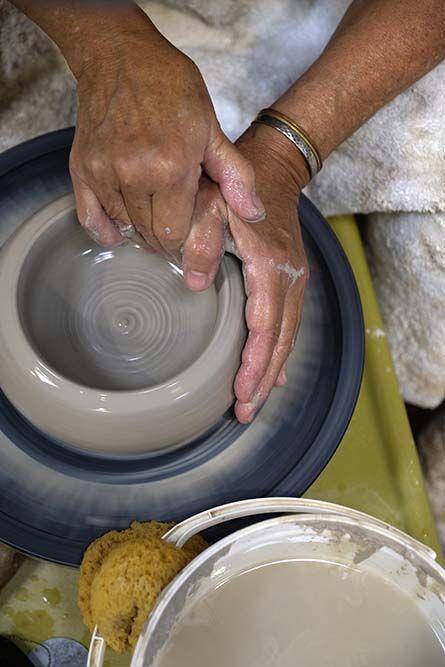 Even more, working with clay allows Craig and her students the ability to remain in the moment. And, in that sense, it becomes much more than a simple art class, it becomes a way of escaping the worries of the world to appreciate the present.
"Working with clay is very therapeutic. It forces you to be in the here and now. I think that's why a lot of people like it. I've had people tell me it's cheaper than going to a shrink," she says with a giggle.
There is also the human connection between those creating the work and those receiving it. Craig is a big believer in the power of positive energy and how it can steep from the creators into the creations. It offers a bit of magic that keeps her students coming back again and again.
"It's a shared energy and safe place to be creative. We encourage each other and we create things together. I truly believe that you put your energy into your work. It is so much more special using a mug or a dish that was made by human hands," she says.
"Together, we have this little clay community. Young moms and retired people ... when we come together we're here in the moment and letting this God-given creative energy just happen."