A soap opera writer. A radio host. A Christian inspirational author. Eugenia Price was a woman with many talents, but it was a chance side-trip to St. Simons Island in 1961 that not only changed the trajectory of her writing career but also solidified Coastal Georgia's rich history in the world of literature.
A native of Charleston, West Virginia, Eugenia Price spent most of her career in the northeast and was living in Chicago when she fell in love with St. Simons Island. Within a few years, she and Joyce Blackburn had relocated to the island full time, and she began writing the romantic antebellum novels that would make her a New York Times bestselling author. By the time she died in 1996, just short of her 80th birthday, Price would sell more than 50 million books printed in 18 different languages.
"Genie (as she was called by her friends) and her friend (biographer and children's book author) Joyce Blackburn were on their way to a book signing in Florida for one of her inspirational books when they read about St. Simons and the Christ Church cemetery in an AAA guidebook," says Eileen Humphlett, executive director of the Eugenia Price-Joyce Blackburn Foundation and Price's assistant for almost 20 years.
Price — who already had a loyal following for her nonfiction Christian books and had once worked for renowned gospel singer and composer George Beverly Shea — wandered the cemetery with Blackburn and discovered the graves of the builder of the original St. Simons Lighthouse, James Gould; as well as Anson Dodge Jr., who financed and oversaw the rebuilding of the current Christ Church in 1884; Dodge's first wife, Ellen, who died during the couple's honeymoon; and his second wife, Anna, and their child. This turned out to be the inspiration Price was searching for in her quest to write fictionalized books about real people.
That initial trip to St. Simons led Price and Blackburn to spend three years meticulously researching the Dodge and Gould families, including interviewing their descendants, and eventually led to the publication of Price's hugely popular St. Simons trilogy — "Lighthouse," "New Moon Rising," and "The Beloved Invader." The first book of the series, "Lighthouse" follows the successes and hardships of lighthouse designer and builder, James Gould. "New Moon Rising" is an adventure focused on James Gould's son, Horace. Then follows "The Beloved Invader," which tells the story of Dodge, his family, and the rebirth of Christ Church — and while it concludes the trilogy, Price actually wrote "Invader" before the others. Price and Blackburn were so taken with the history of the clergyman that they named the home they built on St. Simons "Dodge."
"About 30 percent of our tours are spent talking about the people who Genie wrote about in her books — the Goulds and the Anson Dodge stories," says Bunny Marshall, owner of St. Simons Trolley Company.
"The highlight is the walking tour of the Christ Church cemetery — every grave we visit is someone she wrote about. There are some really interesting stories from that era. There were 14 cotton plantations on the island; and she took those owners, their families, and wrote about them."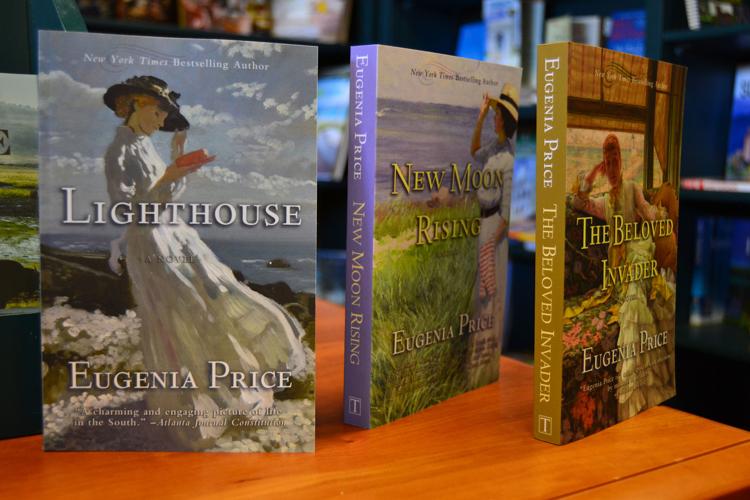 While that series of historical novels fictionalized the lives of actual people, Price's subsequent novels featured fictional characters in her Savannah Quartet series and the Georgia Trilogy books, which once again focused on St. Simons. Price also continued writing inspirational nonfiction, including "Inside One Author's Heart" and "At Home on St. Simons." Her final novel, "The Waiting Time," was also based on the island and was published after her death.
Humphlett met Price in 1978 and was immediately impressed with the author's work ethic. "There was a shop on St. Simons owned by M.E. Minor that did a lot of Genie's book signings. I told them that if she ever needed someone to do secretarial work for her, to let me know," Humphlett says. "About a year later, I got a phone call and I heard this sweet little voice say, 'I understand you want to work for me.' We went to lunch that day and hit it off."
Humphlett immediately went to work for Price as her assistant, first helping her work on the book, "Margaret's Story." "I handled her correspondence, typed manuscripts, and did some editing — I did whatever needed to be done," Humphlett says.
Humphlett says she was always impressed with Price's work ethic. "She did meticulous research and was a very disciplined writer, but she really loved what she did," she says. "She loved telling a good story. She made people really care about the characters in her books."
Not only was Price a dedicated writer and storyteller, she and Blackburn were passionate community advocates, both vocally and financially, for the Golden Isles' natural and historical treasures as well as the local arts.
"Eugenia Price moved to St. Simons in 1965, the same year the historical society was founded. She was a loyal supporter throughout her lifetime. In 1975, she donated to the society archives an extensive collection of documents, photographs, and books related to research for the St. Simons Trilogy," says Mimi Rodgers, curator at the Coastal Georgia Historical Society. "In 1978, she hosted a gala benefit for the society on Jekyll Island, and in the 1980s, she served as honorary chair of an early fundraising campaign. To raise awareness of the society, she held popular 'autograph parties' at the St. Simons Lighthouse Keeper's Dwelling to launch her books, and she arranged for the society to sell exclusive limited editions of her books in its museum store. Her foundation has generously continued to provide financial support to the organization."
Before Price's death, she and Blackburn established the Eugenia Price-Joyce Blackburn Foundation to continue supporting local causes near and dear to their hearts.
"The purpose of the foundation is to support the arts and other community organizations, including supporting young people's artistic endeavors, as well as supporting and perpetuating her legacy, keeping her books in print and offering them as E-books, and introducing new readers to her books," Humphlett says.
The foundation's ongoing projects include two annual awards given in partnership with Golden Isles Arts and Humanities — the Young Playwrights and Poets awards, open to area middle school and high school students, respectively. Submissions are blind-judged by area theatre and writing experts, and cash prizes awarded to the winners.
"Joyce Blackburn came to us in 1999, when she was first establishing the foundation. She had been involved in radio theatre in her youth and always had a passion for the theatre," says Heather Heath, executive director of Golden Isles Arts and Humanities. "With the foundation, she wanted to offer creative writing opportunities for young people; so she put the ideas together — have a playwriting competition.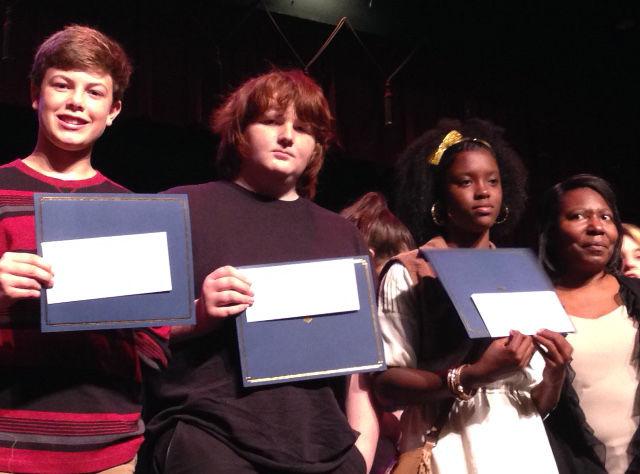 "A few years later, she wanted to establish a writing competition for high school students, and the Young Poets Award came into being. The foundation has a huge impact — it supports a variety of artistic programs in the community."
Another annual arts event that receives funding from the foundation is the Island Concert Association's classical music series held each Tuesday evening in February at St. Simons Presbyterian Church. Rhonda Hambright, musical director at the church, was a friend of Blackburn. The two met frequently for lunches and dinners and once traveled together to Atlanta for a Braves game. "The foundation is great for the local arts. [Price and Blackburn] were delightful people. The concert series is free for the public and that was something Joyce really loved," Hambright says, adding that she felt honored to have sung at both women's funerals.
Although Blackburn passed away in 2009 (she and Price are buried side-by-side in their beloved Christ Church cemetery amongst the graves of the Goulds and Dodges), the foundation's work continues to benefit organizations throughout the Golden Isles.
In addition to the Coastal Georgia Historical Society, Golden Isles Arts and Humanities, and the Island Concert Association, other beneficiaries of the foundation include the Golden Isles Youth Orchestra, the Island Players, Hospice of the Golden Isles, Glynn Visual Arts, the Glynn County libraries, the STAR Foundation, and more. "I got involved with the foundation through Eileen [Humphlett] and was drawn in by the way it helps others," says Helen Alexander, the foundation's vice president. "The foundation has had a tremendous positive impact on the community."