Trends in home paint and décor have gone through countless changes since 1998 when Walter Rafolski purchased his family's business, Adelaide's Paint & Décor, the oldest full-service paint store on St. Simons.
When he took over the business, he says they sold a lot of wallpaper and window coverings, which now play a lesser role in the business. "Now, our business is split between 60 percent retail and 40 percent contractors," he says. "It used to be just the opposite."
His daughter Rebecca McKenzie, agrees.
"You have more people who are doing DIY projects," says Rebecca, an accountant who handles the books and will eventually take over the business with her husband, Christopher McKenzie, another long-time Adelaide's employee. "The younger generation has come up doing things like painting themselves."
Before purchasing the business from the original owner Adelaide Watts, Rafolski worked as a traveling salesman for Lancaster Paints, traveling all over Georgia and Florida. Watts was one of his clients who decided she was tired of running the business. Rafolski was tired of traveling. He purchased the business and building in 2001.
"When I opened the store, there were only two, five-gallon buckets of paint in the store," Rafolski says with a laugh. "If painters came in and wanted paint, Adelaide would tell them that they would have to come back on Tuesday or Thursday when the truck made deliveries. So, I increased inventory. When someone wants to start a project, they don't want to wait on it."
In addition to adding to the inventory, Rafolski says the business recently added another building. "We are up to 3,300 square feet now," he says.
Current Trends
"People used to like bold colors. Now, we are seeing more neutrals. Grey is really big and so are off-white colors with a pink cast," McKenzie says. "Benjamin Moore's Color of the Year is First Light, it's a pale pink that's really pretty. People here also tend to like coastal blue colors."
She adds that the farmhouse look is another trend that is popular locally and they have recently seen an increase in wallpaper sales after years of the style falling out of favor. "We are seeing wallpapers coming back. We have one company we carry, Farrow & Ball, that is a higher end company from England. It's been popular."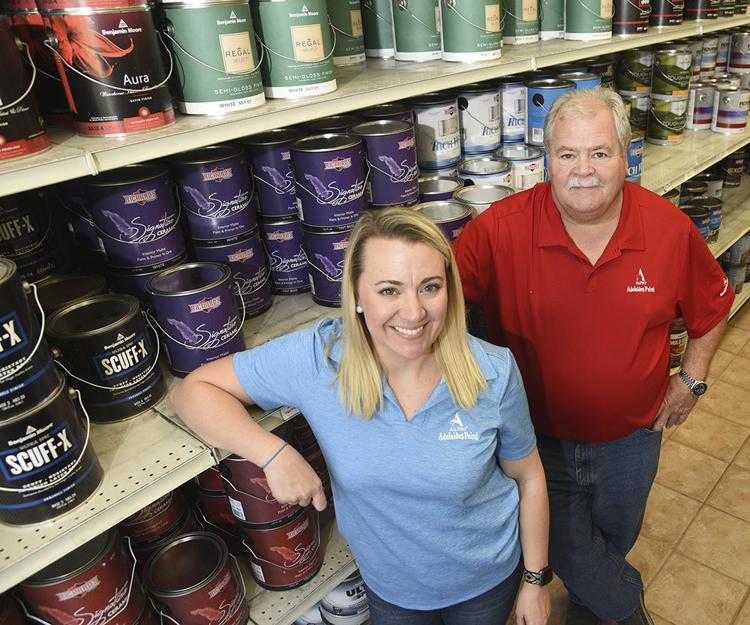 While wallpaper is starting to make a comeback, the style has taken on a new twist and doesn't embrace the heavy damask coverings and dark, jewel tones popular in the 1990s. Today's wallpapers feature more graphic designs, textured looks, and pastoral imaging. Another change, McKenzie says, is that instead of wallpapering an entire room, a lot of people are doing one wallpaper accent wall and painting the rest.
As to her own tastes, "I like wild colors. I have an accent wall in my house that's painted in a color called, Split Pea," she says, laughing. "I mostly stick to the accounting side of the business, but I'm learning more about the paint side."
She and her father say one of their employees, Kenneth Newton, has a gift for helping customers find the perfect colors for them.
"Kenneth does a really good job picking colors and the ladies love him," Rafolski says, laughing.
Although décor trends come and go, one thing has remained the same — their emphasis on customer service, Rafolski says.
"Our claim to fame is customer service and color matching. Customer service is the important part. That's something that never changes," he says.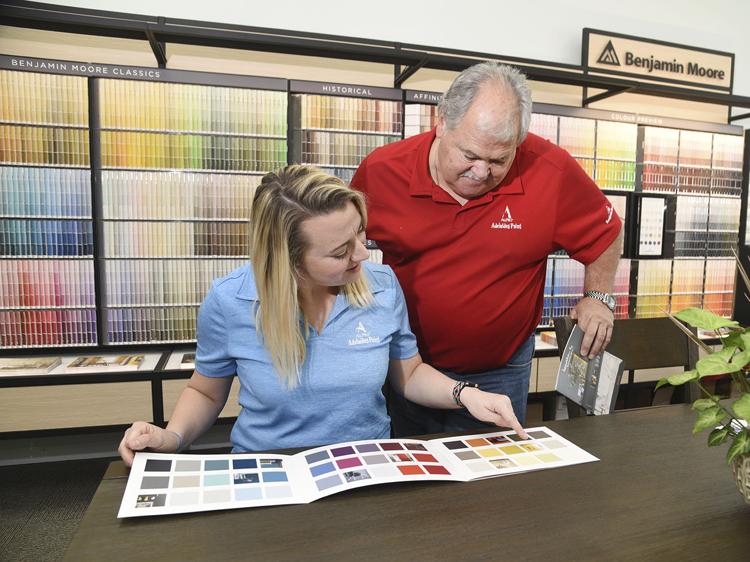 "Lonny Lynch (an employee), has been with dad since the beginning and he is fantastic at color matching," says McKenzie, who started working at the store as a teen, before going on to earn a degree in accounting from Flagler College in St. Augustine. "Lonny has taught the younger guys how to color match and my husband (Christopher McKenzie) is also really good at it," adding that Christopher's brother, Josh, also works at Adelaide's, making it a true family business.
Both say custom color matching is something that is important to their customers and makes their business unique.
"Someone can bring in a small piece of fabric, a small paint sample, even one from another store, and we will match if for them. We also match stain colors for customers. If you have, say, a table that gets scuffed, we can match the stain for you," Rafolski says.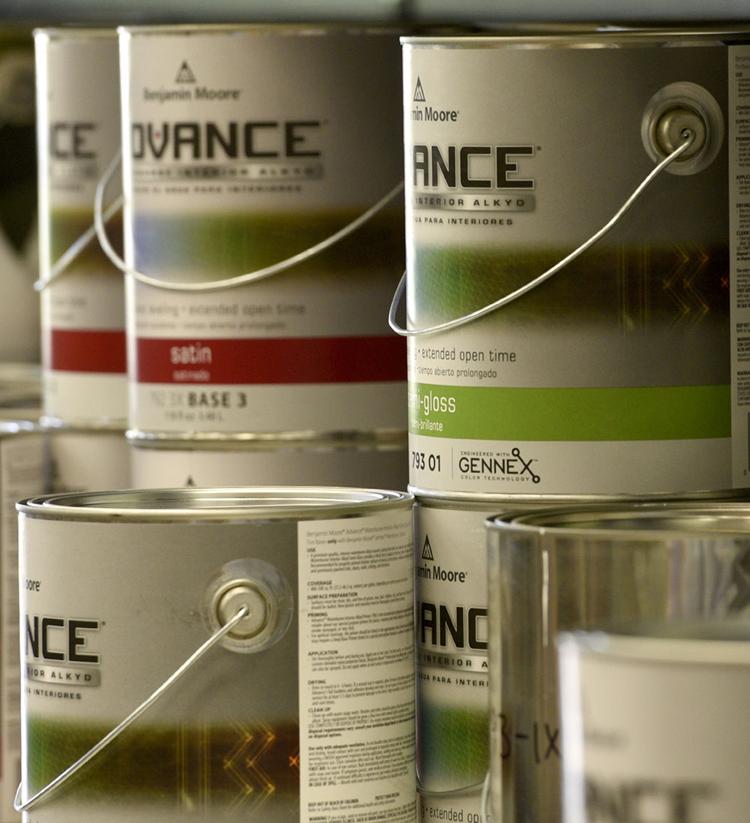 And whether matching a paint or stain color, customers don't have to purchase an entire gallon if they don't need it.
"If a customer only needs a quart, we'll mix that for them all day long. A lot of the bigger stores won't mix anything smaller than a gallon, but we are here for what the customers need," Rafolski adds.
His daughter agrees.
"The end thing is that we are here to make the customer happy," she says. "We've even been told we are over-staffed, but our customers don't have to wait. That's important."
Surviving in a Changing Business Landscape
Even with more consumers turning to online shopping, Rafolski says they haven't focused so much on e-commerce because that hasn't been what Adelaide's customers are looking for.
"We have many, many customers who want to come in and touch the pillows and see the colors," he says.
However, he adds that if the business had to deal individually with vendors for inventory, Adelaide's could not compete against the big box stores.
"We belong to a buying group, a co-op, ALL PRO Corporation. We've been a member since 2002. Members buy a share of their stock. They won't take just anybody. They have to look at your financials first," he says.
Belonging to the group allows them to buy inventory on the same level has the large retailers, says Rafolski, who now serves on ALL PRO's board of directors.
"They put on two buying shows a year and it puts us where we can compete with businesses like Sherwin Williams. Some members of the group only have one store, like us, and others have 80 stores, so I can learn and pick up so much from them," he says.
The Future
Rafolski, who is currently running for a seat on the Glynn County Commission, is transitioning more of the business over to his daughter and son-in-law and hopes to turn Adelaide's completely over to them "in the next two to three years."
"I feel very fortunate to have what we have," Rafolski says. "From the years 2007 to 2011, it was tough. To survive that rough time is to really have done something. Our customers still want specialized colors and personalized service. I don't think that will go away."