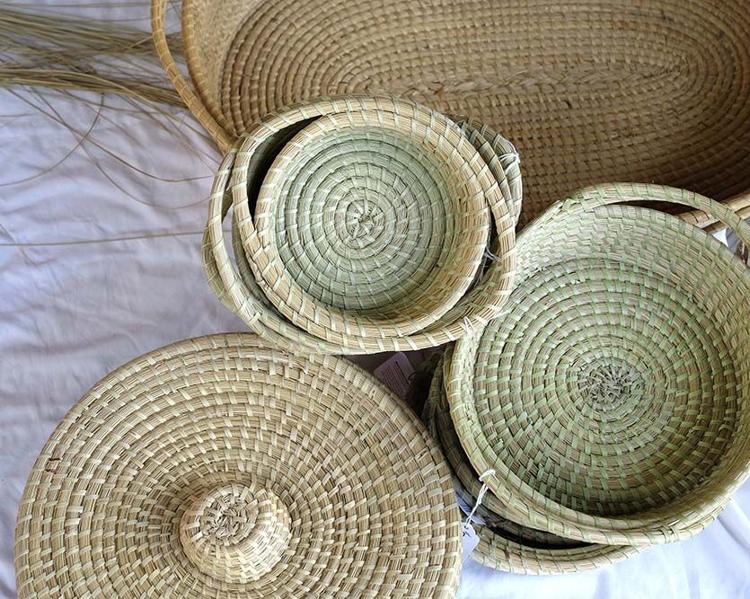 Fiddler crabs rapped in the McIntosh marsh, creating a cadence that floated on the breeze. On the nearby wooden porch, Yvonne Grovner's fingers flitted between the rolled sweetgrass and pieces of palmetto. With a small knife, she effortlessly shaved a strip of the saw tooth palmetto from the stalk.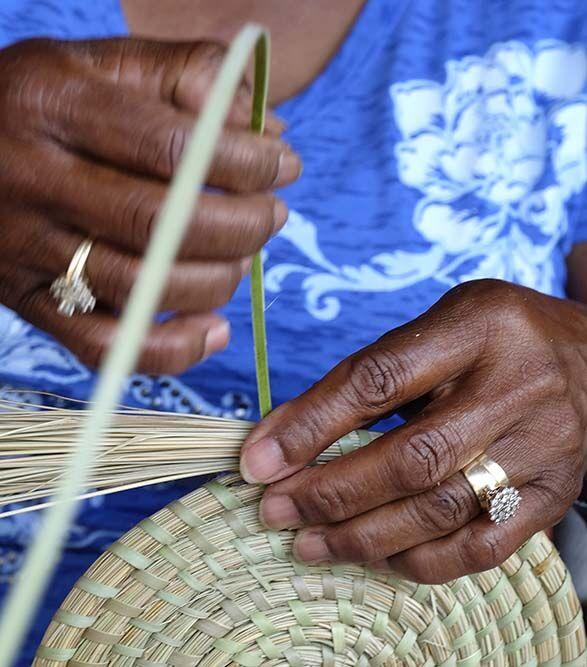 Shifting her hands, she grabbed another tool, a shiny metal device, most commonly used to open cans of paint.
"I filed this to a point on the end, so it's sharp but you could use a nail too, and all you're going to do is use this to make a little opening here," she says, piercing a row of sweetgrass and threading the thin piece of palmetto through.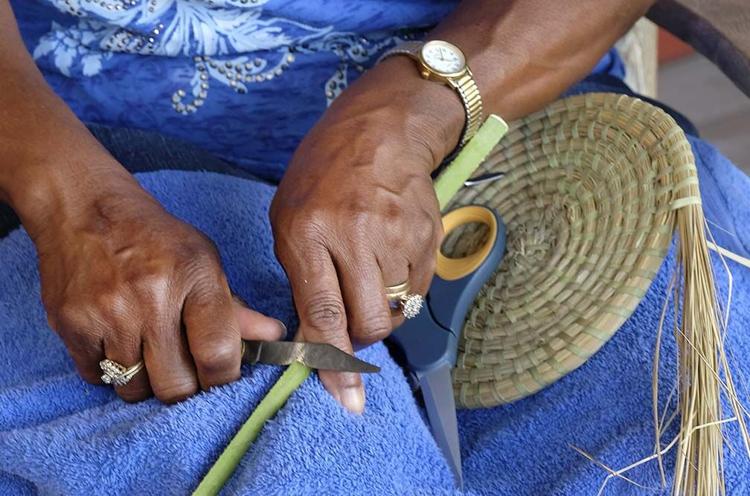 It quickly fell in line, dutifully stitching the border of her basket together.
"Now, you're working by feel," Grovner says without skipping a beat. "So, as you're working, you have to add grass. To add your grass, just pull you some grass. Split this in half, and add the grass right in the middle."
Her 10-year-old granddaughter, India, watched from the adjacent rocking chair. Then, she joined in, weaving her own basket under the watchful eyes of the family matriarch.
"I've been doing it for about two years," India says with a smile.
Yvonne beams with pride.
"I taught my husband, Iregene, my children, Monique and J.R. and my grandchildren," she says. "It's important to keep the tradition alive."
And it's one that is storied and vibrant. The history of weaving sweetgrass baskets dates back hundreds of years on the Georgia coast and in the Lowcountry of South Carolina. It was a key piece of the Gullah Geechee heritage, a lineage that blends African tradition with newer elements later developed in America — a patchwork of language, arts, food, and folklore. The sweetgrass baskets are a piece of the fabric of this rich culture. It has always been a part of life for those who inhabit Grovner's home — Sapelo Island.
But the roots of the craft run even deeper. Baskets are, of course, ancient creations, dating back to the dawn of civilization. Before the barbarous practice of slavery stole countless men, women, and children from their African homeland, these baskets were commonly found in thriving villages along the continent's West Coast.
African tribespeople crafted them with quality and care, creating strong and flexible vessels used to store precious goods — their grains, their harvest, and even their babies.
When these Africans were so cruelly deposited on shores of America, they kept this tradition alive as they worked the plantations, utilizing this sweetgrass weaving technique in a number of ways.
"They made rice fans to separate the grain from the husk," she says, demonstrating with a replica.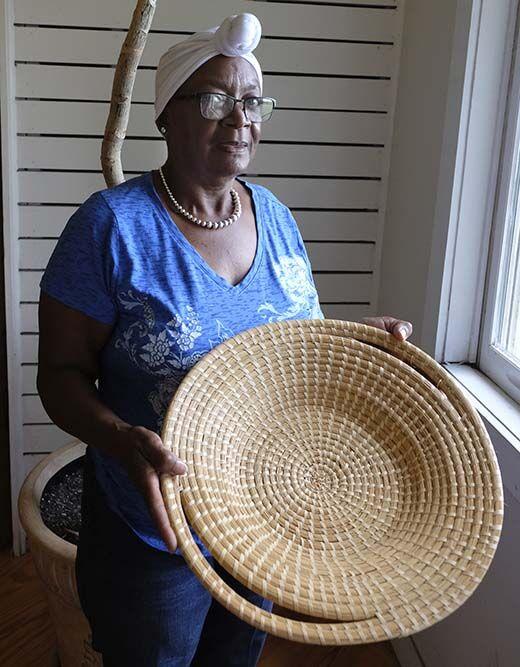 Many of the slaves on the plantations of McIntosh County would go on to leave bondage behind, settling into freedom on Sapelo Island, located roughly 15 minutes by boat from Darien. Grovner moved to the island from her home on the McIntosh mainland 40 years ago and is one of dozens of full-time residents there today.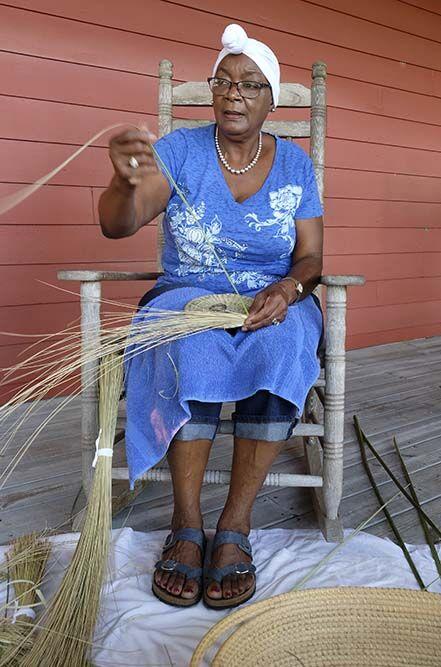 She was taught the art of basket weaving by Sapelo master, Allen Green.
"He was a famous basket weaver. He wouldn't teach anyone for the longest time. We tried to get him to … but he wouldn't. He said, 'I'll take this to my grave,'" Grovner recalls with a laugh.
"But, when he was 90, he got a grant and he taught seven of us on the island. Later, I got a grant from the Reynolds Foundation to teach the kids on the island, and I teach other classes as well … just trying to keep it alive. There aren't that many people who make the baskets now, not on Sapelo at least. There are a lot in South Carolina."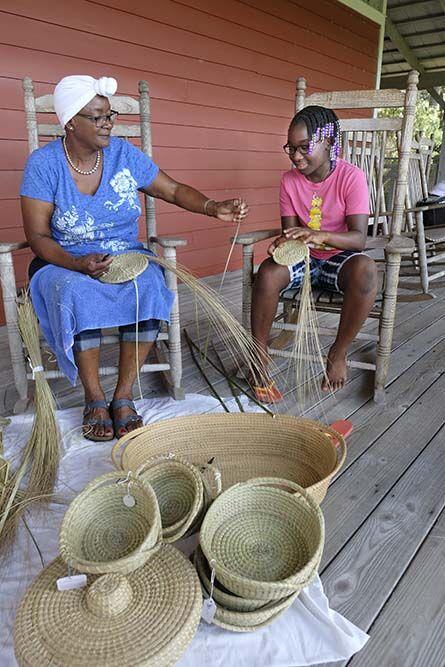 Grovner has taken it upon herself to share — teaching her family and those interested in learning within her community of Hog Hammock on Sapelo.
"Of course, there aren't many people there — only 20-something people, but it's important to keep it going," she says.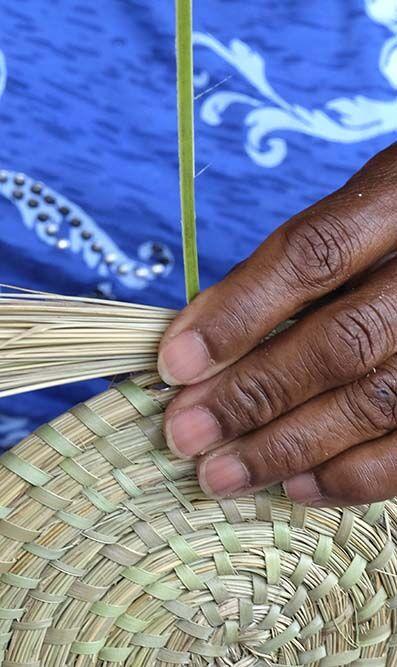 The materials for the baskets are collected right there, on her beloved island, harvested in the shade of pine trees. Since becoming a master basket weaver, Grovner has made and sold hundreds. The one of a kind artworks can fetch anywhere from $50 to $800. Of course, there are some that are priceless.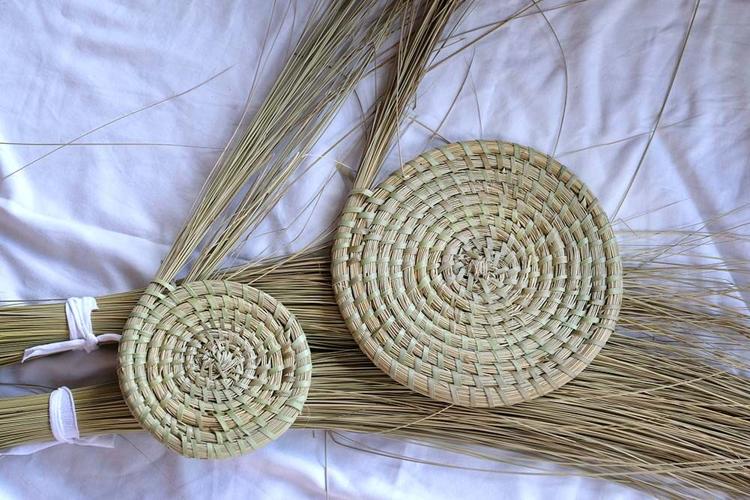 "This is one I made that we put India in when she was a baby," she says, smiling and holding the large basket in her hands. "It was also part of President Obama's inauguration parade. They wanted something from the Gullah Geechee culture there so we sent this for the Gullah Geechee float."
Grovner's life is a testament to her heritage. Not only does she craft the baskets, she also conducts Sapelo tours for the Department of Natural Resources. Her son, J.R., also shares the history and culture through private tours.
"People come from all over. We had a big group from Germany once that came through with an interpreter," she says.
When Grovner isn't giving tours or weaving baskets, she can usually be found working on her other great art form — cooking. She's a master of Southern and Coastal cuisine, even co-authoring a cookbook titled, "Foods of the Barrier Islands." Many of the entries she can whip up from the produce found in her own garden.
"We grow the Sapelo red peas … everyone loves those. She likes to cook too," she says with a nod at India.
Like the peas, palmettos, and sweetgrass, there's a bit of the soil of Sapelo in Grovner's soul. The tranquility of the island offers solace from the outside world, an ideal space for her art to flourish.
"We don't worry about a lot of things. It's peaceful and quiet … there aren't many places left like Sapelo," she says gazing at the golden marsh.
• For information on Grovner's baskets, cookbooks, or tours of Sapelo Island, email her at yvonnegrovner@yahoo.com.